Tablets and mobiles are an important part of our lives. They are the productivity tool we can't live without. It's incredible how a 5″ screen gives us access to a world of information and services. In the past ten years, we've witnessed an enormous industry move to the mobile world.
Music, internet browsing, chat applications, services, shopping, games…today, everything is accessible through our connected devices. And it makes perfect sense.
Microsoft is not leaving mobile business solutions behind. Dynamics 365 is accessible through the Dynamics 365 mobile app on all major platforms. You can access many features and functions allowing you to complete work directly from your smartphone.
Where to get the app?
Download the Dynamics 365 app like any other app on your phone or tablet. Go to the App Store (Play store for Android and Windows Store for Windows 10) and search for "Dynamics 365". Download the app called Dynamics 365 for Phones.
How to set up and navigate the app
Launch the app and specify your organization's URL (for example: https://sampleurl.crm4.dynamics.com) then sign in with your username and password.
When you sign in, you will see this screen with all the apps included in your subscription: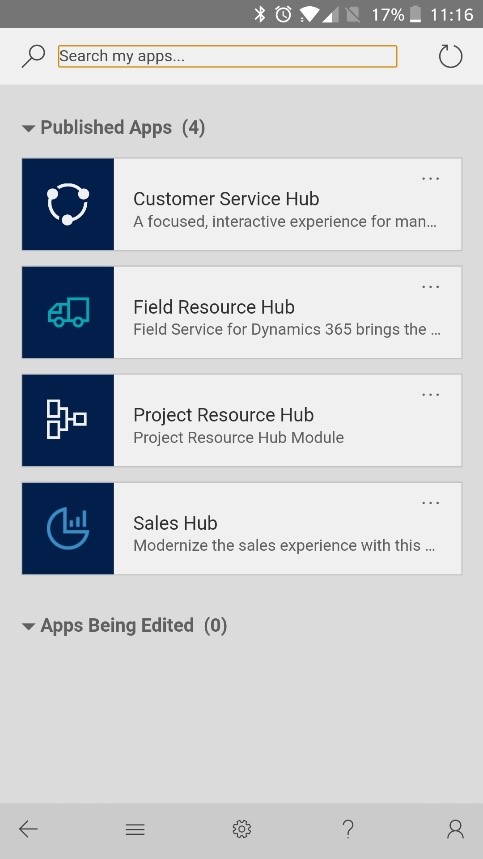 Click on the app you'd like to access. For example, if you choose Sales Hub, you will be redirected to the Sales Mobile Dashboard: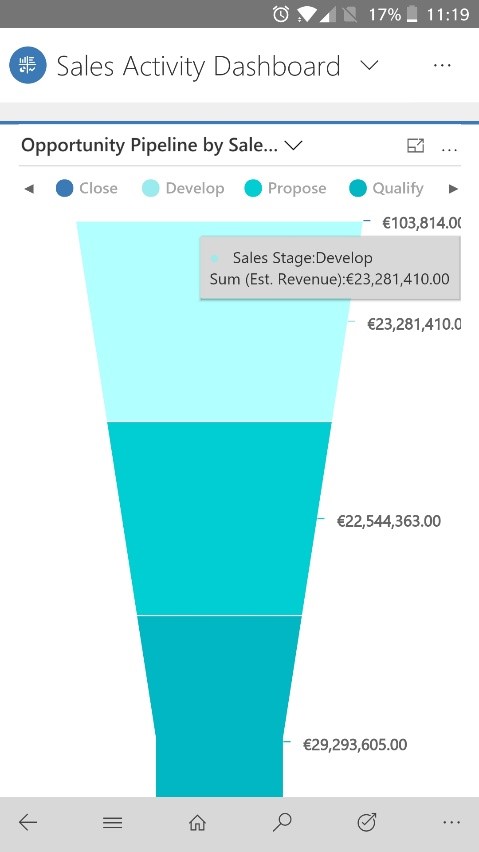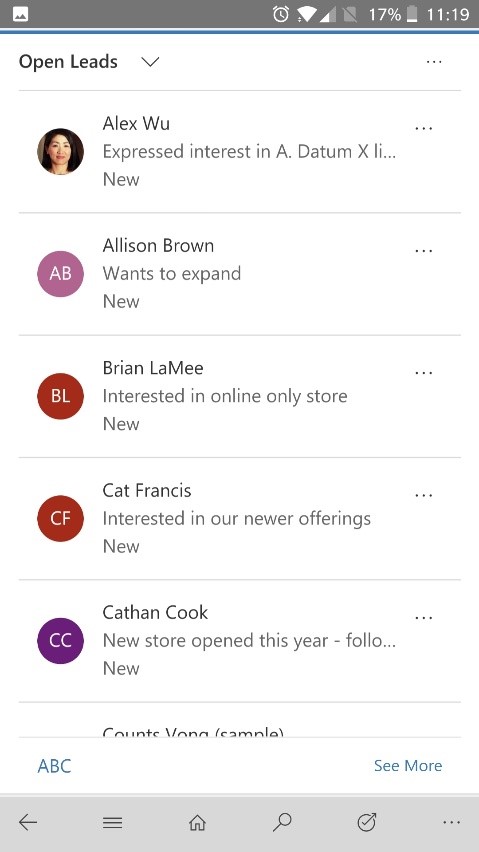 Finally, if you want to navigate to other entities in the app, click on the 'Hamburger menu' (the three horizontal lines) at the bottom left, and get access to the different parts of the app.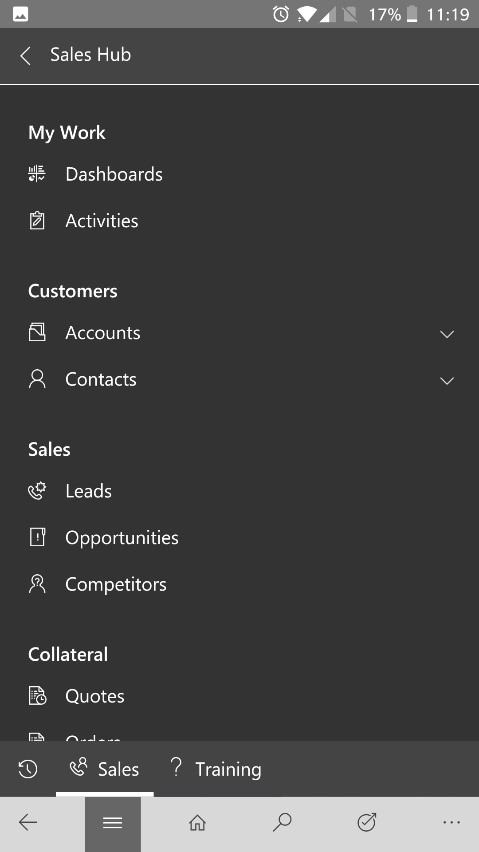 Key features and benefits
It's Mobile!
Let's start with the elephant in the room. The Dynamics 365 Mobile apps (Tablet and Phone) allows access to your organization's data and processes on the go. It's handy for technicians that work on the client site or for users who might not have access to a computer.
Configurable
Similar to the Dynamics 365 web application, everything is configurable. From the dashboards to the forms to the charts…you choose the data you want to see on your mobile device and where to show it.
Personalized Action Hub
The Dynamics 365 Mobile App shows the most recent records you worked with in the action pane. It also allows you to pin records you often use for quick access.
Notes creation
The mobile app allows for easy creation of notes, and you can attach them to any record of choice.
Relationship Assistant
The Relationship assistant is a new AI integration feature in Dynamics 365. It's accessible from the mobile app. It keeps an eye on all actions and communications with your customers. You can analyze data and display action cards to take action instantly.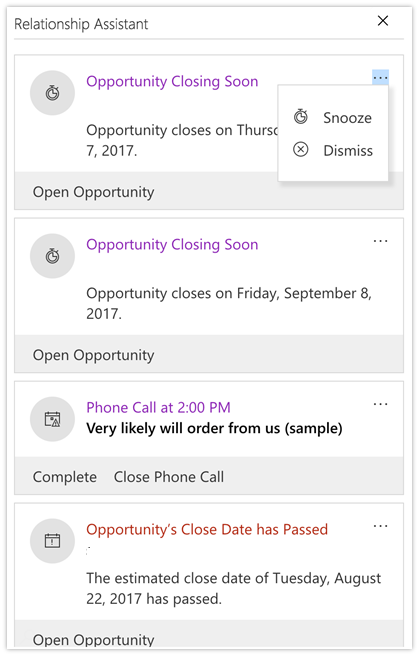 Offline synchronization
An important feature of the Dynamics 365 mobile client is offline access. Sometimes, technicians work in places with no internet connectivity or network coverage. Offline capabilities can save the user's data locally and sync with an online database when the user connects to a network. If the fields were updated while you were offline trying to sync your local updates, Dynamics 365 will mark those fields for you, and you can decide whether you want to take the local or remote data.
Export to Excel
You can export data to Excel directly from your mobile phone just like you can from the web app.
Relevance Search
This type of search depends on the query syntax. For example, if you search for 'USB Type-C Cable', it will search for all instances that contain any of the words in your query. If you type 'USB+Type-C+Cable,' you will only get the results that have those three words combined.
Categorized Search
This search method will only show records beginning with your search query. For example, if you search for 'A. Da', you will get the 'A. Datum' Account. However, if you search for 'Datum', it will not show up. This type of search is ideal if you're sure of the first word and need to find the right records without getting a long list of unnecessary results.
Guide: Resell Microsoft Dynamics 365 With CSP Program
You've heard all about Microsoft's Cloud Solution Provider (CSP) program and how it will make life easier for resellers like you. But when it comes right down to it, do you really understand how it works?
- Exactly what the CSP is and how it works
- How to get started as a CSP partner
Limitations
Similar to everything else in this world, Dynamics 365 for mobile is not perfect. Microsoft has been improving the experience with each update. However, there are some limitations:
Form script differences: Some web app scripts for forms don't work on the mobile version. There is a way to avoid that, and it is documented here. It can be annoying if you have heavily customized forms.
Offline limitations: The following features do not work in offline mode: Workflows, plugins, cross-entity business process flows and entity-level business rules.
Out of the box filtering: In the web app, you can filter a lookup from related records. This feature is not yet supported by the mobile client. You will need to write custom JavaScript if you want the same functionality.
Forms: The default 'create form' is the quick create. If you want to display the full form, you can disable the quick create form for that entity. Quick view forms are not supported.
Conclusion
Smartphones and tablets have changed the way we work and live. Having connected devices wherever we go helps us complete work on-the-go, so we don't have to return to our workstation to input updates.
Mobile support has been a part of Dynamics 365 for a long time. Microsoft continually updates the mobile app fixing bugs and adding more functionality. These mobile features and benefits improve the user's productivity.
With the introduction of Artificial Intelligence and machine learning, we see much potential for the future of the Dynamics 365 mobile app.