Organizations set goals to strengthen core competencies and improve teamwork and collaboration. But providing, implementing, and maintaining a feature-rich and efficient environment has always been a challenge for business leaders and IT staff. Microsoft Office 365 offers many opportunities for your organization to overcome those challenges. In this article, we'll discuss the Office 365 features that will benefit your organization the most, whether you're in business /IT leadership or an end user.
Overview: Office 365 Benefits
Many organizations face the challenge of finding and centralizing data and communications they produce, update, and track. As companies grow, so do their IT solutions. Before, significant investments were needed to acquire physical infrastructure in order to hold and handle communications and intellectual property. As the sheer amount of data has grown, though, many of those purchases have either stagnated or all the different technology services simply haven't worked well with each other. Think of the common problem of file share servers stuffed with endless folders and files, where each department has its own filing and naming conventions—despite its name, a file may not be up to date.
Since it's a cloud-based platform, Office 365 allows you to house all of your data in one place. Intranet home pages in SharePoint can provide employees a place to "log into work." There, they can receive organizational announcements, interact with colleagues, access forms, and use search tools, all within the company's Office 365 cloud tenant.
Document libraries, metadata-driven lists, and project workspaces give departments and staff easy access to their content and intercommunication, both on site and remotely. Permission, version control, and approval workflows can also be easily implemented to ensure that intellectual property is current and secure.
Example Office 365 Use Case: Workplace Collaboration
Let's look at a scenario to see how Office 365 helps improve collaboration. Ann, a business analyst, works for a company that recently moved all of its technology workstreams (email, audio/video, and document storage) to the cloud using Office365 tools such as Microsoft Teams, SharePoint, Word, OneDrive, and Outlook.
On her way to work, Ann opens OneDrive on her phone to jot down an idea for an account she worked on that she doesn't want to forget. Upon arriving and logging into her workstation, she goes directly to the company's SharePoint home page, where she sees an announcement from the CEO that a new account has been acquired. Since she was part of that proposal team, she knows she needs to go to the Proposal Teams channel to check for further information and new tasks. She also sees another company announcement that a new registration for health benefits is due by midnight. So, using Microsoft Planner, she creates a task and sets a reminder for 6 p.m.
In the Proposal Teams channel, she sees that her next task is to work with Dave, a remote account manager, to onboard this newly acquired client. The idea she wrote down earlier on her phone will be important for this process. She accesses OneDrive from her desktop and easily transfers it to file storage in the Proposal Teams channel, where all approved files are kept. She sends a link to the members in the Teams conversation and arranges a stand-up meeting using the shared calendar that syncs with everyone's Outlook.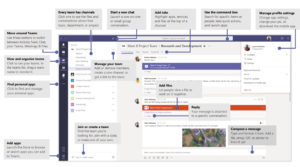 While working on the files, she realizes that she needs information from the product team, but she doesn't know whom to ask. She uses the Delve app in Office365 and searches "product team," which quickly returns relevant results showing all the documents that she's worked on and with whom. The search result show that she had previously worked with Jill from the product team, who's in a different office but works on a similar project.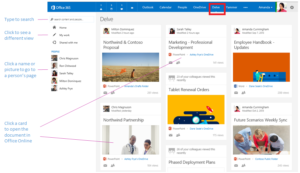 In Outlook, she emails Jill her question. When she hits send, she also notices that Dave's status in Teams shows him online, so she sends him a quick IM to see if he's available to chat. Dave replies with a video call using the built-in audio and video conferencing features in Teams. Ann pulls up the documents in Teams and shares her screen with Dave; they then co-author in real time using Office apps.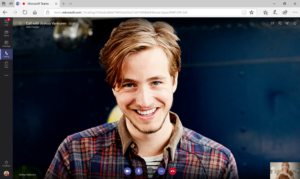 Meanwhile, Jill responds back, and Ann easily adds her to the video call with Dave, gives her access to the Proposal Teams channel, and assigns her tasks using the Planner app. All three can now work on the documents and communicate with each other if needed, all without ever leaving the Teams app. They close the impromptu call, agreeing to maintain all communications using the chat log function that's now tied to the documents within the Teams channel.
Increase Workplace Productivity with Office 365
Microsoft Teams provided a centralized shared workspace where all three employees, in different locations, were able to chat, have a video screen-sharing conference, and schedule tasks. By using Office 365 apps like Word and PowerPoint integrated in Teams, they were able to work together in real time to co-author the onboarding documents. Their ability to find, coordinate, and collaborate quickly, using cloud-based Office 365 apps such as Teams, SharePoint, and other Office apps, resulted in increased progress and fewer back-and-forth communication for all three.
Recall that the day started with Ann adding important content via OneDrive to her phone remotely. She was able to get valuable organizational news on the SharePoint home page without having to dig through several emails, and she was able to search and find a relevant colleague using search capabilities in Delve.
Sound like the kind of productivity you envision for your team? Have a look at what Sherweb can offer and how we can help you with the migration.