Consider this. In the 30 or 40 seconds it takes you to write a simple text message, people with bad intentions are gaining access to someone's business data. A recent study by the University of Maryland showed that cyber criminals are infiltrating business data about once every 39 seconds ↗. In fact, some computers in this study were attacked an average of 2,244 times a day!
Did you know that 43% of cyber attacks ↗ are being targeted at small businesses? If you run a small company, that's tough to swallow. Fortunately, there are ways you can protect yourself.
Microsoft 365 Business recently announced a new series of security features, which include several tools to keep a business safe from prying eyes. We've put together a simple guide that will help you understand these features and how you can use them to safeguard your data.
Learn how Microsoft 365 is a great addition to your portfolio with our eBook ↗
What is Microsoft 365 Business?
Before we get into the details, we thought we'd give you a bit of background about Microsoft 365 Business. What is it and why do you need it?
Microsoft 365 Business combines Office 365 with Enterprise Mobility and Security. This robust solution is designed to provide companies with all the features they need to run a more secure and efficient business: Productivity, Advanced Security and Device Management.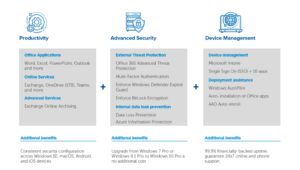 Your data is vulnerable
Look around you. Workers are spending more time out of the office and sharing many sensitive documents with their colleagues on their mobile devices. This makes a lot of small companies ideal targets for cyber attacks. Did you know that 28% of employees ↗ use at least one unapproved device to supplement the tools provided by their company? These kinds of practices leave the door wide open to serious data breaches.
In the following paragraphs, we'll show you how Microsoft 365 Business can companies safeguard their data by focusing on 3 main security benefits:
Microsoft 365 Business Security Centre
Compliance Features
Office 365 Advanced Threat Protection
1. Microsoft 365 Business Security Centre
Managing security can be a big challenge. There are so many solutions on the market and each one has its own set of controls that have to be configured for use in different situations. Microsoft 365 Business has created a security centre that allows you to monitor your security, configure devices, users and apps. You'll also receive alerts for suspicious activity. These features can be activated as you need them.
Set application management settings for Android or iOS devices: This includes deleting files from an inactive device after a set period, encrypting work files and requiring users to set a PIN.
Set application protection settings for Windows 10 devices: Use this setting to enable BitLocker encryption ↗ to help protect data in case a device is lost or stolen. You can also enable Windows Defender Exploit Guard ↗ to provide advanced protection against ransomware.
Remove company data from devices: You can remotely wipe company data if a device is lost or stolen or if an employee leaves your company. Note once you wipe a device, you cannot restore it at a later date.
Reset Windows 10 devices to factory settings: A factory reset will remove all apps and data you installed on a device and revert it to the original settings it had when you first purchased it.
Intune in the Azure portal: This cloud-based service focuses on mobile application and device management. It integrates with Microsoft 365 and Azure Active Directory to control who has access to your data and what exactly they can see. It also allows you to remain productive and keep your company's data protected. Here's what it does:

Protects your company information by controlling the way users access and share information
Sets rules and configure settings on personal and organization-owned devices to access data and networks
Deploys and authenticate apps on devices, both on-premises and mobile
Ensures that devices and apps are compliant with your security requirements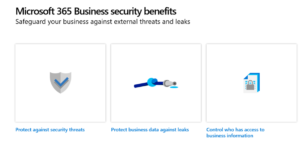 2. Compliance
Compliance will be a big issue in 2020 and beyond. Here are some of the features in Microsoft 365 Business that will help you maintain compliance and regulatory standards.
Data Loss Prevention (DLP): You can set up DLP to automatically detect sensitive information, like credit card numbers and social security numbers to prevent sharing outside your company. Office 365 also has DLP tools to help you protect content to comply with HIPAA and General Data Protection Regulation (GDPR) standards.
Exchange Online Archiving: Use this feature to archive messages with continuous data backup. Store a user's emails, including deleted items, in case they're needed later for discovery or restoration. Even if users try to delete their emails, you can still access them for eDiscovery.
Sensitivity labels: This feature includes all the elements of the Azure Information Protection Plan 1 ↗. You can apply specific labels to control access to sensitive information in email and documents. Here are some examples:

Do not forward
Do not copy
Confidential
Highly Confidential
Encrypt
3. Office 365 Advanced Threat Protection
Office 365 has more than 1,000 security and privacy controls to meets international, regional and industry standards. Advanced Threat Protection (ATP) will protect your company against unknown sophisticated attacks that are hidden in email attachments and links. It also provides solid defence against zero-day threats,* ransomware and other malware.
Here's what you can do with ATP:
Scan email attachments
Scan web addresses in email messages and Office documents
Identify and block malicious files in online libraries
Check email messages for unauthorized spoofing
Detect when someone tries to impersonate users and an organization's custom domains
Create password policies that require users to reset their passwords after a specific period
*Zero-day threats are software vulnerabilities that take place before a developer can release an official patch or update the fix the issue.
Microsoft Security features
The following table will give you a better idea of the security features available in Office 365 and Microsoft 365 Business.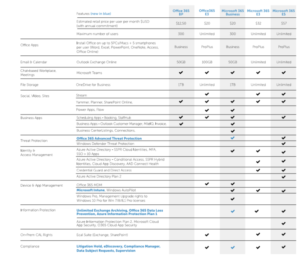 Conclusion
We've only scratched the surface about all the security features available with Microsoft 365 Business. As we mentioned earlier, data security and compliance will only become more important as time goes on. Be prepared. A recent study showed that 54% of small business owners ↗ surveyed didn't have a plan in place to deal with a cyber attack. Want more information? Talk to one of our security experts today!