Now that Microsoft has combined multiple products into a single solution, the question naturally arises: What's the difference between Office 365 and Microsoft 365, and which one is right for your enterprise?
Read on to learn the basic differences between these two Microsoft platforms and how they can help boost your productivity.
What Is Office 365?
Office 365 is a comprehensive suite of productivity apps and solutions that empower your enterprise to work better and get more done effortlessly. It comprises apps like Microsoft Word, PowerPoint, Excel, Outlook, Publisher, and OneNote. It also includes a set of web-enabled tools such as Microsoft Exchange email for business, Lync web conferencing, and OneDrive online storage.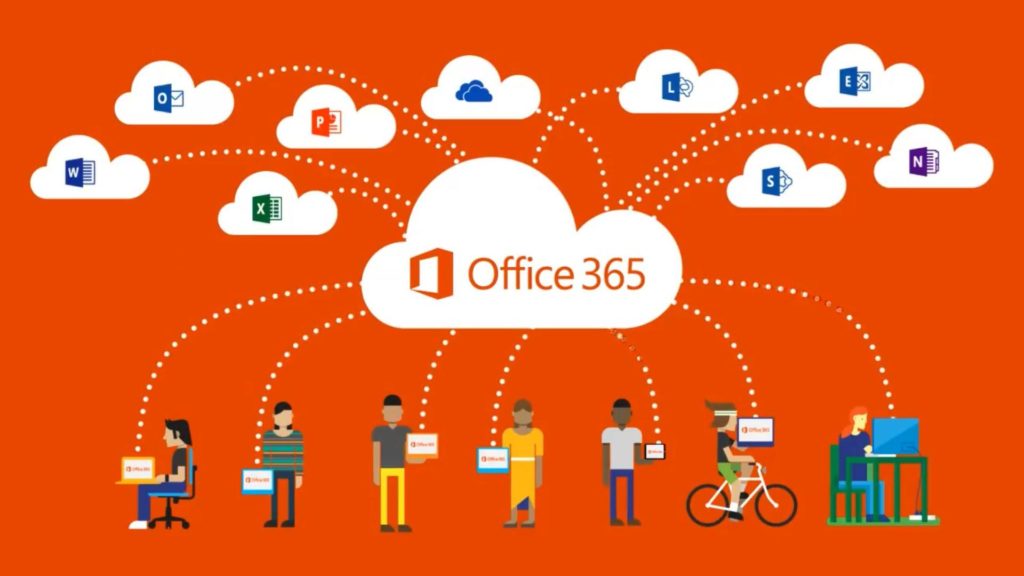 What Is Microsoft 365?
Microsoft 365, on the other hand, is an all-in-one platform that includes the Office 365 suite, Windows 10 Pro, and Enterprise Mobility + Security to offer a comprehensive experience. Combining the best features of Microsoft's cutting-edge software on a single platform, Microsoft 365 is an intelligent, innovative, and secure enterprise solution that has everything your business needs to stay creative, productive, and empowered.
Office 365 is great to start with, offering a bundle of cloud services that help improve enterprise productivity. But Microsoft 365 takes you a step further by helping you address complex security and compliance requirements.
Features: Quick Comparison
Here's a quick rundown of the features of Office 365 and Microsoft 365:
Remote Access: One of the most significant advantages of Office 365 is that users can efficiently work from anywhere and on any device—you just need Internet access to use Office 365. Microsoft 365 is also a cloud-based platform. That means your team can work with productivity apps and tools efficiently from anywhere and on any device with an Internet connection.
Collaboration: Since teamwork is such an essential part of any business operation, you're sure to love Office 365's support for real-time collaboration. With its co-authoring support, Office 365 allows multiple users to work simultaneously on the same version of a document, presentation, or spreadsheet.
Since Microsoft 365 already includes Office 365, it also introduces the collaboration features of Microsoft Teams, OneDrive, and SharePoint. This means your teams can collaborate seamlessly with custom-tailored solutions.
While using Office 365 is a good idea at the basic level, Microsoft 365 offers added collaboration functionalities for improved teamwork and content sharing.
Security: Depending on the type of plan you've chosen, Office 365 offers a gamut of built-in security features, such as Data Loss Prevention, Encrypted Email, Advanced Threat Analytics, Mobile Device Management, Multi-Factor Authentication, Threat Management, and Exchange Online Protection. Office 365 keeps your business-critical data highly secure around the clock.
However, Microsoft 365 steals the show again with enhanced security features that include the advanced data protection functionality of Office 365 plus Enterprise Mobility & Security.
Enterprise Mobility +Security (EMS) is a key feature of Microsoft 365 giving admins:
Control over access to the Microsoft cloud apps with identity-driven security.
The ability to manage mobile devices and apps to maintain enterprise level security (This is very important nowadays with the 'Bring Your Own Device' environments)
The ability to discover, classify and monitor sensitive data across devices, services and on-premise data centers.
Automatic Updates: Gone are the days when your IT staff had to access each computer system or mobile device separately to uninstall older versions and install the new ones. Both Office 365 and Microsoft 365 are now available as subscription plans that already include automatic upgrade and patches to the latest version at no additional cost.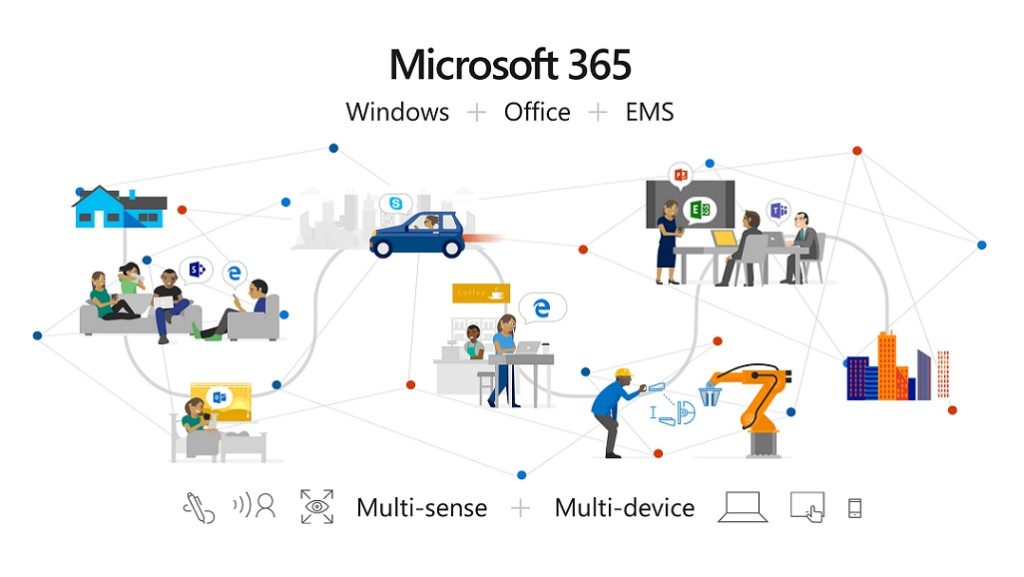 In addition to the above, both the platforms have a number of other features that help improve overall business productivity. Nonetheless, Microsoft 365 stands a step ahead because it combines the best of Office 365 with other high-tech enterprise solutions.
Plans
As usual, Microsoft showers us with different plan options. We'll give you an overview of all plans available for both products:
Office 365 Business Premium

US $14.99 user/month

Microsoft 365 Business

US $21.95

User/month

Office Applications
Office on tablets and phones

√

√

Fully Installed and web versions of Office apps

√

√

File & document viewing & editing
1 TB file storage and sharing

√

√

Collaboration services
Business class email (50GB), calendar, and contacts

√

√

Online meetings (instant messaging, audio, and HD video chat/conferencing)

√

√

Microsoft Teams chat-based workspace

√

√

Business applications
Outlook Customer Manager, Bookings, Invoicing*, MileIQ*

*Denotes app is currently only available for customers in the US, UK and Canada.

√

√

Security
Helps protect your business from unsafe attachments, suspicious links, and other unseen malware through attachment scanning and link checking

√

Information Protection Policies to help control & manage how information is accessed

√

Controls to protect your company data on personal mobile devices

√

Preservation, Compliance & Archiving capabilities with continuous data backup that is accessible anytime/anywhere.

√

Device management
Securely manage iOS, Android, Windows, and macOS devices

√

Self-service PC deployment with Windows AutoPilot

√

Simplified controls to manage Windows 10 Pro PCs

√

Get upgraded to Windows 10 Pro from Windows 7, 8 or and 8.1 Pro.

√

Maximum number of users
Up to 300

√

√
Office 365 Business
The Office 365 Business plan comes with all the Microsoft Office tools plus seamless collaboration and cloud storage. It includes the following apps and features:
Microsoft Word, Excel, Outlook, PowerPoint, Publisher, OneDrive, OneNote, and Access
Online file storage & sharing
Microsoft Office suite on all devices
Office Online
Regular updates
Quick and hassle-free deployment
Active Directory integration
Maximum of 300 users
Additionally, all Office 365 Business plans come with security, privacy, and reliability features.
Office 365 Business plan is divided into 3 parts:
Office 365 Enterprise
The Office 365 Enterprise plan includes all the features of Office 365 Business only with an unlimited number of users.
Similar to Office 365 Business, under the Enterprise plan, you have multiple options to choose from:
Microsoft 365 Business
Microsoft 365 Business, on the other hand, includes the following features:
Maximum of 300 users
Microsoft Office suite
File storage
Email and calendaring
Data protection controls
Windows 10 Pro
Cyberthreat protection
Quick administration and deployment
24/7 phone and online support
Microsoft 365 Business plan combines all the features found in Office 365 Business Premium in addition to Security and Device management features. ( More information on the comparison can be found here).
Microsoft 365 Enterprise
Modern workplaces that want to empower and connect every employee have a range of Microsoft 365 Enterprise plans to choose from:
Microsoft 365 E3: An innovative and intelligent solution that combines the best of Office 365, Windows 10, and Enterprise Mobility + Security. The plan includes Office apps, email and calendar, schedule and task management, chat-based workspaces, device and app management, and social and intranet functionalities.
Microsoft 365 E5: This includes all the features of Microsoft 365 E3 plus voice, video and meetings, information protection, threat protection, identity and access management, advanced compliance, and analytics.
Microsoft 365 F1: Designed to connect first line workers to the right resources and tools to boost their productivity.
Wrap-up
Should you go for Office 365 or Microsoft 365? Deciding which one is right for your business depends on your core operations, infrastructure, and overall business goals. For start-ups and small- to medium-sized businesses, Office 365 is the best solution. However, if you plan to scale up, you're dealing with sensitive data and security is your prime concern,or your business operations are focused more on teamwork, then Microsoft 365 is the right investment. Whatever platform you choose, make sure you get hassle-free migration and onboarding with 24/7 customer support.