Microsoft renamed Lync to Skype for Business in April 2015, and it's now been fully integrated into Office 365.
Skype for Business shares the look and feel of Skype, but it also adds some new features. The software offers easy access to IMs, video calls, voice calls, and online meetings, as well as the confidentiality of Lync through enterprise security, call encryption, and authentication.
You might already be using Skype for Business for all your business needs, but you could be missing out on some of the important features that this software has to offer.
What is Skype for Business?
Skype for Business is a robust replacement for Lync that lets you collaborate with 250 people at a time and helps you manage your employee accounts with enterprise-grade security. This pocket-friendly solution allows you to integrate all your office apps on the go and is available with the Office 365 suite of products. It costs $2/month/user.
Let's take an in-depth look at some of the useful features of Skype for Business that make it an ideal tool for any business.
12 Skype for Business Features
1) Conducts Meetings on the Go
Skype for Business lets you conduct audio, video, and web conferencing on the go. You can easily plan an online meeting well in advance, in addition to hosting one in real time. As many as 250 people can join a meeting with their individual devices. Other salient features are discussed below.
Schedule Meetings from Outlook
Skype for Business can be easily integrated with the Outlook plugin. This allows you to schedule your online meetings through Outlook with a single click. The presenter can choose a meeting topic and can also determine which participants can join the meeting. The details and information for a particular meeting or conference call are available on the Outlook template.
Schedule Meetings via the Web Scheduler
The web scheduler in Skype for Business helps you schedule a range of business meetings. In addition, it allows you to:
Get an overview of upcoming meetings.
View and adjust the details for a particular meeting.
Delete an upcoming meeting.
Send invitations to people to join a meeting.
Join an upcoming meeting.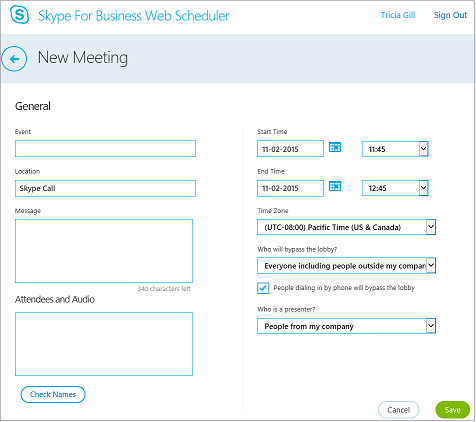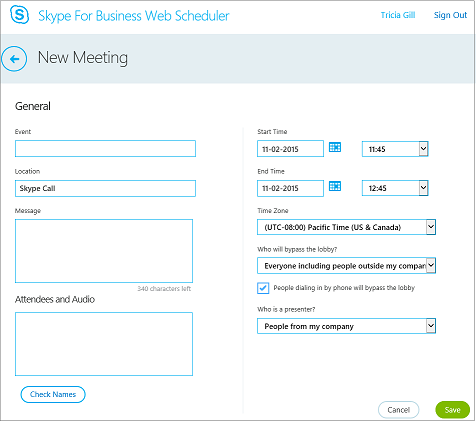 Single-Touch Join
This feature allows employees to join your meeting with a single click. If the meeting was scheduled well in advance, participants can join conveniently from their calendar meeting reminders.
Multi-Party HD Video
It lets you view up to 6 people simultaneously on your screen live in 1080p resolution.
Content Sharing
Skype for Business helps you take your meetings to the next level by allowing you to share your desktop screens, Excel sheets, and PowerPoint presentations.
2) Numerous Presenter Controls
Skype for Business provides various meeting controls, such as the ability to:
Mute all or individual attendees
Hide the names behind display pictures
Block any person's video
Invite other people
Customize permissions to allow presenters to act as participants
3) Customized Participant Views
Skype for Business offers an array of features to both the host and the attendees of a particular meeting. Participants can easily join a Skype for Business meeting from a phone via dial–in conferencing and choose what they want to view:
Gallery View: lets you view other participants' videos along with the meeting content
Speaker View: lets you view the meeting content alongside the presenter's video
Presentation View: lets you view the meeting content
Compact View: showcases the participant's pictures as organized tiles
4) PowerPoint Presentations
Skype for Business helps you deliver PowerPoint presentations to more than one participant with high-resolution displays. You can also take advantage of other versatile PowerPoint features like embedded videos and slide transitions.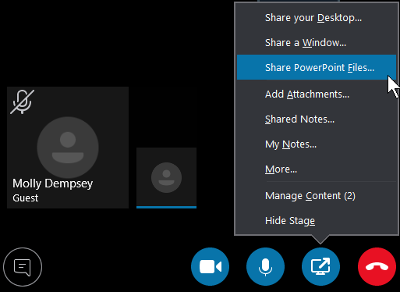 As the software uses standard JavaScript and HTML 5, you can also view presentations on a mobile device.
5) Conferencing Tools
In addition to all this, Skype for Business provides various web conferencing tools like a virtual whiteboard and annotations. The whiteboard allows you to arrange text, ink, drawings, and images on a blank canvas to deliver your message.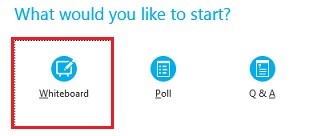 Participants can view annotations made on the whiteboard to gather more ideas, discuss the content, and brainstorm solutions.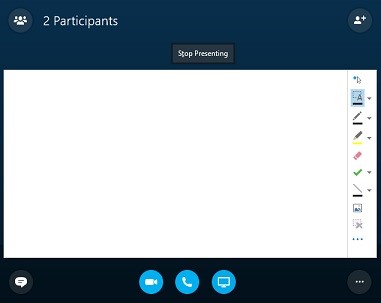 6) Easy Broadcasting
The Skype Meeting Broadcast lets you broadcast content to over 10,000 attendees and is a perfect solution for conducting webinars. Though you can easily deliver content to large crowds over the internet, you can also reduce the number of attendees to however many employees you have in your organization.

Further, the tool allows you to post recorded video meetings to Office 365 Video. Anyone can join a broadcast using a device with a web browser and can either watch it live or afterward on Microsoft Azure.
You can host conversations between audience members via Yammer and can add external URLs to the broadcast to encourage viewers to take the next step.
7) Polling
Polling helps you enhance collaboration between the participants and the presenter by setting preferences for participants. It also helps you make decisions and take a final call regarding any topic by gathering responses in a group conversation. Additionally, the presenter can choose to either hide or show the poll results.
Thanks to this polling system, you can even gather your audience's input while they watch a broadcast.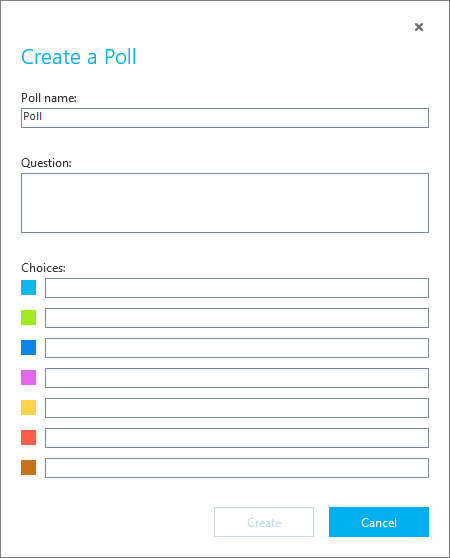 8) Recording and Playback
The presenters and organizers can record various aspects of a meeting, such as audio, video, IMs, handouts, sharing sessions, whiteboards, and more, and everything can be recorded on the go. You also have the option to choose your preferred resolution settings for the recording.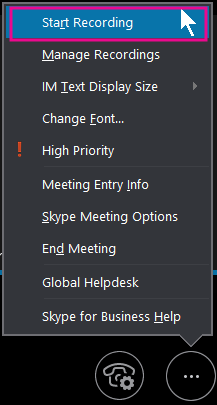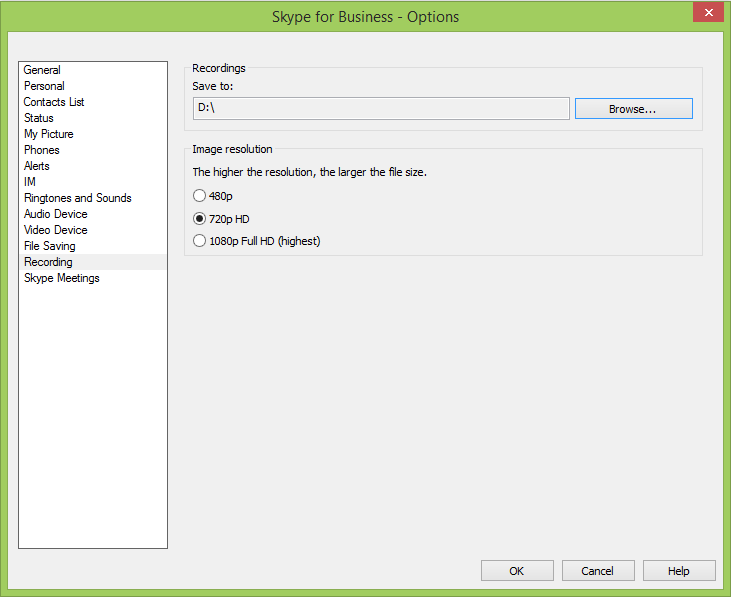 9) Meeting Lobby
The Meeting Lobby allows you to specify who may join and is a perfect solution for any meeting involving confidential and sensitive information.
10) Meeting Content Retention
Skype for Business users can upload a range of content for their business meetings in the form of Excel files, PowerPoint presentations, notes, and more. The retention period for a meeting's content depends on the kind of meeting:
One-Time
Content can be retained for a period of 15 days from the day the last person left the meeting.
Recurring
These work just like one-time meetings, except the retention timer resets if any other user enters the meeting within the 15-day retention period.
Meet Now
Content is retained for a period of 8 hours.
11) No Mandatory Authentication
Authentication is not mandatory for Skype for Business attendees. If a user does not have an account with the hosting company but has received an invitation, they may join the meeting by signing in with a guest account.
12) Public Switched Telephone Network (PSTN) Conferencing
As an added alternative, anyone can join Skype meetings by phone with Microsoft's PSTN conferencing solution, which is useful when there is no internet connection.
Local Dial-In Numbers
A Skype meeting invite contains the dial-in number by which one can easily join the meeting.
Easy Dial-In Conferencing
You can involve a person in your Skype meeting by simply dialing their phone number.
Meeting Roster and Controls
For greater control over a meeting, you can identify who recently joined via the internet or phone with the handy Skype for Business meeting roster. This also lets you check who the current speaker is or even mute a noisy attendee.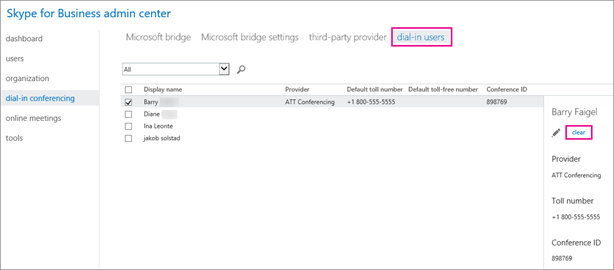 Make the Switch
These are just a few of the Skype for Business features that you should use for better management and productivity. Considering that Skype for Business has so much more to offer, it's highly recommended that you make the switch.
Are you an existing Skype for Business user? What are your thoughts? Do let us know in the comments below.