Does your business use Skype? It's been hailed as one of the easiest ways to communicate with people outside the office. It's also a great way for companies to hold meetings and even conduct job interviews. Recent statistics show that people spend more than 50 billion minutes a month talking to each other on Skype.
But did you know there's a new Skype tool out there that's designed strictly for businesses? Not surprisingly, it's called Skype for Business. It used to be called Lync, but Microsoft renamed it last year. Skype for Business isn't free like the consumer version, but it has several features that are a better fit for business. You might be wondering if you should take the leap. After all, if you've been using the free version of Skype for a few years now, you might find it works just fine. We decided to take a better look at Skype for Business to see if it's a worthwhile investment. Here's what we found.
Skype for Business is Better for Large Meetings
 If you've used the consumer version of Skype for business meetings, you've probably noticed that you can't have more than 25 people on a conference call. That's fine if you're running a small meeting. But, try getting 100 people together for a company-wide webinar and it's a different story. When you use Skype for Business, you can invite up to 250 people to a meeting. This means it's a lot easier for you to conduct large-scale presentations or big conferences. And your participants don't have to be on Skype for Business to participate. All they need is an internet connection and a browser.
You Can Use It with Office Apps
One of the big advantages of Skype for Business is that it integrates well with Office 365. This means you'll always have the latest versions of all your favorite Office Apps, such as Word, Excel and PowerPoint as well as email, cloud storage and other collaboration tools. Skype for Business allows you to send Instant Messages or start a voice or video call directly from a Word or PowerPoint document. You can schedule meetings from within Outlook, present documents, share your screen and even grant permission for someone else to control your desktop remotely. And since Office 365 can be installed on several devices, you can access Office Apps, including Skype for Business, from a PC/Mac, tablet or smartphone. Skype for Business is sold with Office 365 plans for small business, such as Office 365 Business Premium, Business Essentials or Skype for Business Standalone plan.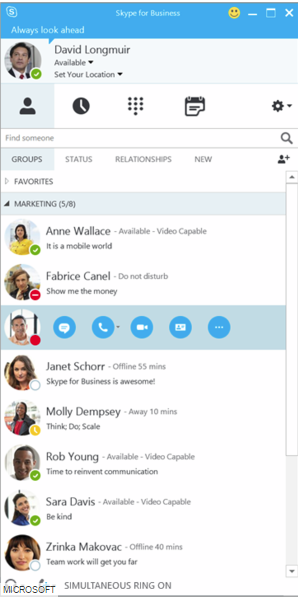 Skype for Business Has Added Security Features
Skype for Business is designed for companies, not consumers. That's why it includes an administrator who assigns specific permissions, such as who has access to which features. For example, small businesses that have this version of Skype could decide that only salespeople could use it to make international calls instead of leaving the option wide open to the entire staff. Skype for Business allows the administrator to verify who is using the program's features. This allows the company to see if the employees are using it regularly and ensure the company is getting the most out of its Skype for Business license. The administrator can also deny access to a person who leaves the company to work somewhere else. This allows the company to maintain control over its confidential documents and communications.
There's No Big Learning Curve
 That's right. If you know how to use Skype, you can use Skype for Business. There's no new interface or software application to learn. And when it comes to introducing Skype for Business to your employees, this can be a real advantage.
So, which will it be: Skype or Skype for Business? It depends on what you're looking for. If you run a very small business and you don't use Skype very often, you'd be better off sticking with the free version for now.
However, here are three good reasons to make the switch to Skype for Business:
You want better integration with Office 365
You need more control and security over your company's communications
You want to hold large meetings, webinars or group presentations
For more information about how small businesses can take advantage of Office 365, download our free eBook below.