Are you still relying on Microsoft's Advisor program to resell Office 365? At one time, that seemed like the simplest way for an Advisor to make easy money. All you had to do was refer your Office 365 customers directly to Microsoft and bingo, your commission was in the bank! You didn't even have to worry about billing and supporting your customers because Microsoft did it for you.
Well, there's a better way to resell Office 365. Sherweb has just launched a special offer for Microsoft Advisors. By transferring your Microsoft Advisor seats to Sherweb, you can boost your margins and take advantage of our free migration and technical support services. And it takes only 10 minutes to register and start selling! Here's what we're offering.
1. Sherweb's Advisors Earn Higher Margins
Last October, Microsoft announced a substantial drop in the margins you can earn as a Partner of Record (POR) to sell Office 365. Commissions under the Advisor program were reduced from 23% to 15% in the first year and from 4% to 3% in the second year. Under Sherweb's standard Advisor program, you can earn a 150% one-time commission plus 7% every month for the life of the customer contract. We understand it might be difficult to justify a small price increase to your customers. This is especially true if they're moving from a yearly payment for Microsoft Office 365 to a monthly commitment with Sherweb. So, if you're already a Microsoft Advisor with existing customers, we have a special program that will help you transfer your clients without affecting their monthly billing for Office 365. Note this special offer applies to existing tenants who have been active with another provider, such as Microsoft, for at least 3 months prior to the transfer to Sherweb. The following graph illustrates how easy it is to boost your revenue as a Sherweb Advisor.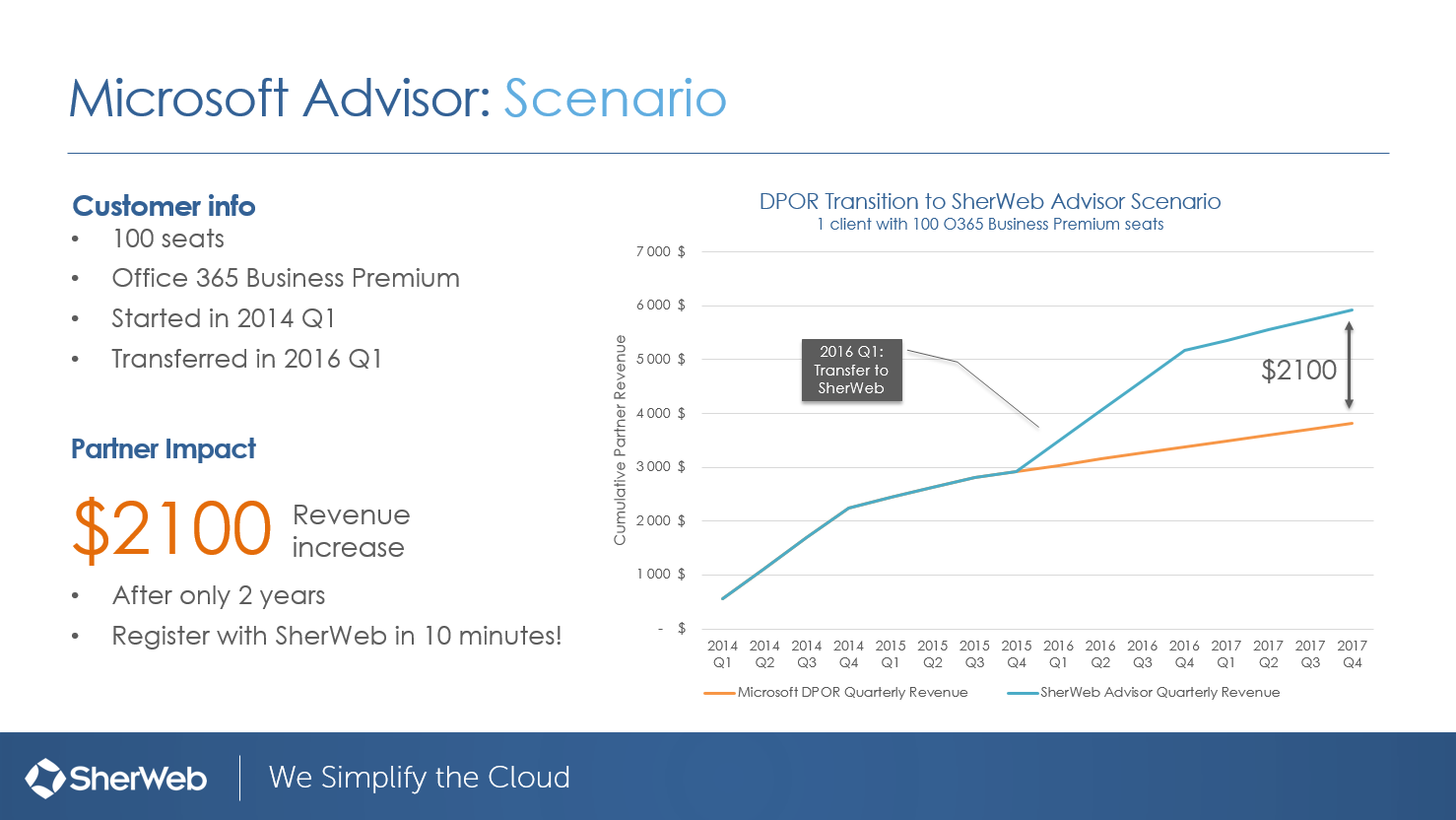 2. Go to Market Faster
One of the biggest advantages to becoming a Sherweb Advisor is you can go to market faster. By taking advantage of our free support and migration services, you can attract more clients and position yourself as full-service shop. Sherweb's migration team has migrated more than 50,000 organizations to various environments, including dedicated or virtual servers, databases and applications. Our experts will guarantee seamless migration and onboarding for your customers. As we mentioned earlier, you can register for Sherweb's partner program on our website in less than 10 minutes. Once you join, just log into our customized partner portal and you're ready to sell!
3. Full Sales Support
One of the benefits of moving from a large company like Microsoft to Sherweb is the personalized service we offer our partners. Aside from free migration and onboarding, we also offer full sales support, even to Advisors. Here's an example. Let's say you've just spoken to a potential client who is interested in purchasing 200 seats for Office 365. All you have to do is contact Sherweb and we'll do the rest. Our sales team will call the client and close the deal. Our solutions architects will make all the arrangements for the migration and onboarding and do the follow-up once the migration is completed. We'll also handle the billing and customer support. As we wrote in a previous blog, our support team is available to answer your calls 24/7 in both English and French from a call center based in North America. That's a pretty good deal, don't you think? All you had to do was refer your customer to Sherweb and you earned your commission!
4. Seamless Client Transfer
Transferring your Office 365 customers from Microsoft's Advisor program is a seamless process thanks to a new multi-channel feature. You won't have to create a new tenant or do a full data migration for each customer. This process is streamlined so that the end-user won't even notice. And there's no downtime. What your client will get is Sherweb's support and expertise immediately after the transfer.
5. More Time to Focus on Your Business
There's no doubt about it. Because Sherweb handles the important issues like onboarding and migration, you can spend more time focusing on your business. You'll be able to put all your energy into pursuing new clients and marketing your work instead of worrying if your clients are getting the services and support they need.
Want to learn more about Sherweb's special offer for Microsoft Advisors? Visit this page.