While you have the IT skills and experience to run an MSP, you might be struggling to increase revenue or build long-term value. But with some simple tweaks to your MSP packaging, you can make the recurring revenue model work for you, step by step.
After all, one of the main advantages of the Managed Services model is the predictable income. Now more than ever, people are interested in subscription-based services, made popular by the likes of Netflix and Spotify. When it comes to managing their entire IT infrastructure, they're willing to pay a fixed monthly rate. Plus one of the biggest benefits of running an MSP subscription business model is having recurring revenue!
Let's take a look at the impact that recurring revenue can have on your business.
Understanding Recurring Revenues
Try to think of an industry that generates billions of dollars and that is based on recurring revenues. Hint: most of us depend – and are highly addicted – to its services. We are so hooked that we're blindly willing to pay high fees every month. And that's just to access the service. Wondering which industry I'm talking about? Mobile network companies. Yes, cellphone companies are very profitable. And which billing model do you think they use? You guessed it. The recurring revenue billing model.
Most MSPs are used to the traditional services model, which can be very lucrative when sales are booming, yet it can also be unforgiving if sales are poor.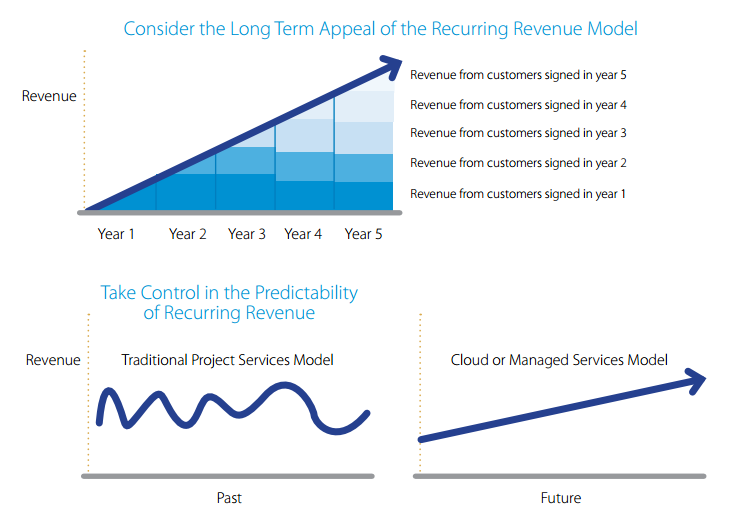 The beauty of the recurring revenue model is its long-term profitability. The challenge for MSPs? Manage the rate of churn and keep the number of lost customers down to a minimum. This shouldn't be too hard to do if you're offering great customer support and a unique approach.
The model is fairly simple. Each customer generates XYZ amount of profit per month. The more customers on board, the higher the profits will be. These 3 charts from the IDC eBook "Successful Cloud Partners 2.0: What IT Solution Providers Need to Know to Build Profitable Cloud Practices," offer a good visual comparison between the traditional services model and the Cloud/Managed Services model. You'll notice that the recurring revenue model offers more predictability. Just imagine a month when you can't close enough sales to reach your projected profits. Recurring revenue will give you a safety net and ensure your bank account continues to grow!
5 Ways to Get Monthly Recurring Revenue (MRR)
Wondering how to make an MRR plan work for you? Keep reading.
1) Don't Just Sell Technology
Did you ever try explaining the technical features of an IT system management to a non-technical customer? The information goes in one ear and out the other.
Here's a better approach. Instead of just pitching an IT solution, tell them how it will impact their business. Will it increase user productivity, control costs, reduce risks or downtime, accelerate order processing, etc.?
And while you're explaining how your IT solution translates into greater productivity or utilization, you can put on your consulting hat. Give your customer expert advice like which platforms they should implement or integrate, how to navigate public vs. private clouds, security, mobility, and so on.
By offering more than technology, you're not only adding value beyond infrastructure sales and support, you're also setting up a business model that allows your customers to see you as an integral part of their existing and growing revenue stream. And you'll be adding to your own revenue at the same time!
2) Know What's in Your Bag
Managed Services cover a range of different offerings. But you can't do it all. The best way to build your business is by playing on your strengths and experience to give your customers what they need to succeed.
However, like many MSPs, you're probably trying to figure out how to manage infrastructure and applications with consistent monitoring and tech support, plus meet your customers' growing demand for cloud solutions. We hate to say it, but the skills gap can be a real problem.
You can approach this problem in two ways:
You can invest in newly skilled technicians to run a 24/7 support shift, but you'll need to add more costs for training, overtime and emergency support. Unless you want to drive your human resources budget through the roof, this is probably not your best choice.
The other option is to take advantage of a partner program that offers support for both you and/or your customers plus Managed Services for more complex operations. You choose the type of model that best fits your customer's situation and you decide the role you want to play in accomplishing it.
Which option do you think makes more financial sense for your business?
3) Take Advantage of IT Automation
Many MSPs rely on their automation tool to keep their business successful. It helps them manage and prioritize everything such as service delivery, customer management, contracts and billing, etc. This is especially true if you're running a one-man show.
There are a number of free online support tools to help you track, monitor and manage your customers as well as your staff and business to ensure you're making (and not losing) money.
Karl W. Palachuk, who built and sold two successful MSP businesses, shares his experiences and best practices in delivering IT services. At ChannelPro's SMB Forum in Dallas this year, Palachuk presented a workshop called The Killer Combo: Cloud Services and Managed Services. During his presentation, he listed 25 unbreakable rules of service delivery. One of them is to always account for the time spent with each customer by logging everything you do — including labor time — in a ticket. As he puts it, "No service tickets, no work."
4) Clearly Define Your Brand's Value Proposition
Today's successful MSPs offer IT support, consultancy and competitive solutions to help improve their clients' IT operations. But since most of them offer the typical solution stack that includes an anti-virus, cloud backup, disaster recovery, etc., how can you differentiate yourself from the pack?
Need to find a compelling way to define your value proposition?
Here are a few suggestions to get you started:
First, think about why you're doing what you're doing. Then, ask yourself how you're improving your client's organization. The next step is to start your marketing plan.
Use your website as a sales tool to position your brand
Engage on social media
Go to tradeshows and business events to meet with prospects
Create targeted email campaigns
Read more about writing an effective value proposition here.
5) Get on the Right Track to Cloud Success
The key is choosing the right provider. That's it. There are many well-established companies selling the cloud right now. What's the most important feature to consider when you choose your provider? Reliability. When you find a reliable provider, you offer peace of mind to yourself and your customers
Note: This post was originally published in January 2015 and has been revamped and updated for accuracy and comprehensiveness.