The average MSP services about 200-300 endpoints spread across 10-20 clients. In many cases, they have only one technician to manage them all. With a growing client base that's becoming more and more dependent on cloud skills, the next logical step is to beef up staff. Problem is, IT staffing is not easy. Does this sound familiar?
Let's take a look at the biggest HR challenges faced by many small and medium-sized MSPs:
IT skills gap
Training and retraining employees
Tight HR budgets
Fierce competition to find and hire qualified IT talent
A 2018 survey by Datto revealed that 41% of MSPs cited staffing and training as their biggest challenges. A glimpse into the year ahead suggests that the US will face a 16% increase in substantial challenges on the IT hiring front (CompTIA IT Industry Outlook 2018) .
Thinking Outside the Box: IT Staffing
Challenge: Not enough qualified IT talent to go around
Solution…
There's no quick fix to resolving the shortage of tech talent. BUT maybe hiring more staff isn't the answer.
To improve your service delivery, stay competitive and save money, try taking a more proactive approach. Here are 3 effective ways to bend the laws of IT staffing in your favor:

1. Analyze your current situation
2. Manage expectations for your customer by setting boundaries
3. Understand how technology fits into your MSP staffing strategy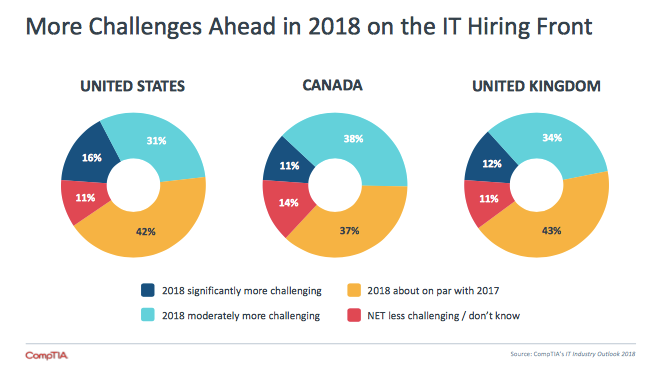 Ready to take a deep dive? Keep reading.
1. Analyze Your Current Situation
Does your business's future look hazy? The best way to see things clearly is by taking a step back to assess your current situation. You might be aware of your staff challenges, but need help pinpointing weaknesses and correcting them.
Are you understaffed? Staff shortages can cost more than you think. Don't overlook the red flags that come with delayed projects, overworked technicians, late tickets or lack of time to keep good records. And don't ignore frustrated customers.
Did you know that a minimum of 5 -11 techs is required to cover a 24/7 support shift? This could mean a hefty annual investment of $40K/year just to get started.
Are some techs on your staff an underused asset? Implementing a general staff structure and processes can help smaller MSPs cut costs and improve service delivery.
For example, using your staff assets wisely can make a difference between spending 30 minutes on a task instead of 12 hours. In other words, give a specific task to a tech who has the right skills and knowledge so that he can complete it faster and more effectively.
Struggling with inexperienced staff? College doesn't always prepare people for the tech labor market. And many MSPs don't have the resources or time to properly recruit, train and retain staff.
Do you have the right resource tools? A lack of training materials and tools can increase time burn and inadequate tech support.
These problems don't apply to you? You might be struggling with another aspect of your business that is affecting your productivity and cost.
Options, Options…
You can look for outside help. It's a good idea to consult with an experienced MSP counterpart for advice.
The other option is to rely on an expert solution provider, like Sherweb, and leverage their free technical support, marketing and sales resources to maximize your cost efficiency, retention and growth.
Watch this quick video below about our Partner Program.
2. Set and Manage Customer Expectations
Business owners generally tend to go above and beyond for their customers. After all, the client experience is what sets your business apart from the competition. But, customer experience expert Marc Gordon says this is a costly mistake.
In his MSP MasterClass workshop, Selling Happiness: How to Create Customer Experiences That Inspire Loyalty, Gordon says that regularly going the extra mile for customers costs companies millions of dollars in resources and revenue.
So how far should you go to drive customer loyalty?
"It's all about managing expectations. If you can understand what impacts expectations, you can better reach those expectations." -Marc Gordon
You don't want customers accepting this behavior as normal because they could just as easily bolt to your competitor the moment something doesn't go their way. Gordon's answer? Simply create a stress-free and effortless transaction that leaves your customer with a positive experience every time.
Watch Marc Gordon's MSP MasterClass on-demand session now!
3. Understand How Technology Fits Into Your IT Staffing Strategy
As you know, today's MSP can no longer depend on revenue from on-premises infrastructure. The future is cloud, which is why more and more IT professionals are architecting cloud solutions instead of deploying servers and monitoring datacenters.
But here you are, living the nightmare of magnified IT staffing problems – struggling to find the right skills set, abilities and attitude to help reach your cloud goals. Well, It doesn't have to be this way. There are options to take your MSP out of this downward spiral.
Get Help from a Partner Network
Whether your current team is too small to execute a cloud migration or they lack knowledge to deploy applications, you can fill those service gaps in one easy step. Join a partner network with a cloud provider like Sherweb and give your customers a one-stop shop experience.
Take a look at our Partner Infokit to get the facts about partner models, prices, margins, value-added resources and much more!