If your microsoft 365 clients asked you to recommend ways to secure their data, would you know what to say?
If you answered no, you'll be glad to hear that you're not alone. Many of the microsoft 365 resellers we spoke to don't know much about security and would have a hard time pitching a good solution to their clients.
Well, get ready because your customers need your help. Microsoft 365 has always been a target for cybercriminals and with more than 155 million active business users ↗, it can only get worse. Think about how much of your clients' business runs on Microsoft 365. They use it to store their financial records, personal information, security passwords and even payment details.
Did you know that cyberattacks increased by a whopping 350% ↗ in 2018?

Source: IndustryWeek, December 2018

That's right. And Gartner ↗ has predicted that by 2022, 95% of cloud security breaches ↗ will be traced to the user.

Source: Gartner, March 2018
Designed for small business
So, how can you help your Microsoft 365 clients protect their data? By offering them a plan that will reduce the risk of cyberattacks. Consider Office Protect. This security management solution is designed for small businesses that use Microsoft 365. It offers threat protection, monitoring, alerts and reporting services all from one single portal.
Office Protect is the perfect solution for small businesses that don't have compliance requirements. This is a great opportunity for you to offer a security management solution for Microsoft 365 and provide ongoing monitoring services. By doing this, you can position yourself as your clients' trusted advisor for Microsoft 365.
It's also a great opportunity to tap into the booming market for security.
Did you know?
Cybersecurity Ventures ↗ has predicted that global spending on cybersecurity products and services will exceed $1 trillion by 2021.

Source: Cybersecurity Ventures, May 2017
Gain your clients' trust
Office Protect is also easy to set up and maintain. It takes only 5 minutes and one click to apply the settings. And once you've set up a client, you can maintain the relationship with monthly touchpoints. Can you think of an easier way to solve security issues and gain your clients' trust? You'll also be adding great value to your cloud portfolio with minimal effort.
Here's a quick rundown of some of the features you'll get with Office Protect:
Monitoring and alerts with advanced security management
Any change to security policies
A sign-in from unusual locations, unknown devices or IP
Suspicious mailbox activities
Any deleted accounts from hackers
Want to know more about monitoring and alerts? Check out our blog.
Best practice security settings
Audit logs stay on
Multi-factor authentication
Spam notifications
Alerts you if users are spamming
Blocks harmful email attachments
Take a deep dive into best practice security settings here.
Real-time reporting
Uploaded, downloaded and restored files
File, folder and site activities
Sharing and access request activities
Administrator activities
Read our blog to learn more about the advantages of generating security reports.
You might be asking yourself why Microsoft hasn't made more of an effort to simplify Microsoft 365 security features for small business owners. The answer is simple. Microsoft has invested time and money where it counts — in its data centres. When it comes to simple things like your clients' email security, it's up to you.
Here's Why You Can't Ignore Office Protect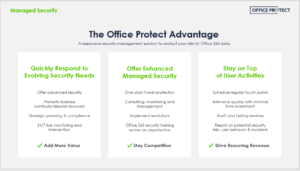 A fabulous tool
Oscar Rodriguez, President of Aegis Innovators in San Diego, CA, said his IT consulting firm has had great results selling Office Protect to its clients.
''It's a fabulous tool. We add it to our bundles and packages and we sell that to our customers. It notifies the businesses and it notifies us that something's going on in their network. That is so invaluable. Our clients look at us as being on the forefront of technology.''
 The price is right
Cybersecurity is a major concern, but it's also a great business opportunity. The demand for advanced security solutions has grown, leaving the door wide open for MSPs like you to offer managed security and increase their Monthly Recurring Revenue.
By offering your clients Office Protect, you won't have to spend time configuring their security settings. You can also add your own services around Microsoft 365 security by leveraging the monitoring and reporting features to build a profitable managed security services offering. And at only $1 USD per Microsoft 365 seat, the price is right!