Customer service is essential to maintaining a loyal customer base. Each customer is unique and should be dealt with care, passion, and diligence. But as your business grows, you'll find it difficult to give the same attention to each customer as when you first started. Customer relationship management (CRM) solutions help propel that growth.
Improving Customer Service with CRM
If you've never heard of CRM, don't worry—it's actually fairly straightforward.
CRMs equip your business with the tools, strategy, and execution for handling customer service. They even allow you to save everything related to customer service, including customer lists, emails, reports, notes, and so on.
The core idea behind customer service is to put your customer first. This can only be achieved when a business tries to gauge the customer's situation by understanding their pains. The aim is to solve their problems and improve company loyalty.
Apple, the biggest company in the world, has one of the largest loyal customer bases. It achieve this by providing high-quality (albeit pricey) customer service. Even though it's been accused of employing anti-consumer practices, Apple is still sit at the top of the charts when it comes to customer loyalty. Customers are willing to pay for a better customer experience.
In turn, Apple enjoys the benefits of customer loyalty including increased retention rates, referral rates, decreased marketing costs, and more!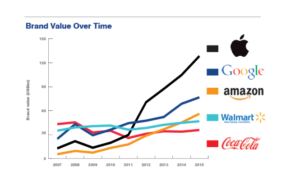 Other brands have also taken advantage of customer loyalty with the help of CRMs and other useful tools.
CRM software is one of the fastest growing tech markets and is estimated to reach $80 million by 2025.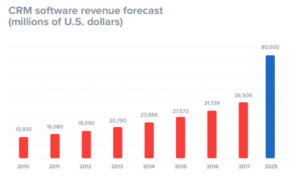 Benefits of CRM: What Makes It so Great?
Customer relationship management brings tons of benefits to your business. It completely changes how you work and ensures that you have the right tools to manage customer service effectively. So how can it benefit your business?
The Customer Is King
There is no doubt that a good CRM directly impacts customer satisfaction. After all, it provides an organized and systematic way of handling all dealings with a customer. Moreover, as a business, you can further improve your approach by understanding your customer's pain and issues.
For example, a CRM can provide a clear view of the customer's past interaction with customer service, giving you a clear look at the issues they've been going through. The customer representative can review all the information and provide the required solution without wasting time.
CRMs are also excellent for getting feedback on your product and service. As customers interact with you through your CRM, it stores all possible feedback data. Once organized, you can integrate apps with many CRM solution, allowing you gather the data while treating it at the same time. This feedback may be related to marketing, services or any other aspect of the product and can be forwarded to the respective team so that they can take appropriate actions.
Automation through CRMs enables you to create a streamlined process. Furthermore, you can also deploy artificial intelligence (AI) to work in conjunction with your CRM and ensure that all the feedback data is collected with actionable data.
Work as a Team
A CRM also improves communication within a company by ensuring that different departments can easily access the same data. In turn, this optimizes the customer experience and enables everyone to work as a team. Improved internal communication also increases efficiency and minimizes the need for customers to explain their problem every time they connect with a customer service representative.
Unparalleled Business Growth
Another obvious benefit of a CRM is improved customer retention. Customers who receive better support are more likely to stick with your brand and become loyal. Who doesn't love a repeat buyer? Happy customers are more inclined to refer your business to others.
CRMs also help you get the "right" customers. It helps you to convert marketing leads to sales. The leads captured through CRM can be passed to the sales team where they can take appropriate action. Marketing automation tools, email, and social media can be inte a CRM to give you a complete overview of your prospects and leads. This way, your sales team can communicate with leads and convert them into sales.
Ultimately, CRMs bring you more revenue—and that spells growth.
Learn more about your customers
A CRM's interaction with customers leads to tons of data generation. It also means that you can integrate your data analysis tools and techniques to gain knowledge about your customers, performance, and much more. The integration depends on the CRM you are using. Most CRMs support app and services integration, which can help you refine customer data further and learn from it.
This information can then be used to improve your sales process and marketing campaigns in general. With a CRM, you can make an effective business decision based on the available data.
Get the Most Out of Your Marketing Campaign
CRMs can help you engage in more cost-effective and targeted marketing. By learning your customers' pains and struggles, you can optimize your marketing campaign and hit that sweet spot where it all matters! For example, if your product solves a certain problem other than what it is initially advertised for, and you discover this through customer feedback, you can use that information in your marketing campaigns and reap the benefits.
Furthermore, you can also run relevant promotions and deals to gain a competitive advantage. The only thing you need to do is properly optimize your marketing campaign. If done right, it can lead to improved campaign results.
The Future of Marketing Lies in CRM
CRMs have improved the way businesses operate. Here's a review of the benefits of a CRM:
Find the right customers and increase lead generation.
Improved customer satisfaction and retention.
Increased revenue per customer.
A more sustainable relationship through detailed records.
Reduction in sales costs.
Increased employee productivity.
Improved customer retention and loyalty.
Improved up-selling and cross-selling.
You can reap all of these benefits with CRM automation, better data handling, and reporting.
Conclusion
If you want to grow, you need a CRM—it's the only way you can market effectively, especially in highly competitive industries. The customer is king—amaze them, and you'll soon have a loyal following.
One thing that I also want to mention is CRM, just like other solution, is a tool and you can make the maximum benefit by employing proper strategy and implementation.
So, what else do you think is required to provide excellent customer service? Do you think CRM is a must for every business out there? Comment below and let us know.