One of the major advantages of Dynamics 365 over any other CRM/XRM solution is its tight integration and ability to be called from and to post information to the all-familiar Microsoft Office mail and personal scheduling application Microsoft Outlook. The app provides the ability to tap the power of Dynamics 365 while using Outlook on the desktop, web, or phone.
The initial preview had some limitations, but Microsoft released an enhanced app as part of its December 2016 update. Compared to the earlier installed plug-in, the new app for Outlook runs server-side to remove some of the heavy lifting from a user's local machine.

Manage links between your Outlook contacts and Dynamics 365 contacts
Dynamics 365 App for Outlook automatically adds the Dynamics 365 Office add-in to Outlook on the desktop, allowing you to directly manage links between your Outlook contacts and Dynamics 365 contacts.
How can this app simplify your calendar?
For a user with little or no familiarity with the Dynamics interface but complete comfort with Outlook, this app can boost one's productivity many times over. With the latest release, Dynamics 365 App for Outlook has improved in many regards. This includes speed and ease of use. When users connect Dynamics with Outlook, they can easily track emails, tasks and appointments.
When the app is installed, a Dynamics 365 pane opens up in Outlook, which allows the user to view Dynamics 365 information and perform a variety of Dynamics 365 tasks without having to leave Outlook.
This means users can save valuable time by using Dynamics 365 directly through Outlook.  A user can effectively create a new contact, track an originating email to a new account (which of course can also be created from Outlook), add a follow-up phone call, and book a task, all within the same window with only a handful of clicks.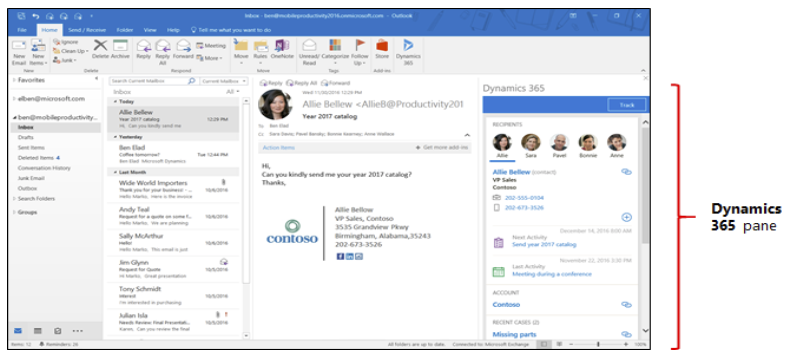 What you should know
Broadly speaking, once installed, this app provides many capabilities from within the Outlook inbox. For example, users can view email information directly from Dynamics 365.  They can also link email messages to Dynamics 365 records rapidly. Furthermore, they can add Outlook tasks directly to Dynamics 365. Finally, they can attach documents and sales literature to emails directly from Dynamics 365.
How this app can boost your productivity
The Dynamics 365 app for Outlook  allows users to do many things. For example, they can look up information, use email templates or create appointments. With the Dynamics 365 app enabled, matching CRM records can be immediately identified.
When you compose a new message, matching contacts, leads, and accounts will be listed using the email address entered. Another very cool feature is that the new Outlook app helps the user utilize email templates, sales literature and knowledge articles. Users can then access many features in an instant using the Dynamics 365 icon directly from Outlook.
Admins can push the app to users directly from Office
Once this is done, those users will be able to use the app within their desktop clients. This means there is no software to download to local machines. In addition, forgoing any installation issues reduces administration for local machines and also removes the requirement of having only one client syncing to your organization.
How Groups enhances your team productivity
The Groups feature allows the user to add members to a team, in which documents, calendars, and notebooks are shared. This feature is beneficial for a number of reasons. Using the example of a sales team, it would allow for a seamless transition if say territories were to be altered or, for example, if the marketing team needs to share a document regarding a new campaign, it be easily accomplished within groups.
Scheduling meetings within a group is also made more efficient because of the calendar feature, which shows the schedules of all group members in a single calendar, making it easy to choose a time that is acceptable for all parties necessary.