Microsoft made a strategic move with the transition to the Dynamics 365 product by dividing the previous modules into standalone apps. There are a lot of apps available to choose from, depending on your business needs. In this article, we will be talking about the Dynamics 365 Sales app.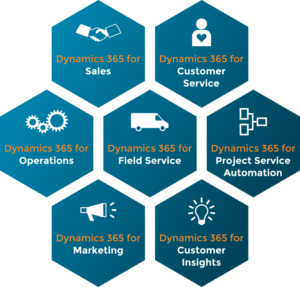 What is it?
Dynamics 365 Sales app is a fully customizable customer relationship management system. Sales module has been one of the main components of Dynamics CRM since the product's birth (in 2003 as Microsoft CRM 1.0).  It is now included in the Enterprise Edition, Customer Engagement and Dynamics 365 plans. With every release, Microsoft successfully implemented new features and made improvements to this robust sales system.
Why is it useful?
All of your information in one place
Back in the day, before the PC revolution, all the customer information was stored on paper, which were stored in separate files in the office. Dynamics 365 acts like the perfect secretary you cannot live without. It is extremely organized, storing all your records in a fully systematized manner that saves you loads of time and effort. It makes it easier to check any piece of customer info you need, whether it is your daily task, or the customer is before you.
Easy Search
There is no need to wonder where you stored a piece of information. Thanks to the linked records and exceptionally fast search algorithms, Dynamics 365 Sales app can get your results in seconds, displayed the way you want them (grouped, categorized…etc). You can even take it to the next level by using the advanced find, by adding multiple AND/OR filters to a get custom view of your data.
Dashboards and Charts
Get instant access to custom charts and personalized dashboards to stay up to date with the business stats. Dynamics 365 Sales app provides out of the box charts that use your own data to create a visual representation of what's going on. Not enough? No problem. You can create your own charts and pin them on your dashboard to get the exact information you need, when you need it.
Predictive Insights
If you follow technology news, it's obvious that AI is the next big thing. All the big companies are pushing AI into all their products, to make them more useful with time. The same applies with Dynamics 365. With customer insights, the Sales app will analyse your leads, accounts and contacts, to help you identify prospects that are more likely to buy your products.
Goal Management
Set targets for the sales and marketing teams, analysing their performance against these goals. This will help you a lot in future planning, so that you can find the best strategies and push your workforce to achieve their business goals.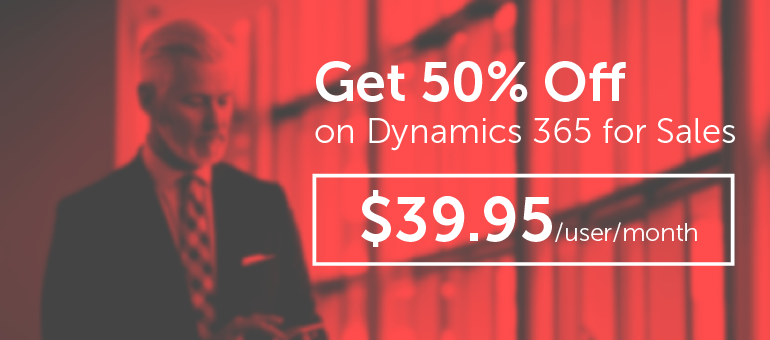 Download your Microsoft SMB Promo Guide!
To help bridge this gap, and specifically to help SMB-focused CRM partners maintain momentum, Microsoft are making several offers available at a reduced price for a limited time.
PowerBI and Reports
Dynamics 365 can show you data visualizations directly from PowerBI. You can customize your own dashboards with the latest data. As for reports, it's a key feature to have when you have a system to manage your business. Dynamics 365 makes it super easy to develop a report using the out of the box Report Wizard. Of course, if you want something a little more complex, you can create an SSRS Report using fetch queries where you have full control over how your reports look and what kind of data is being fetched.
Email Integration
Email communications have been the main way of communicating with customers and businesses for a while. From the older version of Dynamics CRM to the new Dynamics 365 app, Microsoft has been experimenting with ways to make the integration easy and seamless. With Dynamics 365 App for Outlook you can view information about Dynamics 365 contacts and leads, link emails to existing records, update Dynamics 365 records directly from your Outlook client and much more.
Customization
No business is an exact replica of another. In order to build one system to adapt to all industries, Microsoft made sure its product is as flexible as ever. You don't need technical expertise to make the small changes, such as adding fields, creating entities, updating entities and creating forms. If you want to customize even more, you can create workflows, extend functionality with JavaScript and create plugins and custom code activities. Honestly, I doubt that there's a business requirement that cannot be met with all the customization options available.
How does it work?
As you may know by now, Dynamics 365 is a web application that can be hosted on the cloud or on-premise. All you need to access Dynamics 365 Sales app is the corresponding URL.
The Sales app comes preloaded with the main entities used in the sales process. Of course, the existing entities are fully customizable and if they're not enough, you can go ahead and create new custom entities with different relationships.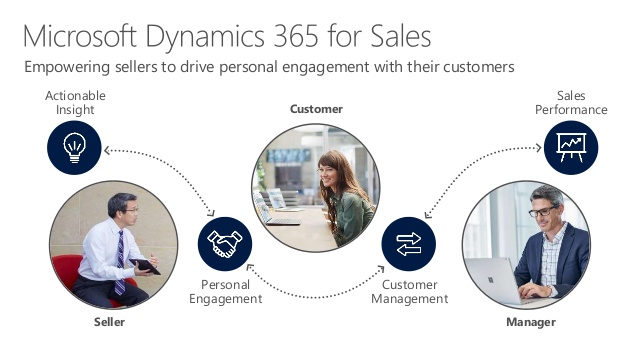 These are the steps baked into Dynamics 365 Sales app, out of the box:
Lead Creation
Let's say you're at dinner and you meet a potential client for your business. For the sake of the example, let's call him Tom. You take his name and some basic contact information (phone number, email etc.). In your Dynamics 365 Sales app, you can create a new Lead, add this person's info and keep it in your system.
Lead Qualification
A week later, you call Tom to see if he is still interested. Turns out he is! (Woohoo) You take some details from him, like what products he's interested in etc. You go to Tom's lead record in Dynamics 365 (Here's your chance to use the search feature we talked about earlier) and you click 'Qualify' on the command bar.
Upon qualifying a lead, Dynamics 365 for Sales creates 2 records:
Contact: Tom is now a contact (customer/potential customer). If Tom is representing a company or an organization, you can create an Account for his company and assign him as the primary contact.
Opportunity: The opportunity contains the details of what could potentially turn into an order.
Opportunity Updates
Once the opportunity is created, you can edit it and add any additional information you have about Tom. Then you can send him a proposal. If Tom accepts the proposal, you can go to the Quotes area on the form and click +.
Quote
This is the record where all the information about the quote is stored. You can include quote items which represent Products from your products list along with their respective quantities and prices. You can then activate the Quote, if it's been accepted by Tom, by simply clicking 'Create Order' from the command bar. Dynamics 365 will create an order with the quote items.
Order
That's technically the end of the sales process. You can still edit stuff in the Order (add, remove items etc.) and once everything is agreed on, you create the Invoice. You can close the opportunity as Won or Lost depending on whether the deal was closed or not.
Dynamics 365 Sales App has improved over the years to become a fully polished product that can be used to automate the business process from A to Z. It's fully customizable to fit in any business scenario and cover any specific requirements. Microsoft is putting in a lot of workload in its Dynamics family. Some new exciting features are already in development for the Sales app, like Business Process Flows automation, Cortana Integration and much more, to make your business life easier. If you would like more information on the Dynamics 365, Enterprise Edition Sales app. pricing, visit our infographic on the subject.