One of the most asked questions by customers installing Dynamics CRM used to be, "Can we manage the project from the Dynamics CRM web app?" Or, "is there a way to manage resources on a single project directly from CRM?" And these questions made sense.
Dynamics CRM was handling the customer's order from when it was a lead up until it was invoiced. Why not take it a step further and allow customers to manage the projects from the same interface?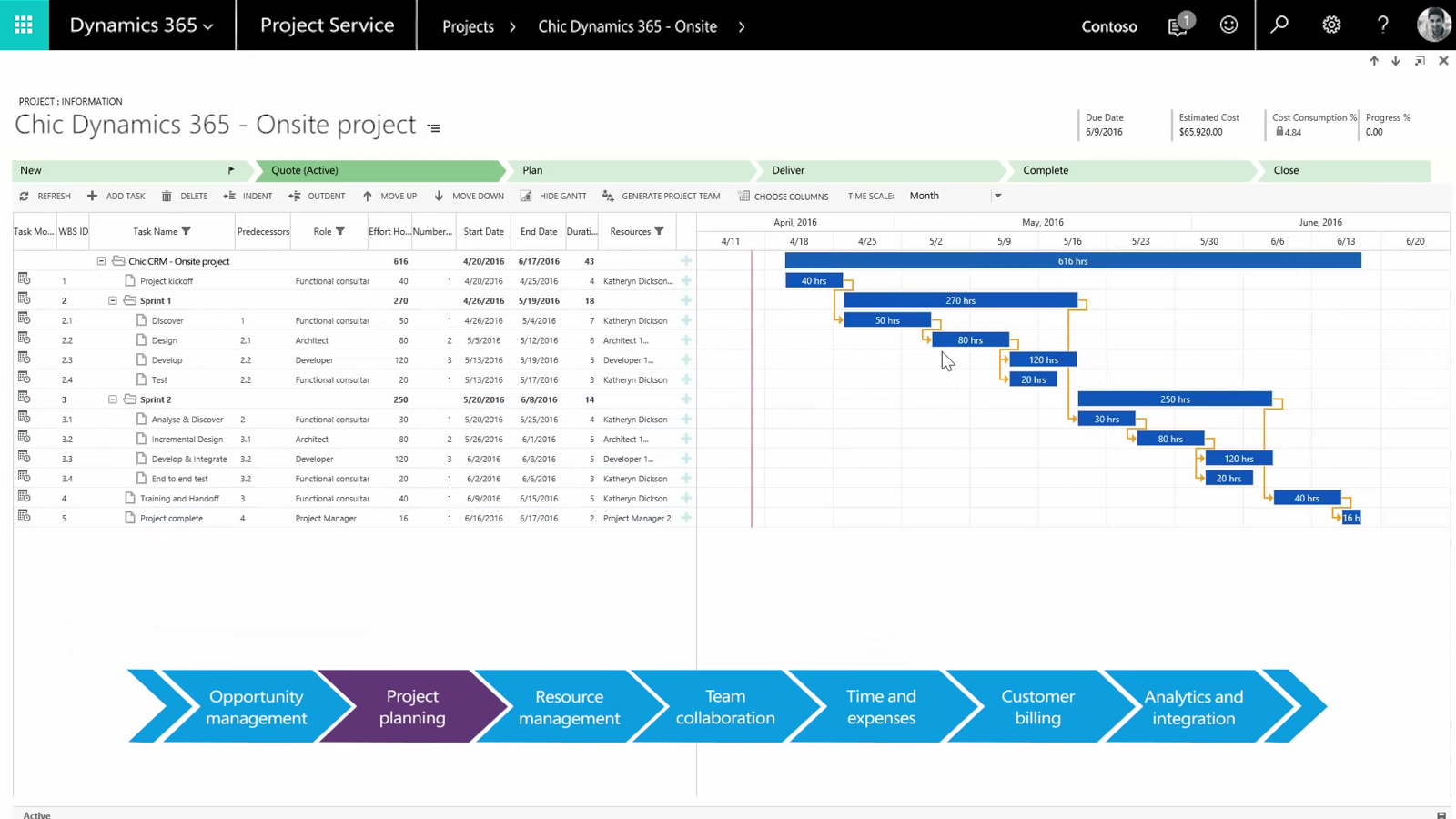 That's exactly what Microsoft did. With the introduction of Dynamics 365, the goal that Microsoft has set is to have one solution hosting all the processes a business can possibly need, dynamic enough to fit any industry and simple enough to be used across the whole organization.
What used to be called Dynamics CRM modules (Sales, Marketing, Customer Service) are now called Dynamics 365 Apps. These apps contain more functionality and go beyond the three that were introduced in the previous version of Dynamics CRM. Today, we're going to talk about the Dynamics 365 Project Service App, what's inside it, and why it's used for.
What is Project Service Automation?
It's an end-to-end solution that handles projects from the beginning to the end, including the project contract, available resources, budget and costs, project management, and deadlines.
Microsoft has loads of experience in this field from Microsoft Project, which is one of the tools that come with Office. They integrated all the features from this tool into Dynamics 365 to create this powerful, easy-to-use solution.
What are the main benefits?
Project contract management
The project contract helps connect the Sales quote, order, and project. Think of it as the connecting point between sales people and project managers to ensure that the project is profitable, feasible, and deliverable on time.
Project Planning
Manage project templates for different project types. This will make the project creation faster for similar projects where the template pre-defines standard roles and time estimates. Also, PSA allows you to schedule tasks automatically and provides views of relevant information regarding time and expenses.
Resource Management
Resource management can get very messy if you have a big organization, multiple on-going projects, and a handful of resources with different skill sets and times. Dynamics 365 provides a brilliant built-in engine for resource management and resource allocation.
With PSA, you can make sure you're using the right resources for the right projects based on skills, availability, and location.
Time and Expense Management
Team members can log all their times and expenses in one place, and they can do it on the go with Dynamics 365 Mobile. Managers can easily check the project progress on one calendar, approve expenses, and track the project times.
Team Collaboration
This feature provides one common interface for customers, project managers, and partners to stay up-to-date on project progress and project risks. The whole team is able to collaborate using Office 365 workspace created for the specific project.
Project Billing
PSA features a dashboard for project managers and sales managers to review the project billing including project costs and unbilled revenues. It's also a tool to automate the generation and approval of project invoices that will be recorded and integrated with a back-office application for Financial Accounting.
Service Analytics
It provides an interactive visual representation of business opportunities and business performance using custom or out-of-the-box dashboards and charts. This tool allows practice managers to measure performance, generate reports, and get intelligent predictive analysis, segmentation, and recommendations of steps to take next.
Who should use it?
Project Service Automation is a module used after the sale is done and the project is started. The people that will most likely use it are:
Account Managers
End Customers
Project Managers
Resource Managers
Partner Managers
Team Members
Practice Managers
Conclusion
Dynamics 365 for Project Service Automation is a very intuitive tool for companies with big projects to hand over. When a project is being developed, regardless of the industry, the bigger it gets, the more prone it is to getting out of scope, losing precise estimations, and surpassing the original cost.
That's where PSA comes in handy to keep everything organized, synchronized, and most importantly, visible to all the people responsible for the project. Microsoft is doing a great job bringing all its business solutions under one big umbrella and making it accessible from anywhere, anytime. Dynamics 365 is on a mission to change the way we're being productive, and it's working.