If you're in the market for a CRM, you've probably looked at dozens of options. Enterprise and small businesses who surf the internet are finding dozens of CRM solutions every day by providers who claim to cater to their specific needs. But when Destination CRM gave out prizes last August for the best CRM solutions, there were only two names that kept coming back in all categories (SMBs, Midmarket and Enterprise): Salesforce and Microsoft Dynamics CRM Online. The latter got the nod as the top solution.
No matter how big your company is, you'll find yourself looking at these two providers when you're trying to choose a CRM solution. Not too long ago, Salesforce would've probably been the best option. But recent efforts by Microsoft to improve Dynamics CRM Online has made their solution just as complete as Salesforce. In fact, Microsoft Dynamics CRM Online offers a more cost-effective platform. Watch our latest Dynamics 365 Webinar
When it comes to comparing the best of the best, how do you decide? We've taken a hard look at both solutions to see which one comes out on top for CRM users and administrators.
A Virtual Tie on Functionalities between Salesforce & Microsoft Dynamics CRM
As we said earlier, Microsoft Dynamics CRM and Salesforce have both emerged as clear-cut leaders in the CRM field, thanks to an in-depth list of features. From basic account management and opportunity handling to complex workflow automation, both solutions feature a range of functionalities that will give advanced CRM users all the flexibility they need to create their perfect CRM environment.
Sales, marketing and customer service capabilities are integrated out-of-the-box. At-a-glance reporting and dashboards provide a comprehensive view of data and the sales pipeline.
It often comes down to the user experience more than the list of functionalities.
While some people feel the Salesforce interface is more intuitive, the latest rebrands of Dynamics CRM have integrated the familiar Microsoft Office user interface that everyone knows. If you use Office 365 or Outlook 2013 and later versions, you won't be surprised by the CRM Online presentation.
Salesforce does offer data governance functionalities, something not currently available with Dynamics CRM. This gives administrators easy ways to clean up duplicate leads, contacts and accounts.
On the other hand, Microsoft CRM Online gives users a seamless integration with Office 365 through services like Outlook, Excel, OneDrive, Skype, and much more. The inter-app compatibility is a definite plus.
In the end, both solutions have similar functionalities. But if your business uses Office 365, we suggest you take a serious look at Microsoft Dynamics CRM Online vs Salesforce.
Deployment of Your Online CRM
We've seen a shift in CRM deployments since 2010. Cloud and hosted deployments now represent the bulk of CRM instances (over 87 %!). On-premises CRM is no longer the norm.
Yet, if you want to keep your data on-premises, you'll have to forget about Salesforce. We wouldn't recommend that route anyway.
You should either look for a hosted CRM or a cloud-based CRM. Microsoft Dynamics CRM offers all three models of deployment and is more flexible for organizations that want to invest in a business management solution. As for Salesforce, it is only available as a cloud solution.
In terms of choice, Dynamics CRM gets the nod. But as cloud adoption has sky-rocketed, this factor becomes less important year after year.
The Cost Factor
Today's business owners are looking for a cost-effective solution. That's why, when it comes to making a business decision like implementing a CRM, price is a hot topic.
This is where Microsoft Dynamics CRM Online distances itself from Salesforce, its biggest competitor. Because they have similar features, we'll be comparing Salesforce's Enterprise edition with Microsoft's CRM Online Professional edition. A Pro plan is also available with Salesforce but lacks certain capabilities offered by Microsoft Dynamics CRM.
In the chart below, we compare Salesforce Enterprise for 10 users with Sherweb's Dynamics CRM Online Pro pricing for 10 users. Sherweb's CRM Online Pro (Office 365 add-on) is paired with Office 365 Business Premium.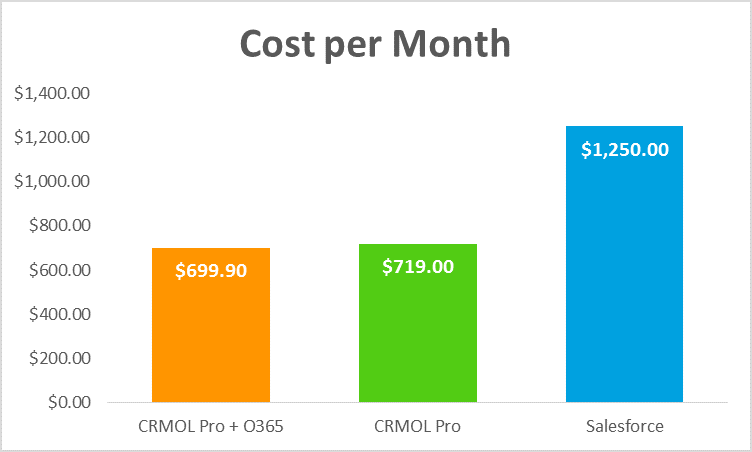 It costs about 40% more for Salesforce, and that's without an email and productivity solution like Office 365. Another caveat: Salesforce ties you in with a 1-year contract versus a month-to- month subscription model offered with Dynamics CRM Online.
When we take all these factors into account, Microsoft Dynamics is the clear favorite when it comes to cost.
We Chose Microsoft Dynamics CRM — and We Think You Should, Too
Sherweb's core values include offering only best-of-breed IT solutions. For every service we offer, from email hosting to Infrastructure-as-a-Service or CRM, we want our customers and partners to get access to the best solutions on the market. That's why we chose to offer Dynamics CRM Online.
Even though Salesforce offers a good CRM solution, we believe that Microsoft Dynamics CRM offers even more in terms of reliability, capacity to deliver new features and cost efficiency. Paired with the Office 365 integration, it just makes sense for businesses to choose CRM Online.