As the year comes to an end, we reflect on 2019 and the wins we're most proud of. But mostly, we're spending this time in gratitude; we're thankful for our passionate team and partners, and we look forward to celebrating with loved ones.
We all know that it's important to give back all year 'round, but the holiday season brings the needs of others into clear focus. That's why we're committed to making a positive difference in our community by giving back to those in need.
At Sherweb, we take our social responsibility seriously and ensure that our ongoing effort is in line with our core values to offer added value to all our partnerships, outside and within our organization. We proudly support the following non-profit organizations and efforts that strengthen local communities, promote charitable giving and create a more environmentally-friendly workplace.
Sherweb Leucan Challenge
For 40 years, Leucan has been providing support services to cancer-stricken children and their families, including:
Clinical research
Financial assistance
Emotional assistance & guidance
Massage therapy & psychological support
Awareness and well-being
Leucan's invaluable contribution to families confronted with cancer is a cause we hold dear to our hearts. For the last three years, we've been hosting the Sherweb Leucan Challenge, a fundraising event to engage supporters and raise funds for the organization. This year, we managed to collect $37,640 in donations.
"Transmiting real life values to my children is one of my priorities. On top of helping people in need, Sherweb's involvement in the community allows me to show to my four boys concrete examples of mutual support, compassion and solidarity. This is one of the reasons why I actively take part in Sherweb's [charity] activities with my family"

Marc-André Fontaine, VP, Sales and Marketing
Operation Père Noël (i.e., Santa Claus)
The holiday season can be the most difficult time of the year for low-income families. While most people give and receive gifts and sit down for a big family meal with all the traditional fixings of Christmas, others face a heavy toll.
Family and children's happiness are important to us. After all, we have a slide and various other playground equipment in our offices that keep our inner child alive. Operation Père Noël gathers letters written by underprivileged children to Santa. We distribute these letters across our departments and get the gifts they ask for. This is our way of keeping the magic of Christmas alive for as many families as possible.
 "Opération Père Noël is one of our charity initiatives that I really look forward to every year. I have been involved in the coordination of the initiative for our department for the last 3 years and it's really humbling to see how our employees will go out of their way to help. Our involvement is a great way to bring smiles to the kids that need them the most and at the same time give something back to our local community."

Maxim Mazur, Senior Supervisor – Technical Support O365
Fondation Rock-Guertin Christmas baskets
In 1982, Rock Guertin, a radio host in Sherbrooke, received a call on his show asking to help out a family in need. This was the first page in the history of the foundation as people started to show up to the radio station with food baskets. As the demand grew, larger donations were needed, and so Fondation Rock-Guertin was born. Each year, we create fundraising efforts and food drives to support this great cause.
"Food is a crucial yet basic need that everyone must have and yet some don't have. Participating in this foundation makes too much sense not to be a part of."
Jacob Wellman, Account Manager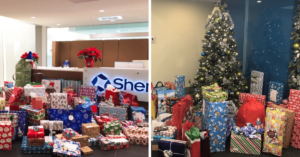 Sherweb's green committee
Our sustainability initiative is run by the Sherweb green committee. It all started when a Sherweb employee pointed out small opportunities that could make a world of difference (or a difference for the world).
Prior to the committee, our green initiatives included office-wide recycling and spaces for charging electric vehicles. To advance sustainability within our organization, one of the initiatives we're working on next is composting food waste. Members of the committee meet once a month to come up with ways to implement little actions to help the environment.
These are just some of our ongoing efforts to help others near or far. If you would like to support any of the organizations mentioned in this article, here is their contact information.