Every modern business must gather, organize and analyze extensive quantities of data to thrive in a competitive market. After all, gathering customer and business operations data is a vital part of business intelligence, no matter your industry.
Tools like Microsoft Graph allow you to access and organize a vast treasure trove of data across tools such as Microsoft 365, Windows and Enterprise Mobility + Security. Let's take a closer look at Microsoft Graph, what it does and the benefits it holds for your business.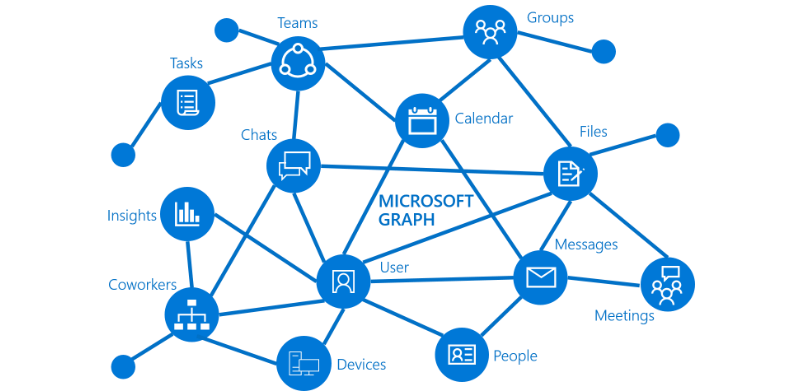 Source

: Microsoft
Who uses Microsoft Graph?
Microsoft Graph is meant to be used by businesses or individuals who have already installed and integrated other Microsoft 365 tools, such as Enterprise Mobility + Security services.
This data and intelligence tool ↗ distinguishes users and groups according to the following criteria:
Microsoft Graph users are millions of people who currently use Microsoft 365's various cloud services. Through Microsoft Graph, user data is made available to businesses for deep, machine learning-powered insights with real-time accuracy and comprehensive context.
Microsoft Graph groups are entities that allow users to collaborate and share data. Groups typically integrate with additional services, facilitating even greater data exchange and analysis.
What can you do with Microsoft Graph?
Through the power of Microsoft Graph, you can facilitate better data understanding and maximize business productivity ↗ and efficiency. More specifically, you can use Microsoft Graph to create experiences around users' unique contexts to assist with productivity. Here are some examples of what you can do with Microsoft Graph:
Gather profile information for attendees for your next meeting, such as job titles, last modified projects or documents, collaborators, etc.
Benefit from best-time suggestions for upcoming team meetings.
Update sales projection chart forecasts in real time from your mobile phone.
Import custom business data into the Microsoft Graph tool, then index it to make it searchable for your workers or clients using Microsoft 365.
Analyze Microsoft 365 data to unlock consumer insights, collaboration patterns for team members, and more.
Categorize documents or sort out other work and personal information from your phone. For example, you can use Microsoft Graph to sort photos that need to go to your personal OneDrive account or business receipts that need to go to your OneDrive business account.
Features and benefits
Microsoft Graph exposes all of the REST APIs and client libraries for practically all major Microsoft cloud services, including:
The core Microsoft 365 services, like Calendar, Bookings, OneDrive, Outlook, OneNote, People, Planner, Excel, Teams, Viva Insights, etc.
Extra Windows services, such as notifications, activities, devices, and Universal Print
Enterprise Mobility and Security services such as Azure Active, Advanced Threat Analytics, and Advanced Threat Protection
The Dynamics 365 Business Central services
Microsoft Graph comprises three primary components that facilitate the flow and easy access of key business data.
First is the Microsoft Graph API ↗, which provides a single endpoint for users to access people-centric data and other insights gathered from data in the Microsoft cloud. Users can leverage SDKs or REST APIs to access this endpoint, then build apps that support various Microsoft 365 scenarios. There's also a set of services that allow users to manage device and user identities, as well as security, compliance and access controls.
Next, Microsoft Graph Connectors collect and deliver data from outside the Microsoft cloud into the Microsoft Graph core services and applications. This enables Graph to enhance other Microsoft 365 services and experiences.
Finally, Microsoft Graph's Data Connect component gives users the tools they need to secure and scale the delivery of Microsoft data to Azure data storehouses. That cached data can serve effectively for developing tools, enabling your organization to build more powerful, more intelligent applications.
Looking for more information? Sherweb experts can help
As you can see, Microsoft Graph has a lot of major benefits and advantages for both service providers and their client. If you think this tool would be helpful for your business operations or clients' experiences, and experienced Microsoft partner can help!
Helping IT providers navigate the Microsoft ecosystem is part of Sherweb's DNA. Check out our Partner Guide for more information about how we can ensure your cloud business grows as rapidly as possible, or reach out to us to start a conversation.