Microsoft price increases are here! Two things Microsoft partners and indirect resellers should know:
Microsoft 365 prices are going up for six SKUs: Microsoft 365 Business Basic, Microsoft 365 Business Premium, Microsoft 365 E3, Office 365 E1, Office 365 E3, Office 365 E5
Due to the rollout of NCE, all monthly terms for Microsoft 365, Dynamics 365, Windows 365 and Power Platform SKUs will see a 20% price premium (only if you choose a monthly commitment term)
No one likes price increases and for Microsoft 365 this is the first significant increase in a decade. Sherweb is simplifying Microsoft's impending hikes, clarifying new incentives and easing the overall transition for partners, which includes offsetting some billing shock that could result from the implementation of New Commerce Experience (NCE). With that said, here's what you need to know…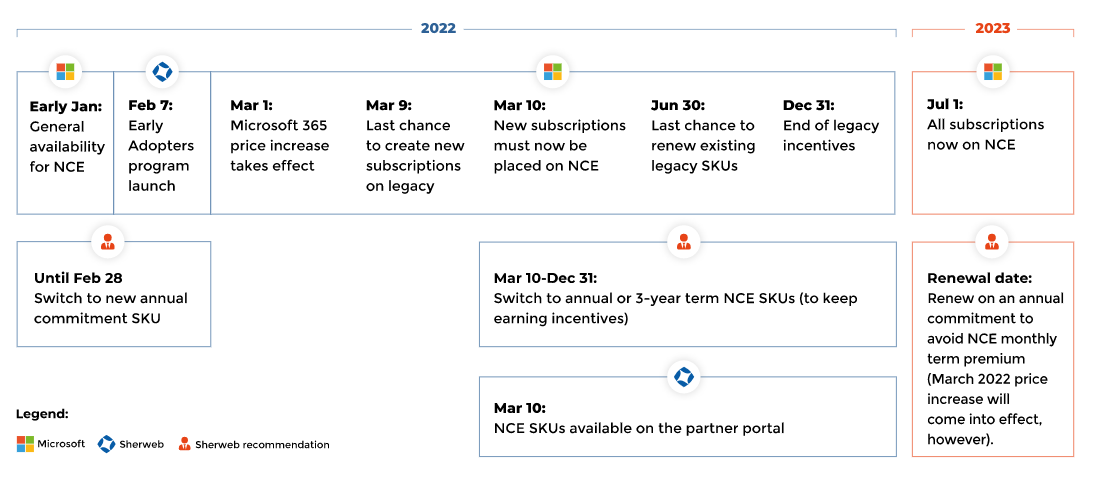 Microsoft's New Commerce Experience: What we know so far
Note: There are two separate price increases. The March price increase affects six licenses outlined above. The NCE increase affects all Microsoft 365, Dynamics 365, Windows 365 and Power Platform NCE SKUs but only if you choose a monthly commitment term.
Mitigating the impact of the price increase
As a value-added cloud solutions provider and experienced Microsoft partner, Sherweb has been working hard to soften some of the impact of these changes on partners. To this end, we offered partners an opportunity to avoid Microsoft's initial price increase for 12 months with a new SKU.
Sherweb partners can lock in their current price for Microsoft licenses and avoid impending increases by switching to an annual term plan before March 14, 2022. This can be done very easily through the Sherweb's partner portal or by contacting our team or your account manager for more information.
What happens now?
If you decide not to lock in your pricing, you may be affected by the March price increase and the NCE monthly price premium. For example: 20% NCE price premium + avg. 15% Microsoft 365 increase = 35% increase.
Don't let this opportunity to avoid the Microsoft price increase slip by! Working with a partner like Sherweb makes navigating complex changes like Microsoft's New Commerce Experience easier for you. Our in-house experts on the Microsoft ecosystem consult with partners to make sure they're making the most of their Microsoft relationship, as well as provide a multitude of other resources to help your cloud business grow. Explore our Partner Guide to learn more. Don't hesitate to reach out to us if you're looking for more details about how NCE might affect your business!