Finding the right tool is a big part of any job—to drive a screw you need a screwdriver or a drill, not a hammer. This applies to your business the same way it does to construction. And as in construction, your users also have to collaborate on projects. While there are many ways to work together, there are two applications that stand out: Slack and Microsoft Teams.
Until now Slack has been the workplace collaboration program. It has gained huge popularity over the last couple of years, and is still the front-runner in the race for the best collaboration platform. But another player showed up just a few months ago, Microsoft Teams, and Microsoft is very committed to succeed in this area.
Learn everything you need to know to become the ultimate Microsoft Teams reseller.
While Slack still has some advantages, Microsoft Teams is closing in, and even takes the lead in some areas. If your organization is already paying for Office 365, that should make your decision easier, because Microsoft offers their platform free of charge for most Business and Enterprise subscriptions.
7 Things Microsoft Teams Does Better Than Slack
1) Mobile Device Management
One reason people like Slack is its mobile versatility—you can access it from any mobile device. Microsoft had to make sure it was not left behind in this area, and Teams supports this requirement with availability on all of the main mobile operating systems (iOS, Android, Windows Phone).
What gives an edge to Microsoft Teams here is that you can gain all the control you need over mobile devices with Mobile Device Management using Intune in Office 365. This service lets you keep your corporate data protected while providing several capabilities:
Managing the mobile devices your workforce uses to access company data.
Managing the mobile apps your workforce uses.
Protecting your company data by helping control the way your workforce accesses and shares it.
Ensuring that devices and apps are compliant with company security requirements.
2) Office 365 Integration
Microsoft's developers believe that users want fewer windows open on their desktops to manage conversations and documents. They designed Teams to unify the communication that takes place inside a team.
For one thing, Teams is well integrated with Exchange and Skype. Users don't need to switch to Outlook or Skype to email or call their peers, which is a plus if your organization has an Office 365 subscription.
This leads to the main advantage of Teams when compared to Slack: seamless integration. You get the entire collaboration spectrum of Office 365 with this tool, which can boost your productivity by not having to switch from one app to another.
Teams integration in the Microsoft portfolio extends to being tied to Office 365 Groups. Despite the perception that these are two opposing solutions, they are complementary, both combatting old, slow emails and conventional file sharing. For example, when one of your users creates a new Team, he or she can easily connect it to an existing Office 365 Group, with all its members and content.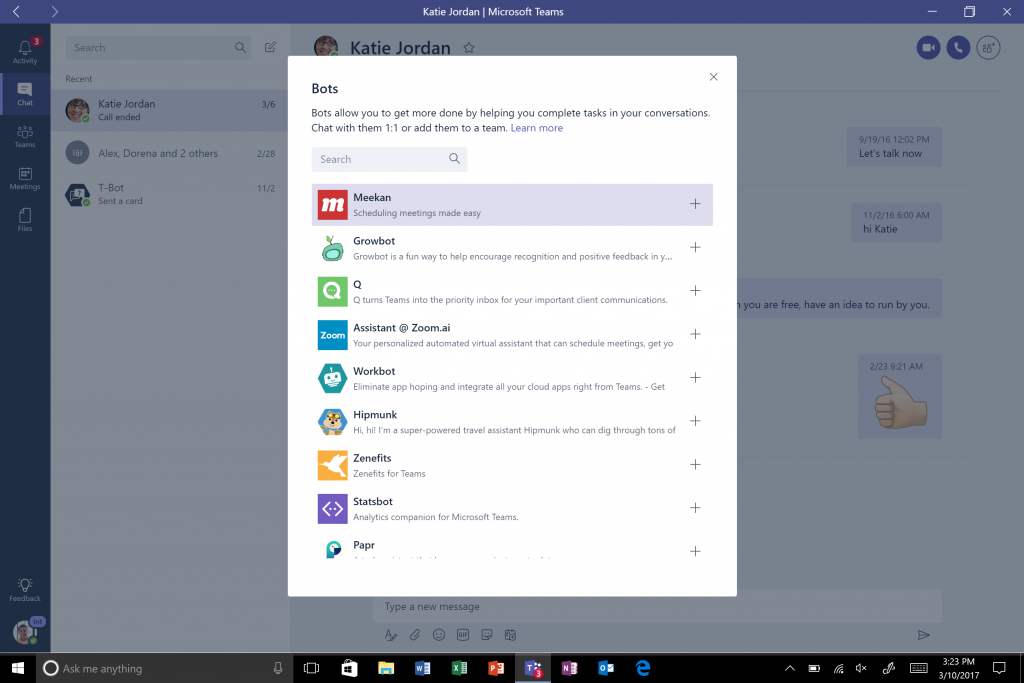 3) Third Party Integration
Beyond cooperating with other Office 365 applications, Teams also integrates with third party apps. This is one of the reasons why people choose Slack, so Microsoft is putting considerable effort into this area.
Teams comes packed with about 150 third-party integrations, such as Zendesk and Hootsuite. Workato's Workbot for Teams is also helping to implement bots as they become a significant part of the collaboration platform.
Microsoft is currently working to add more functionality, such as allowing external contacts that are not using Office 365 to join the platform.
4) Tabs
Microsoft recently released a new feature called Tabs, which allows your users to receive rich interactive content inside the platform. This allows your users to separate the different types of content shared to reduce unwanted information in a conversation.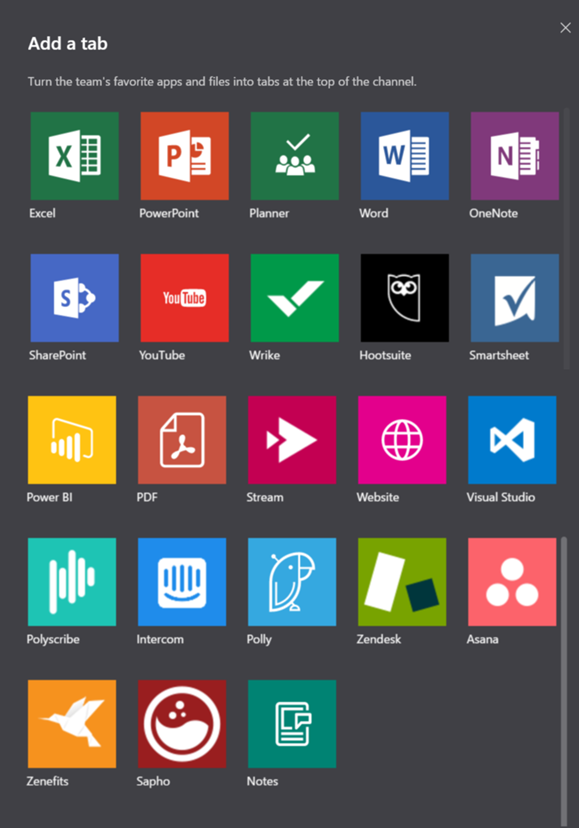 5) In-line Replies
When it comes to communication flow, one feature that users are still calling for in Slack is in-line replies. Teams already has this, and it greatly improves topic conversations by helping users reply directly to comments or questions. It also helps maintain clarity for people who miss a couple of hours of a conversation.
6) Support for 18 Different Languages
If your team spans multiple countries, you may benefit from Teams supporting 18 languages. Slack supports only English.
Here are all the languages that Teams supports:
Chinese (Simple and Traditional)
Czech
Danish
Dutch
English (US)
Finnish
French
German
Italian
Japanese
Korean
Norwegian
Portuguese (BR)
Polish
Russian
Spanish
Swedish
Turkish
Note that the main bot (T-bot) only responds to queries in these languages:
English (US)
French
German
Spanish
7) Security
Teams provides data loss prevention to help reduce sensitive data leaks. Slack does not offer anything comparable.
Microsoft has put many resources into developing its compliance and security audits, so Teams can give you what you need if you are in an industry where your cloud provider must follow regulations.
Which is best?
Microsoft Teams and Slack are very similar. While the latter is more customizable and has nice features like shortcuts, Microsoft designed Teams using the experience and feedback they received from their millions of users. Microsoft Teams provides seamless integration with the rest of Office 365, and the security features are based on what you can find in SharePoint or Exchange, providing you with the same protection against threats and data leakage.
Is it worth using Slack? It depends. If you don't have any regulations and you aren't looking for a business-wide solution, maybe. But Teams is closing in rapidly and if you have Office 365, Teams is already ready to use, and is free.
Download your eBook!
Learn everything you need to know to become the ultimate Microsoft Teams reseller
Microsoft will soon be killing off Skype for Business. Get ready for these changes now by getting to grips with all the features and end-user benefits of its replacement, Microsoft Teams.