Up until recently, Microsoft 365 was either bundled for large enterprises, typically covered under the Microsoft 365 E3 plan, or available as a mix-and-match through various plans. This made it difficult for smaller agile companies to manage their cloud experience. Enterprise plans had additional features in SharePoint, Exchange, and data security needed by small- and medium-sized companies, but that weren't available in smaller bundles.
Microsoft now has a cloud-based service for small businesses that combines Office apps, data security, and Windows 10. It's a solution designed for growing businesses with less than 300 users that neither have the time nor the necessary resources to maintain multiple servers and seats. It also gives not only your staff but also your customers the flexibility to securely share, collaborate, and communicate seamlessly on any device, anywhere and anytime.
Many young businesses punch above their weight in products or services despite their small staff. If that sounds like your company, Microsoft 365 Business Premium really is what you've been looking for to move to the cloud and finally protect your data.
Another growing pain for many up-and-coming companies is the fact that many employees use personal devices for company purposes. Large enterprises typically have the budget to provide laptops and cell phones, and they also have the means to deploy sophisticated tracking and control systems. But among smaller companies, employees typically rely on their own devices; thus, small businesses must develop a bring-your-own-device (BYOD) strategy to protect their data. Based on this need, Microsoft has also included device management and security in the Microsoft 365 Business Premium offering.
In this article, we'll cover the main differences between Microsoft 365 Business Premium and the Microsoft 365 E3 plan and take a look at whether this new solution is right for you.
What is Microsoft 365 Business Premium?
Microsoft 365 Business Premium combines Office apps such as Word, Excel, Planner, Teams, and more with services for remote device and mobile application management, as well as the use of Windows 10 Pro to protect devices against spam and malware.
Here's a brief overview of what's included:
The complete Office suite. All the familiar and powerful collaboration and communication tools—Word, Excel, PowerPoint, Outlook, Teams, SharePoint, Skype and much more.
External sharing with clients and customers using SharePoint, Teams, or OneDrive.
Generous email and storage limits

50 GB inbox
1 TB of OneDrive storage

A centralized Microsoft Admin Console that lets you manage:

Data governance, protection, and compliance
Protection from spyware, viruses, and other malware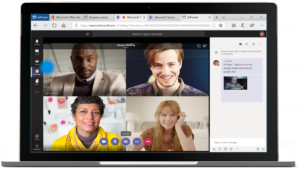 The Microsoft Admin Console
This is by far one of the best things about Microsoft 365 Business Premium: the Microsoft Admin Console gives you a single, convenient place for administrative tasks. Here, you can configure security policies and manage devices and apps. The security settings setup consists of just 15 user-friendly menus instead of the 45 in the E3 Plan. There, you can manage company file access by implementing PIN numbers or fingerprints, prevent company content from being copied into personal apps, and use Windows Defender antivirus to automatically protect and update every Windows 10 device in your company.
Microsoft Business 365 Premium user story
Dave is the owner and founder of a successful coffee roasting business. He has four retail locations plus a roasting facility that not only supplies coffee to these locations but also serves as the hub of his expanding monthly subscription and distribution center for other local restaurants. Like many small-business owners, Dave has grown from running everything by himself from just his phone and laptop to having a staff of 125 people.
Dave now has all the needs of a large corporation: communication, collaboration, data security, and much more. But he does not have a support staff that focuses on running his business. Fortunately, with Microsoft 365 Business Premium, Dave won't need a dedicated team to run his company's IT because he gets a cost-effective offering with streamlined administrative and security features.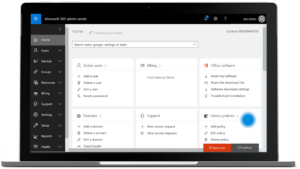 How to decide?
The E3 plan is for large organizations with more than 300 users that have greater compliance, security, and IT requirements. These IT departments administer and manage everything from issuing devices and single sign-on access/authorization to advanced configurations for remote/virtual desktops and hybrid cloud deployments.
Microsoft 365 Business Premium and the E3 plan have many similarities when you consider their features. Here are the four criteria you should meet if you need the E3 plan:
More than 300 users
Larger mailbox size (100 GB per user and attachments up to 150 MB)
Need for stronger security and device management
Need for business intelligence and analytics tools
And here's a detailed breakdown of both plans:
| | | |
| --- | --- | --- |
| Features | Microsoft 365 | Enterprise E3 |
| Office Apps | x | x |
| Email & Calendar | x | x |
| Microsoft Teams | x | x |
| Skype for Business | x | x |
| SharePoint & Yammer | x | x |
| Delve | x | x |
| Microsoft Advanced Threat Analytics | x | x |
| Windows Defender Antivirus | x | x |
| Microsoft Intune | x | |
| Microsoft 365 Data Loss Prevention | | x |
| Archiving & Legal Hold | | x |
| eDiscovery | | x |
| Advanced Threat Protection (ATP) | x | |
Below are some quick definitions of Legal Hold, eDiscovery, Intune, and ATP so you have a full understanding of the differences:
Legal Hold protects and archives information (company email and data) that might be considered evidence in the event that you face a lawsuit.
eDiscovery is the search and identifying of those electronic files and information that are needed for lawsuits.
Advanced Threat Protection enables anti-phishing measures, safe links (wrapped in a Microsoft URL and scanned when clicked), and safe attachments (sent to a sandbox before delivery).
Intune is an app built for device management. It's what you use to perform remote wipes of company data and factory resets for Windows 10 devices.
How much Is Microsoft 365 Business Premium?
Microsoft 365 Business Premium subscriptions are available for purchase through a Microsoft Partner such as Sherweb. Of the Microsoft 365 Business tiers, Business Premium's price point is the highest. However, the extensive feature offerings like advanced security custimizations justify the added-value for your small business with Business Premium.
Conclusion
All businesses share common needs: increasing productivity, working more efficiently and safeguarding their data. Before, small businesses needed to wait until they could afford the enterprise features they needed. That's no longer the case with Microsoft Business 365 Premium—now, you can take advantage of many features previously only available to corporate customers.
Got questions or want to learn more about Microsoft 365? Get in touch so we can help you decide whether this solution is right for your business.