Choosing the right cloud solution for your business email can be hard, considering the different offers you have to look at. Which option is the best for you? You can only answer that question if you have a clear list of your needs. If you've been hosting your own email servers on-premises for some time and plan to migrate to the cloud, your needs will be different compared to a company that is building its IT services from scratch. Depending on the industry regulations you have to follow, you might be faced with more constraints (e.g., email retention policies, encryption policies). And, depending on your business organization, you'll have other issues to deal with (office branches, complex communication processes, etc.).
To help you decide, we compare Office 365 vs. Hosted Exchange. Two great options for your business email hosting. Which one should you choose?
The power of Exchange server
Used to Yahoo, Gmail and other services for your email? Well, there's more.
For over two decades now, Exchange Server has evolved to be the most reliable and efficient business email solution, used by thousands of organizations of all sizes. With each new version, Microsoft has brought more topical functionalities, faded others, and in general, always enhanced the platform stability. Moreover, Exchange Server has followed the trend of the public cloud, so many providers have been able to deliver it in a Software-as-a-Service model. This has allowed multiple businesses to move their email service to a provider's multi-tenant infrastructure and reduce their IT overhead. The cloud offers a reduced cost with a flat monthly fee.
Why are we talking about Exchange Server?  Because Office 365 and Hosted Exchange are two cloud offers based on that platform. Your email system will potentially run on the same platforms whether you choose one or the other! Exchange Server accounts for 51% of worldwide business mailboxes ↗, which includes all cloud and on-premises deployments worldwide.
Servers and clients
While Exchange Server runs on the server side, you have different choices for the email client. Microsoft Outlook is the email client that was made to properly integrate all functionalities provided on the server side. It installs on workstations, tablets and smartphones, and is available for either iOS, Mac OS or Windows OS.
When a new Exchange Server version is released, it is usually followed by the Outlook PC version of the same build. Any new version of Outlook will be compatible with at least the two previous Exchange versions. This means, for example, that Outlook 2016, released for Exchange 2016, is compatible with Exchange 2010 and 2013.
Why are we talking about the Outlook client? Because it's what most end users know! Many customers will be speaking about Outlook and won't know anything about Exchange.  And from one version to another, the end users may notice visible changes in the client interface. To better illustrate our point, we've included an example in the two pictures below. On the first one, showing Outlook 2007, the Recover Deleted Items function is nested under the Tools menu. On the second one, showing Outlook 2013, the menus don't exist anymore and  the Recover Deleted Items function is now located inside the FOLDER tab, under the Clean Up group!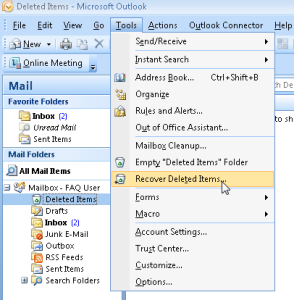 You see how hard it can be for people to find their way in one Outlook version when they're used to another one! Moving from one client version to another may require your company to organize staff training. Take note, adapting to a new version can take a long time! Actually, change management is one of the main reasons companies are reluctant to move to another Exchange version!
Another point, if you use webmail (Outlook Web App) rather than email clients, you should know that each version can look different too.
Finally, Microsoft doesn't always carry a helpful functionality over to a new server version. That feature might be important for your corporate applications and you might prefer to stick with the current version until you find an alternate option.
Looking for stability and change control? Choose Hosted Exchange
Multiple choices
With Hosted Exchange, you choose the version to run on. Providers usually have different Exchange environments to choose from. Security updates and service packs for one environment are tested before any deployment, to avoid outages and other issues. You can stay as long as you want on the environment that gives you the functionalities you prefer. However, at one point the platform will reach its end-of-life deadline and the provider will be forced to phase it out. You should know that the older the version, the higher the costs are to support it. Check with your provider because you might get a better deal with a newer platform!
Assisted migration
You'll have time to carefully plan for the upgrade with the provider's support. You won't be left alone! And depending on the provider, the migration may not cost you anything. Three Exchange Server platform versions are currently supported worldwide: 2010, 2013 and 2016. If you're still running on Hosted Exchange 2007, your provider might not be able to fix issues that occur because Microsoft has stopped supporting that specific version and hotfixes are no longer delivered. Rely on your provider's support to make a smooth transition to a newer environment. Remember, migrating to the next version does not mean you need to upgrade the Outlook client to a newer version!
Email first
The main service you buy with Hosted Exchange is email. The mailbox size is always unlimited, whether you prefer to access your email with Outlook, webmail or both! You can choose from different bundles, so you can have other services included like those offered by Sherweb: Hosted Lync (Skype for Business), Hosted SharePoint, Online Backup, Email Encryption, Archiving and more. You can even add Office applications (always up-to-date versions of Word, Excel, PowerPoint, OneNote, Outlook and Publisher) to your subscription for a little extra cost. You're free to decide. With Hosted Exchange, focus first on what you need the most: email.
Is innovation driving your business? Choose Office 365
Lots of apps
First of all, your team will have a lot to play with. Email is not Office 365's core service. Exchange Online is only one of the services offered. Basically, Office 365 is a set of products that include productivity and collaboration applications like the popular Microsoft Office Suite (Word, Excel, etc.), Business Intelligence tools (Power BI with Excel), personal and shared storage for files (OneDrive or SharePoint libraries), plus email (50GB per mailbox) and a choice of other interesting services (Project Server, Yammer, Skype, Sway, etc.). Office 365 comes with several plans, so you can select the one with the options that you like the most.
Always the latest version
With Office 365, you're always running the latest versions of all software, as soon as they're released by Microsoft. This way, you get all the new features and enhancements instantly, including any new Exchange Server release. Application upgrades, service packs and security updates are automatically pushed to your users' devices, whether they are PCs, MACs, tablets or smartphones. You may choose to delay the installation on PCs joined to an Active Directory domain, but this would be a personal choice, not Microsoft's. They made Office 365 so you always get the latest versions of any service. There is no "migration" assistance.
Free upgrades
Of course the upgrades are free. There are no charges from Microsoft other than your regular monthly fees! Any additional costs would be related to user training, or OS and device renewal (to make the apps work!). Note that some upgrades might deprecate a feature you're actively using, so always make sure you're aware of the upcoming changes to avoid running into issues. Stay tuned to Microsoft. They'll always let you know about their new releases!
If you've been able to narrow down your choice to Hosted Exchange and Office 365, it means you want the best platform for your business email. Your decision to choose one offer over the other really depends on your corporate culture and business needs. With Hosted Exchange, you get stability: you control the changes and the options you want and you get help with email migration. With Office 365, you get innovation: newly released app features are delivered to you automatically—including new email platforms—and you can constantly refresh your business processes and tools. And for each offer, you can combine different plans so you get exactly what you need for every user. Ask your provider for advice!