Change is perpetually on the horizon for Microsoft partners. The vast majority of the time, the regular rollout of updates represents improvements to the Microsoft ecosystem, making it easier for partners to transact, grow their business and deliver cloud solutions for their clients. Nevertheless, it can be challenging to stay on top of each and every change and what it means for your organization!
Take the Microsoft Partner Network for example. Now called the Microsoft Cloud Partner Program (MCPP), service providers, resellers and developers now access various benefits and specializations according to an updated system. By extension, this evolution also transformed what was formerly known as the Microsoft Partner Network ID (MPN ID) into the Microsoft Partner ID.
For anyone previously familiar with the MPN ID, the name change to Partner ID is simply that—a name change. But for anyone unfamiliar with what this handy sequence of numbers is, know that it's an integral tool to unlocking key components of your partner relationship with Microsoft.
What is the Microsoft Partner ID?
Your Microsoft Partner ID is a unique identifier that gives you access to all the resources and benefits of your partnership with Microsoft. It's free to obtain and crucial for managing Microsoft tenants, licenses, incentives and more.
How to get your Partner ID
If you're not a Microsoft partner already, you'll have to sign up ↗.
Done! Your Partner ID can be found in the Microsoft Partner Profile page of the Partner Center ↗.
Why you need a Partner ID
Here are a few reasons why making sure you have a Microsoft Partner ID is important for your organization's journey with the Microsoft Cloud Partner Program.
#1 Earning recognition for your business
All your transactions and revenue are properly documented—which is a good backup and safety precaution—but even more importantly, it allows you to make the most of other benefits listed below.
#2 Choosing from different levels of Microsoft offerings
Microsoft lets you pick your partnership level ↗—Program Member, Action Pack, Solutions Partner or Specialization/Expert—each with an increasingly comprehensive level of support, training and service.
While as a Program Member you can start out slow, Solutions Partner designations require you to earn a partner capability score of at least 70 points (out of 100), demonstrate your expertise, certify your staff and undergo training.
Microsoft has grouped these designations into six different Solutions Partner categories. The purpose is to identify partners who are highly experienced in each of Microsoft's cloud solution areas: Infrastructure, Data and AI, Digital and App Innovation, Modern Work, Security and Business Applications.
Once you earn a Solutions Partner designation, you can further showcase your expertise by pursuing a Specialization aligned with the six Solutions Partner categories. You must maintain certifications to validate your Specialization.
#3 Accessing Microsoft incentives, resources and benefits
After you've completed the initial setup and customized your partnership, it's time to dive deep into various resources ↗. These include (but aren't limited to):
incentives ↗ in the form of rebate payments and co-op funds
a portfolio of go-to-market services to help you grow your business
technical presales and deployment services
product licenses including internal-use rights (not for commercial use)
product support (varies by partnership level)
How to know if you have the right Partner ID
Due to the complexity of the Microsoft ecosystem, it's important to check that you're using the right Microsoft Partner ID. It's possible that you'll need more than one!
Start with roles and permissions
Before anything else, verify the roles and permissions your user has for the Partner Center. You must be a global admin to give yourself the additional permissions for MCPP admin and account admin. These are required for the next steps.
Then, confirm ↗ you're enrolled as a CSP Indirect Reseller and that you've signed ↗ the updated Microsoft Partner Agreement. Failing to do this means you will not be able to add new customers or place orders for existing customers.
Confirming you have the right Partner ID
In the Account settings dashboard, under the Reseller profile tab, you'll find the Partner ID that needs to be shared with your CSP Indirect Provider: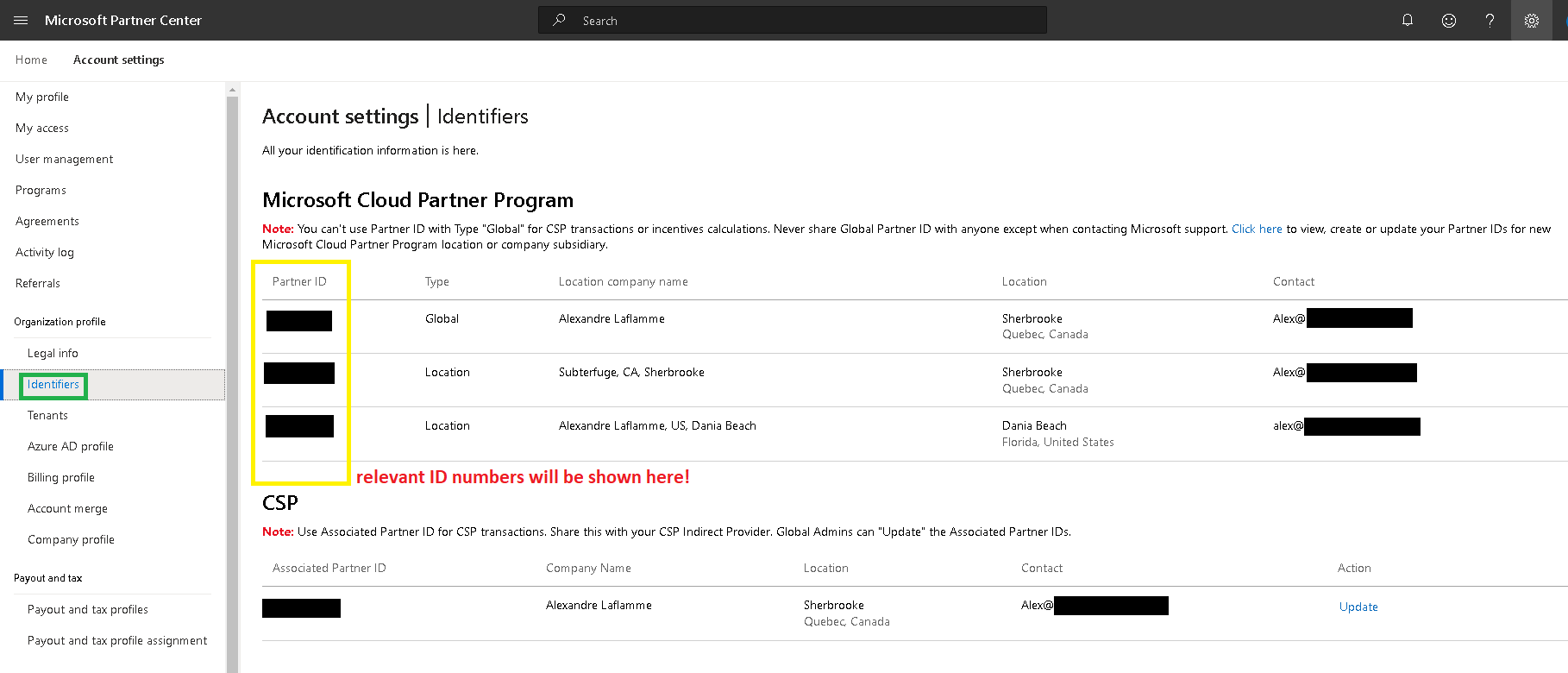 With Sherweb as your provider ↗, you'll want to input that number in our partner portal under the Partner Profile tab.
Learn more about the Microsoft Partner ID with Sherweb as your guide
Have more questions about the Microsoft Partner ID, where to find it and why you need it? Helping partners navigate the Microsoft ecosystem and understand of all the resources and benefits available to them is one of Sherweb's strengths as a value-added cloud solutions provider. Join our partner program today ↗ to work with a Microsoft indirect provider you can rely on!
Ready to get started?