Using the cloud can be really easy. When you work with the best, you will find that you know what you are doing and that you are using it more consistently. The cloud is an incredibly efficient, high performing, innovative, and worry-free tool, which can free you from the headache and stress you normally endure when using other tools. The only thing you may find difficult is making sense of any cloud providers' website to get to the pricing. Between the long list of fees and the technical lingo, it's almost impossible to really understand cloud pricing. This blog post will give a cloud pricing comparison between Amazon AWS, Azure, and Google Cloud.
We will get into the basics and the starting price to give you a general idea, but the best way to get a real portrait of the situation with the cloud pricing is to evaluate your needs. You need to determine your technology and storage needs, and get an estimate from the price calculator on each cloud website. This will bring clarity, giving you a much clearer idea of the kind of investment you are looking for and are willing to make, in terms of cloud pricing. To get you started, here is a list of the most popular services from each cloud. Every cloud will offer you different perks and different services, so it's difficult to do a direct cloud pricing comparison. However, in this blog post you will find the starting prices, the rebates, and the billing style of the three most coveted clouds on the market right now.
AWS Amazon cloud pricing
Amazon has been the leader for many years in the cloud world, but the competitors are close on their heels, tightening the distance. Azure has even surpassed Amazon AWS in some categories. Even though Azure offers a ton of advantages and is taking more and more of the market, AWS doesn't want to change its cloud pricing.
With AWS, you will find yourself paying with a pay-as-you-go formula for over seventy cloud services and you will get some rebates by using more. AWS, in this case, is offering a pricing that suits big needs, big corporations and big investments. You can even reserve space or time with their most popular services with an upfront cost, saving on the price.
For the cloud pricing, here are the most popular services starting prices at the on-demand rate:
Elastic Compute Cloud
Starting at $0,0087/hour for 0.5GB
Simple Storage
For Requests: from free to $0.0055 per 1,000 requests
For Standard- Infrequent access: starting at $0.01 per 1,000 requests
For Glacier Requests: $0.055 per 1,000 requests
Block Storage
Amazon EBS General Purpose : $0.11 per GB-month of provisioned storage
Amazon EBS Provisioned IOPS : $0.138 per GB-month of provisioned storage
$0.072 per provisioned IOPS-month
Amazon EBS Throughput Optimized : $0.05 per GB-month of provisioned storage
Amazon EBS Cold : $0.028 per GB-month of provisioned storage
Amazon EBS Snapshots to Amazon S3 : $0.055 per GB-month of data stored
Relational Database (Aurora)
Starting at $0.045/hour and depending on the length of the contract and with or without upfront costs, you can get a rate as low as $0.020/ hour
CloudFront
Regional Data Transfer Out to Internet (per GB): From $0.085 to $0.020
Regional Data Transfer Out to Origin (per GB): All data transfer for $0.020
Request Pricing for All HTTP Methods (per 10,000): $0.0075 (HTTP) and $0.0100 (HTTPS)
How about Google Cloud pricing?
While Google cloud is not winning on all fronts for its technology, we see that it has made an effort by following one of the big leaders in the running, Microsoft Azure. Its cloud pricing requires no upfront cost and no termination fees, for more freedom. As with the three others, it utilizes a pay-as-you-go model by billing per second.
You can get a $300 credit for the first twelve months and benefit from sustained use discounts. Google cloud offers the right sizing recommendations to help you reduce your monthly cost by suggesting better choices. For the purpose of the cloud pricing comparison, it's pricing is clearly an improvement over AWS pricing.
The Google free tier: A big part of its cloud pricing
Google cloud offers a Free Tier that gives you free access to products for a twelve-month period and a selection of free products forever.
These services are always free with Google Cloud:
App Engine: 28 instance hours per day and 5GB Cloud Storage
Cloud Datastore: 1 GB storage
Compute Engine: 1 f1-micro instance per month and 30 GB-months HDD
Cloud Storage: 5GB- months for regional storage
Cloud Pub/Sub: 10 GB messages per month
Cloud Functions: 2 million invocations per month
And other perks
For the cloud pricing, here are the most popular services starting prices in USD:
Compute Engine (with Iowa region)
For standard machine types: starting at $0.0475
For custom machine types: starting at $0.033174 / vCPU hour for vCPU and $0.004446/ GB hour
Cloud Storage
It is free to use up to the limit of the Free Tier offered by Google :
Regional Storage up to 5 GB/month for free
Multi-regional location
             Multi-Regional Storage (per GB per Month): $0.026
     Nearline Storage (per GB per Month): $0.01
     Coldline Storage (per GB per Month): 0.007
Cloud Machine Learning
Model training : $0.49 per hour, per ML training unit
Prediction : $0.10 per thousand predictions, plus $0.40 per hour
Support
Bronze Package: free billing support and access to experts
Silver: $150/month
Gold: starts at $400/month
Platinum: starts at $15,000/month
Transfer Data Appliance
Use Fee: $300 for 100 TB and $1800 for 480 TB
Free Days: 10 for 100TB and 25 for 480TB
Last but not least: The competitive Microsoft Azure cloud pricing
The Azure cloud pricing has always been an easy and clear process. Billing is rounded by the minute, so you pay only for what you use. No upfront cost, no termination fees, and you even get the most popular products free for twelve months. There are also over twenty-five products that will remain free for the entire time of your collaboration. On top of all that, Azure will also offer you a $200 credit for thirty days.
What can you expect for free for 12 months?
Linux/Windows VM for 750 hours
Managed disks storage 2 x 64GB
Blob storage 5GM
SQL Database 250 GB
Cosmos Database 5GB
Bandwidth 15GB
What are the applications that are always free and included in the Azure cloud pricing? Benefits from cutting-edge innovative products from Azure completely free forever. Yes, forever, as in for the rest of time.
Functions computed: 100 000 requests/ month
Container service
Active directory: 500 000 objects and 50 000/month stored
Serve Fabric
Security Center
Machine Learning Studio: 100 modules/experiment
For an even better look at the Azure cloud pricing, here are some of the most sought-after services with their starting price to give you an idea:
Virtual Machine: starting at $0,20/hour
Cloud Services
General Purpose: $0,02/ hour
Memory Intensive: $0,35/ hour
Optimized Computing
General Purpose: $0,17/ Hour
Memory: $0,40/ Hour
Backup
You must know that the cost of backup is calculated by the size of the backed-up data before compression and encryption in each protected instance.
    So, to calculate the price if your backed-up data occupies on the instance:
    < or = 50GB: $6,08 + Storage Consumed > 50 GB but < or = 500 GB: $12,16 + Storage Consumed >500 GB: $12,16/500 GB increment + Storage Consumed
Support and SLA are included in the Azure cloud pricing, which means you will receive billing and management support totally free. The fees start at $35,25/month.
Storage
It starts at:
| | | |
| --- | --- | --- |
| | Hot | Cool |
| First 50TB/Month | $0,0244 | $0,0134 |
| Next 450TB/Month | $0,0234 | $0,0134 |
| Over 500TB/Month | $0,0224 | $0,0134 |
For File Storage, it starts at:
LRS 0,081/GB
GRS 0,134/GB
And you can access from $0,0669/GB to literally nothing for hot, and for cool it's from 0,1216/GB to 0,0031/GB.
Still wondering how to figure out the cloud pricing comparison?
Here is an awesome table prepared by Right Scale that really puts everything together in terms of cloud pricing for a better comparison.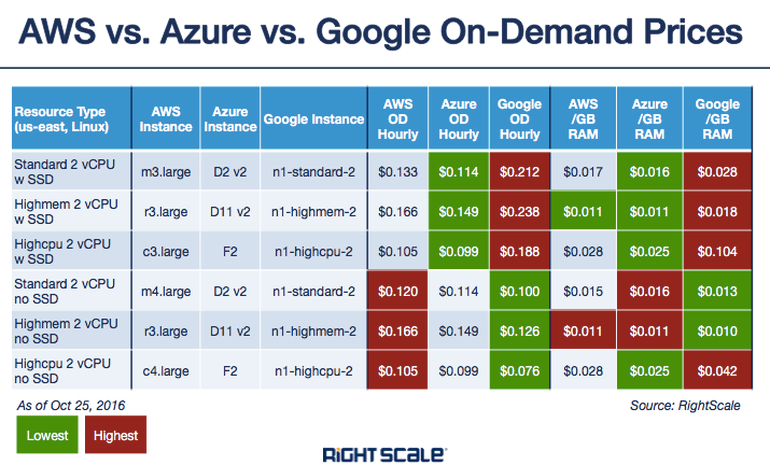 You deserve a real picture of the situation with cloud pricing of those three. Don't forget to check out our very own comparison of the three clouds in terms of their services, technologies and perks. The price should be important. However, it should never be the determining factor in your search for the best fit. It is important to find out what the cloud can do for you in your daily life. Take your time, read, research and select the right cloud, with the right cloud pricing for you. Remember that Sherweb offers worry free billing and a customer service 24/7to help you navigate the best cloud options on the market!