Cloud computing has become pretty popular since its inception. It's no longer a question of whether to go for cloud-based solutions or not, but rather which one is the best for you and how soon can you get started.
There are several factors to consider when choosing a suitable cloud service vendor, with pricing chief among them. Most of us recognize Microsoft Azure, Google Cloud Platform (GCP) and Amazon Web Services (AWS) as major leaders in the space, but which one is best for your cloud business? Let's compare!

AWS, Azure and GCP cloud pricing comparison
To be clear: delving into this cloud pricing comparison is no simple task. The overall pricing structure for each platform can vary extensively by the service choice, resource use, type of workload, location, number of instances—the list of factors is extensive. Azure, AWS and GCP all have their own pricing calculators, as well as different naming conventions for their respective services. It all depends on what your business intends to do in the cloud. To spice things up even further, the landscape is changing all the time!
One significant commonality is that AWS, Azure and GCP all offer a pay as you go, consumption-based model. They also all offer free trials tallying up to roughly a year of services.
To illustrate the complicatedness of it all, below is a summary of each organization's cloud compute offerings and associated free trials.
AWS
Compute products for AWS include Amazon EC2, AWS Lambda and Amazon Lightsail. Using EC2 as an example, customers can purchase on-demand instances, billed by the hour or by the second. The free tier for Amazon EC2 includes 750 hours of compute capacity per month for one year.
Azure
Microsoft Azure has a significantly more robust lineup of compute products to choose from, including but not limited to Virtual Machines, Azure Virtual Desktop and Azure Service Fabric. Using a comparable free trial example, customers can access 750 hours of compute capacity per month for one year.
GCP
Google has a comparatively simpler lineup of compute products such as Compute Engine, App Engine and Bare Metal. GCP's overall pricing structure is also less complicated, at least to start. Customers can access $300 in free credits, to be used across multiple different products (not just compute) over the course of 90 days.
Deeper cloud pricing comparison
Because of all the variables involved, it can be an arduous process going through each platform's cost calculator to compare specific pricing, whether it's for cloud computing, cloud storage or some other environment. Here's a great example we found from Simform, taking a look at pricing for on-demand instances:

Even when calculating costs at scale, it's easy to see that cloud pricing ultimately depends on what type of instance you want, on what kind of server and where. What do you need to do, and how do you want to do it?

Pros and cons for each platform
Outside of pricing, here are some additional pros and cons for each platform.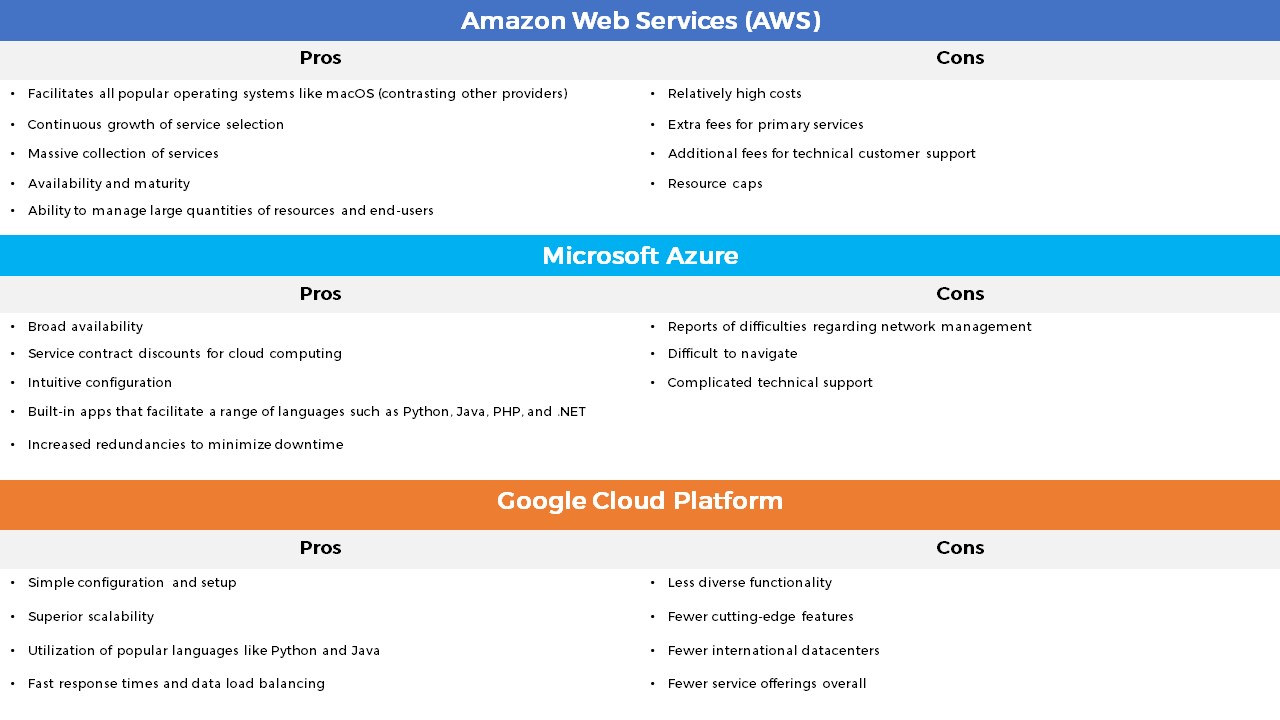 Which platform is right for your business?
Choosing a cloud platform all comes down to your particular use case. As the market continues to grow, many companies also look for multi-cloud tactics that leverage services offered by multiple cloud providers. Even when you get down to comparing the exact same service for the same purpose in the same place, the difference can come down to how you purchase your cloud services. Who are you getting them from, and what do you like about that provider? Who's helping you make sense of all this?
Working with an expert cloud provider can help you make the best decision for your business. Check out our partner guide to learn how Sherweb can support your cloud needs.