Since the commercialization of public cloud services, disruptive solutions have transformed the way organizations leverage technology to gain a competitive advantage. The ability to consume unlimited, on-demand, scalable computing power in the cloud gives an enterprise the agility it needs to compete in today's digital economy.
But migrating to cloud technology can be overwhelming with so many options, services, and deployment models to choose from. In this article, we'll take a look at how the Azure infrastructure as a service (IaaS) model can help you seamlessly transition to the cloud.
What Is IaaS?
Infrastructure as a service (IaaS) is a cloud service model where the platform provider manages the underlying infrastructure. As you move to models like platform as a service (PaaS) and software as a service (SaaS), the cloud provider takes on more responsibility. Although IaaS has a higher management overhead than the other two models, it does have several benefits for organizations. For one, you don't need to procure any hardware or software. You also don't need to worry about managing and maintaining the networking, storage, server, and virtualization infrastructure. IaaS also gives you the ability to deploy computing resources rapidly. For example, if you need to commission a server on the Internet, you log into a portal, configure a virtual machine (VM) and its associated infrastructure, and have your server up and running within minutes.
IaaS gives you all the benefits of a real cloud service, allowing you to commission, manage, and maintain your services on demand via a self-service portal. It's also more cost effective and efficient than hosting infrastructure on premises. Unlimited flexibility is another benefit of IaaS, as you can leverage the scale of the service provider's platform to increase or decrease your resources as needed. The ability to resize your infrastructure within minutes and only pay for the resources you consume gives you an agile, competitive, and cost-effective way to host your IT services and grow your business.
Overview: IaaS on Azure
Microsoft Azure is one of the global giants in cloud computing and offers world-leading IaaS and PaaS services. Through Azure's IaaS offering, you can commission infrastructure and avoid the expense and complexity of managing your physical servers and other related data center infrastructure. As IaaS is suitable for almost any type of cloud workload, it's an excellent model for organizations looking to start their cloud migration journey.
Azure IaaS requires minimal reconfiguration of existing on-premises services and gives you immediate access to all the benefits of cloud computing. It's also an excellent platform for test and development environments, as well as website hosting. And if you're worried about your data, Azure offers other infrastructure-related services such as networking, storage, backup, and recovery. When it comes to cloud workloads that demand a massive amount of computing resources, IaaS on Azure gives organizations access to high-performance computing on demand. This allows you to offload resource-intensive workloads to the cloud, saving you both time and money.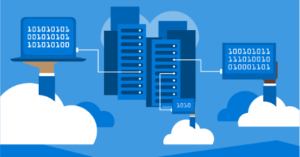 Deploying your cloud workloads on Azure IaaS has several direct business advantages. First and foremost, it helps you eliminate the capital expense of procuring hardware and software and also reduces the ongoing cost of managing and maintaining your infrastructure. It also improves your business continuity and disaster recovery capabilities. As your services are hosted offsite and are available from anywhere on demand, you can failover to Azure and meet any offsite compliance requirements at the same time. By using IaaS services on Azure, you can drive innovation and respond to shifting market conditions while you focus on running your business.
Azure offers many IaaS solutions built on three core services: compute, networking, and storage. Let's take a closer look at each one.
IaaS Compute Services on Azure
With thousands of options, Azure gives you the ability to leverage compute capacity in the cloud and scale it on demand to build entire enterprise environments. It offers multiple virtual machine (VM) configurations that you can use for every type of cloud workload. With everything from Windows and Linux VMs to firewalls and VPN servers, there's very little you cannot accomplish through Azure's IaaS platform.
The real power and flexibility of this model lies in the Azure Marketplace, where many vendors have published over 1,000 VMs with workload-specific use cases. These include VMs with preconfigured CMS web servers and databases, including popular platforms such as WordPress, Joomla, and Drupal. The Azure Marketplace is constantly changing, with vendors adding new images every day. Even advanced solutions that use the latest technology innovations such as artificial intelligence (AI), Blockchain, and the Internet of things (IoT) are available in the Azure marketplace.
Networking on Azure
Azure's IaaS offering gives you the ability to configure advanced network topologies in the cloud. With this service, you can create an entire private network that helps you segregate, secure, and manage any compute resources you have running on the platform. If you have services running in multiple Azure locations across the world, this platform allows you to configure a global network that ensures no confidential traffic travels over the Internet. Azure's virtual network offering is also capable of providing the platform you need to extend your on-premises environment onto the Azure platform. And with a selection of VPN and MPLS offerings, you can also create robust hybrid environments. If your solution leverages both IaaS and PaaS, using a virtual network on Azure offers seamless and uninterrupted connectivity between every service.
Azure Storage Solutions
Azure's storage offering includes a range of solutions that come with the scalability, flexibility, and lower cost of a cloud platform. With Azure, you benefit from world-class file storage that's simple and inexpensive, making it the ideal solution for moving data to the cloud without coding. In addition to file storage, Azure also offers disk solutions that provide low latency and high throughput. These features make it ideal for the enterprise-grade durability you need to run high-performing workloads.
Massively-scalable object storage for unstructured data is also available with Azure's Blob storage platform. With tiered pricing, this storage solution is especially cost effective for massive volumes of data. In addition to file, disk, and blob storage, Azure also provides specialized services such as Data Lake Storage for analytics data and archive storage for data that's rarely accessed. Azure's archive storage is automatically encrypted at rest for greater security and can seamlessly integrate with other Azure storage services. These features make Azure the ideal platform for securing and storing critical data for an extended period of time.
Migrating to the Cloud Is Simple with Microsoft Azure
Moving to the cloud offers numerous benefits for your business. However, the process can be overwhelming for many organizations, as there are lots of variables to consider. Azure's IaaS offering gives you the ability to migrate your workloads to the cloud seamlessly and efficiently. With thousands of compute options, the ability to configure advanced networks for hybrid environments, and a range of cost-effective storage solutions, you can build an entire enterprise environment that gives your business the competitive advantage it needs in today's digital economy.