Availability is key when it comes to your business IT infrastructure. Service downtime reduces customer trust with a consequent negative impact on your revenue. Regardless of the size, level of high availability and your own knowledge of your IT operations, there can be absolutely no compromise on a proper backup and disaster recovery solution. This is why we trust Veeam solutions for our critical backup and recovery operations and are now offering you a virtual machine backup option with Veeam through the cloud.
We're here to help you build your Business Continuity Plan
Recovery Time Objective (RTO) and Recovery Point Objective (RPO) are crucial elements to consider when analyzing business IT continuity. How long can you tolerate database downtime? How much data can you afford to lose in a disaster situation? How soon can you recover from a partial or full site disaster? Veeam products can help you close the gap on these questions and make sure you are resilient to all kinds of disasters. We fully understand always-on availability and business continuity, so we are here to assist you achieve the best of it.
Backup your virtual machines to the cloud with Veeam!
Sherweb Virtual Machine Backup & Disaster Recovery using Veeam Cloud Connect can help your business continuity planning achieve higher standards and ease the load and management overhead on your on-premises backup solutions. Access fast, safe and highly available Cloud repositories across the globe and gain better confidence in your business IT operations.
Just a few steps, and you're ready!
Technically, the solution is quick and easy to deploy within minutes. Simply add a Service Provider in the Backup Infrastructure section of your Veeam Backup & Replication console, and fill in the provider information. After successfully adding the service provider, you can start using the Cloud Repository for your Backup Jobs and Backup Copy Jobs. The technology also leverages WAN Acceleration, which helps reduce the data transferred for Backup Copy Jobs by using a cache and Veeam's data deduplication mechanism.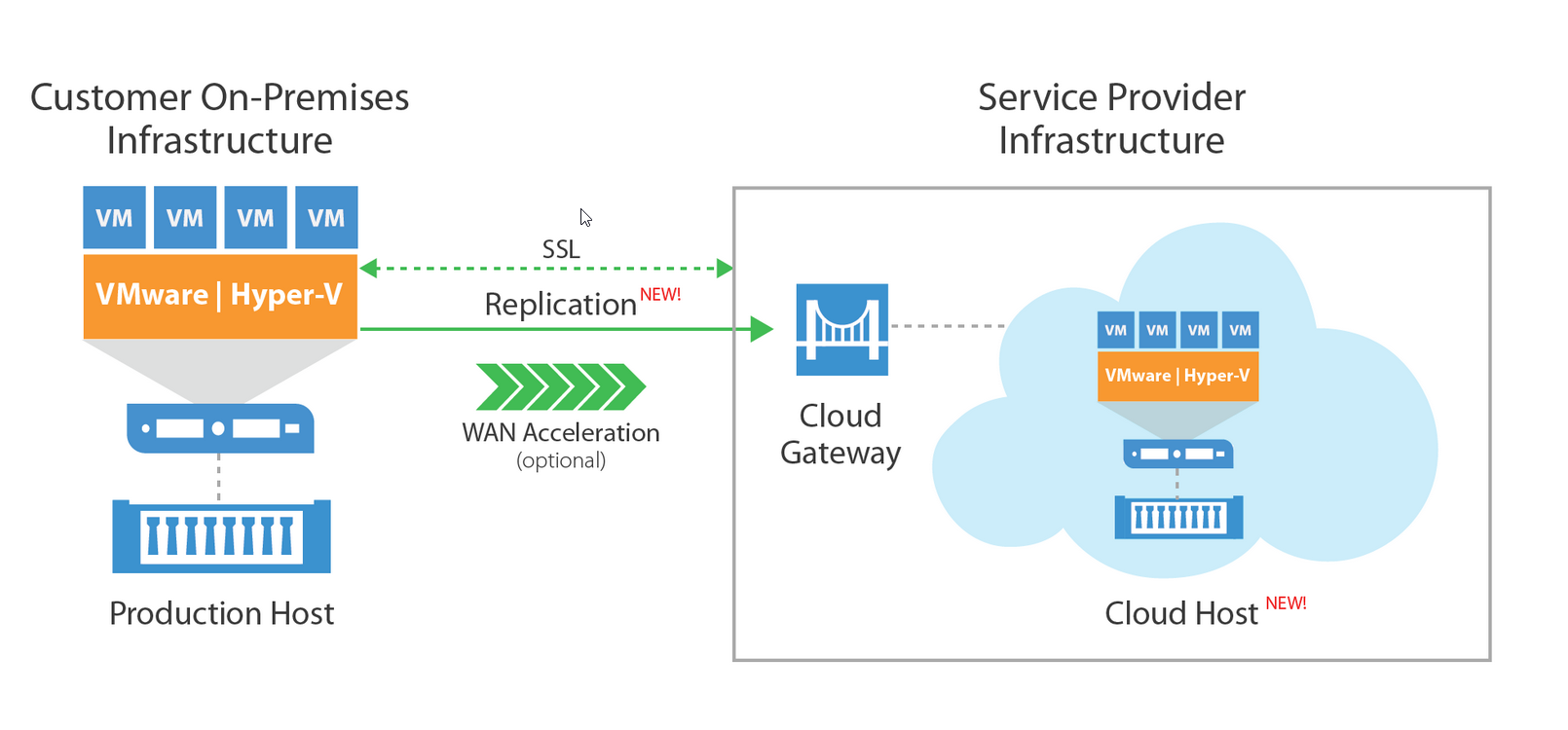 Start your virtual machine copy right into Sherweb Performance Cloud
Furthermore, Veeam now offers to replicate directly into the Cloud Connect infrastructure, as a complete Disaster Recovery option for your on-premises virtual infrastructure. We are currently evaluating this new feature built in the Availability Suite v9 release and named Cloud Connect Replica. With the help of this technology, you can have a disaster recovery site ready to go in our Performance Cloud in case of a partial or full site outage, minimizing your RTO and RPO drastically. It is also compatible with WAN Acceleration and shares the same authentication process as Cloud Connect.