Microsoft just announced the release of an additional deployment scenario, Local Business Data for Dynamics 365 for Operations, which will provide the option to deploy in their own data center or their partner's data center.
Local Business Data will support running your business processes on-premises, supporting local transactions and storage of business data, without replicating the business data in the cloud.
It will also support running our business processes locally and will enable storing business data in their or their partner's data center. In this deployment scenario, business data will not be replicated outside the local deployment unless configured by (or on behalf of) the customer.
We have three deployment options for Dynamics 365 for Operations:
cloud
cloud and edge
local business data
1. Cloud
This scenario offers us a fully Microsoft-managed cloud service that includes
high availability (H/A)
disaster recovery (D/R)
sandbox environments
application lifecycle management
combined with cloud-based systems of intelligence, infrastructure, computing, database services in a single offering.
Microsoft is committed to a cloud-first approach in business applications and to investments in cloud capabilities such as FastTrack, AppSource, and ExpressRoute.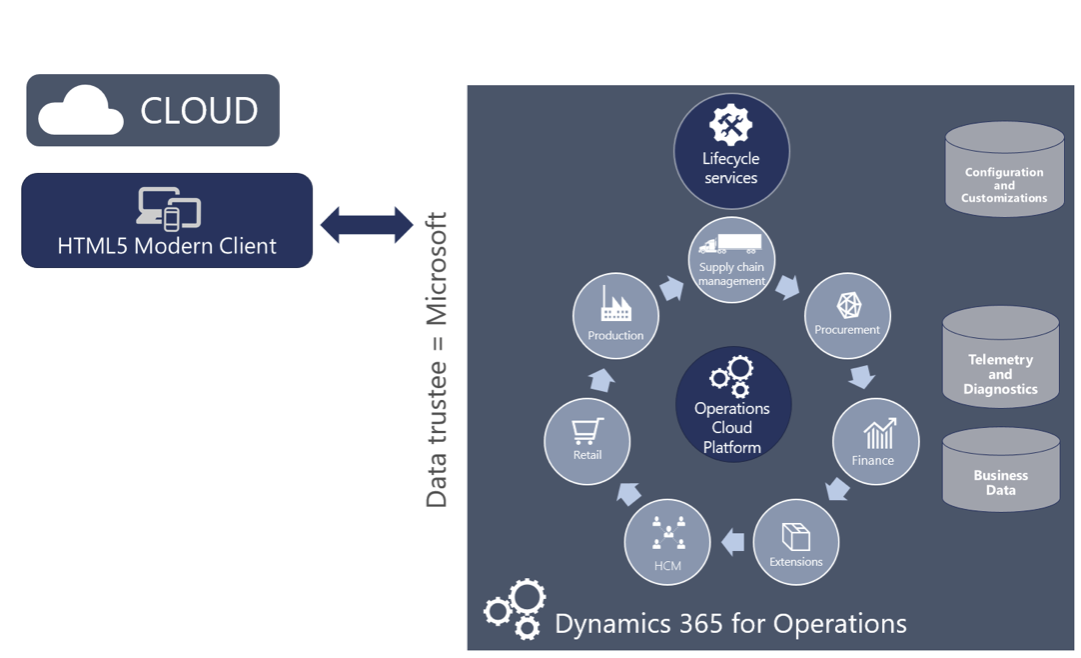 You may take advantage of shorter implementation times for this deployment option by requiring:
Fewer customizations
Repeatable industry or domain solutions
Continuous updates.
2. Cloud and edge
This option gives us a truly differentiated option that combines the power of the cloud and on-premises business operations in a unique way that offers scale, continuity, and intelligence. It will be the best of both worlds.
Dynamics 365 for Operations plans to enable organizations to run their business processes from application servers at the edges, meaning that transactions are supported by local application services and business data is stored locally. Each such facility running at the edge is called My Workplace.
The Microsoft cloud connection helps us to ensure data aggregation, financial reporting, intelligence, and more. The cloud instance also provides the local installation with data failover in the Microsoft cloud, automated deployment, continuous updates, and elastic compute capacity to infuse intelligence into the business process when needed.
This hybrid cloud deployment model scales out through federation of the on-premise nodes (My Workplaces), federated in the Microsoft cloud for a single, global enterprise view, which is a first for business applications.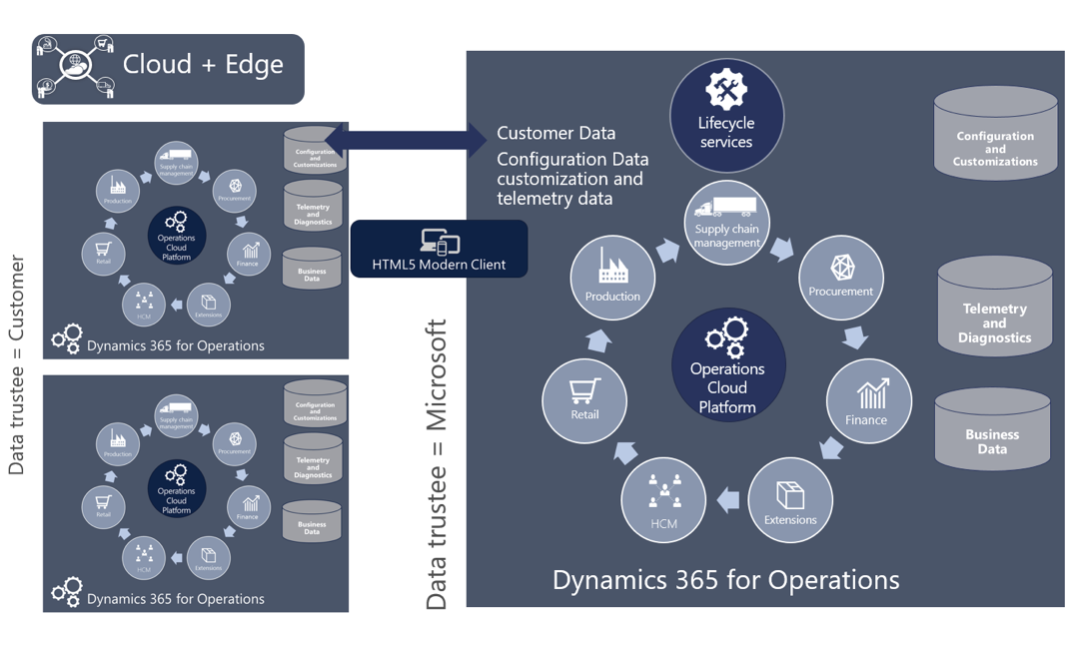 3. Local business data
Some organizations do not want to store their critical data on infrastructure they don't fully control. This option allows us to deploy locally within our data center and run operations without replicating business data to the cloud.
This type of deployment serves as a system of record and supports running an organization's business processes locally, supporting local transactions and storage of local business data. That business data is not replicated in the cloud, unless otherwise configured by the user. Application lifecycle management of this scenario requires connectivity to Microsoft Dynamics Lifecycle Services (LCS) in the cloud.
With this option, we can now turn ON or turn OFF cloud synchronization of our business data. If we turn OFF cloud synchronization, no business data leaves our trusted boundaries. Also, functions such as embedded Power BI, Aggregated Views, and Azure Machine Learning services-based efficiencies are not available when Cloud Data synchronization is turned OFF.
The local business data deployment option will have a similar UI and application functionality as the other deployment options and
we must take steps to configure the following capabilities in their own environments:
Enterprise software standards or hardware investments may require private infrastructure.
Configuration of high-availability and disaster recovery solutions and box environments.
The additional costs to deploy and manage these features could lead to higher deployment costs and a greater total cost of ownership (TCO).
Unlike the Cloud deployment option, Azure Machine Learning services and embedded Power BI are not included in the local business data deployment option.
We have to manage the infrastructure and software packages for the local business data deployments. This includes standing up Windows 2016 and SQL Server 2016 environments and servicing them. We will use tools to deploy the Dynamics 365 for Operations software and updates will be available to partners and customers via Lifecycle Services.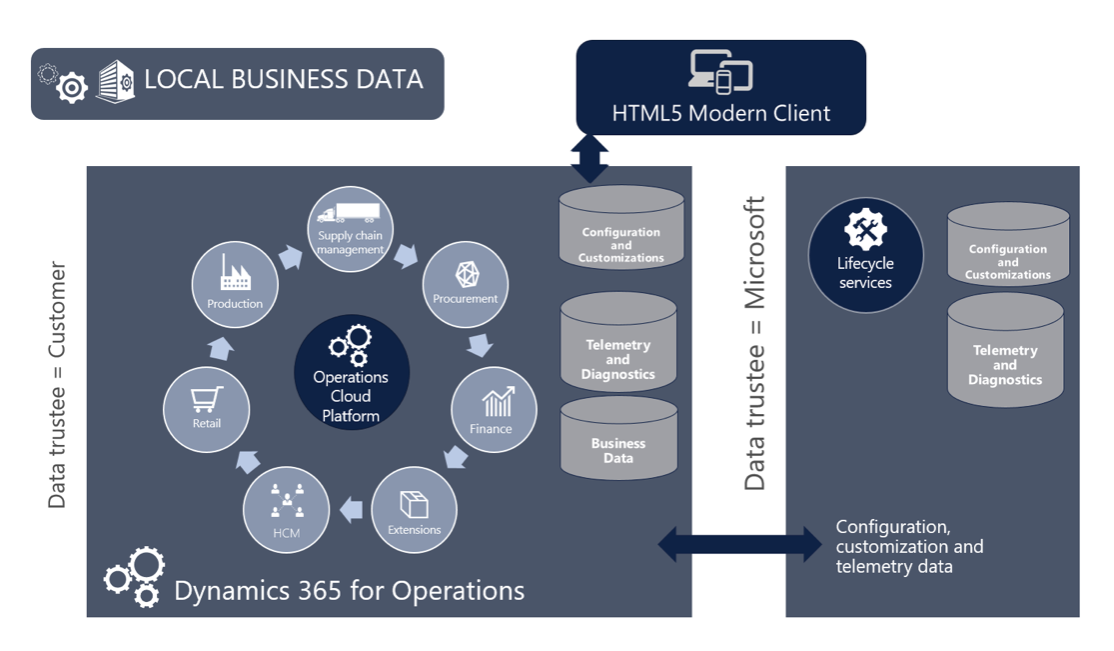 Besides, for the local business data deployment scenario, the application servers and SQL database will run in our data center. We will manage the application lifecycle through LCS in the Microsoft Cloud, including designing the business processes, creating and deploying the software image to deploy onto the on-premises nodes, monitoring the on-premises nodes in a system health dashboard, and keeping up with innovation from Microsoft.
Choosing the right deployment option and flexibility
We can select any of the options for current business needs, but also can change the option later, with choices ranging from full cloud to cloud and edge to local business data. You can move in either direction, depending on your business needs. For example, you might start with a local data center and move to the cloud when it's time for your hardware refresh.
Conclusion
There is no doubt that the future of these workloads lies in the cloud! The cloud service provides us with the greatest value and it is where we focus our primary development efforts. It provides the broadest range of functionality, best application lifecycle experience, easiest and broadest integration with Azure services, and the best option for business insights and intelligence and the most value for customers' technology investments. ​
The following table shows a side-by-side comparison of the planned scenarios, including use cases, components, and strengths.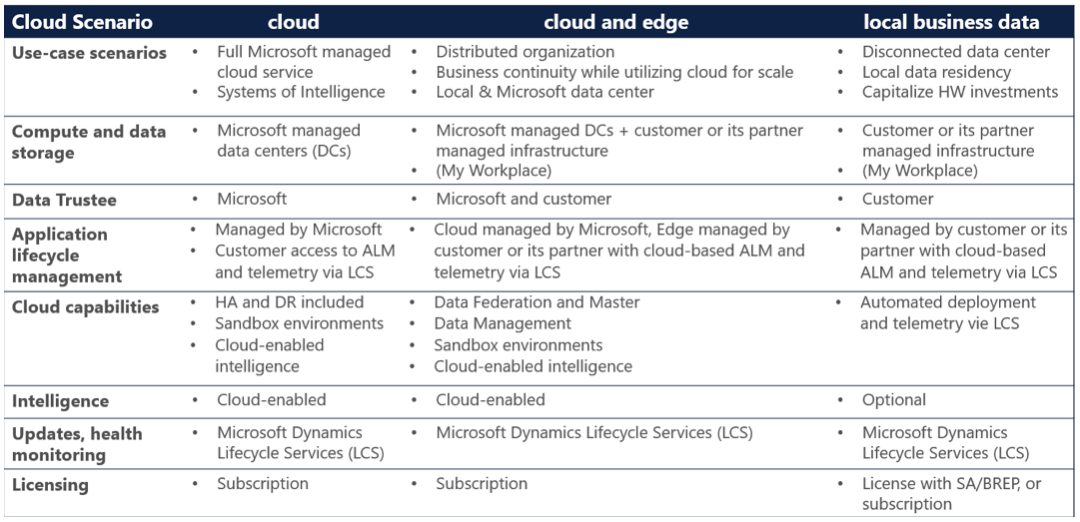 Thank you for reading!