Objectively comparing software is always tricky. I've read many posts over the years that have a preference bias for one piece of software over another. As an expert in Dynamics 365, I can tell that they apparently don't know the product and are misrepresenting the features and functionality.
I understand the features that they claim are missing are easily built using the standard customization tools in the system. The features themselves are hardly differentiators, so much so that Microsoft doesn't have them on their radar. If you compare a Ferrari to a Hyundai focusing purely on maintenance costs, it's obvious who the winner will be, but it doesn't tell the whole story. I'm not saying that Zoho CRM is a Hyundai, or that Dynamics 365 is a Ferrari, so bear with me as I make my point.
Putting aside unbalanced comparisons, what do expert industry researchers say? Let's consider two magic quadrants that have been released by Gartner this year.
High-Level Comparisons
1.       Magic Quadrant for CRM Customer Engagement Center (8 May 2017)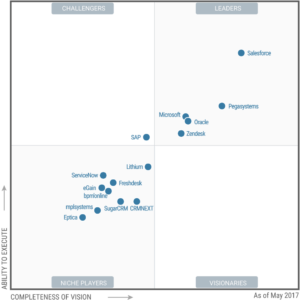 Zoho CRM doesn't feature on this quadrant but does get an honorable mention for providing a simple Customer Service module worth considering.
Microsoft is the clear winner in this category as they are in the Leader quadrant. They provide solutions such as Field Services and Machine Learning thanks to Azure integration and excellent extensibility.
2.       Magic Quadrant for Sales Automation (13 July 2017)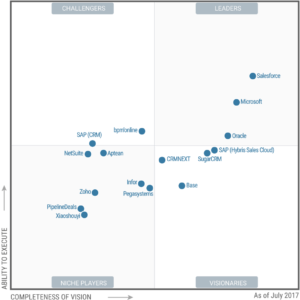 Zoho features in this category and scores highly in Pricing, Product Extensibility, and Functional Capabilities. Zoho has worked hard making sure there are great features to improve the user experience. However, there are issues with Outlook integration (something that Microsoft has only recently solved for Dynamics), Customer Service (oh the irony!), and Implementation Partners, of which there are just a few that provide quality service.
Microsoft is again a leader in this quadrant with strengths in Customization, Customer Experience, and Product Strategy. Microsoft's investment into Azure and AI capabilities, in particular, is an area that excites both customers and vendors. Dynamics 365 is still limited in Functional Capabilities; Online Services convert to Azure in mid-2017 (this has taken place already); and System Performance (users of the cloud have experienced issues with load times).
Comparing Apples to Apples
So it begs the question, is it worth comparing Dynamics 365 to Zoho? One is very much a Goliath, as the other is a David. In the past, I would have said no, but interestingly, Zoho is going after the big CRM vendors, as Microsoft going after smaller vendors. It's clear from Zoho's positioning and ambitious new products that they are looking to create a business ecosystem that can allow small to medium-sized companies (short term), and eventually, large companies (longer term), to choose Zoho as an alternative to Microsoft in CRM, Accounting, and Productivity Software. Since the release of Office 365, Microsoft has become competitive again in a space where Google's productivity suite was starting to gain traction.
Down-up vs. Up-down
 Microsoft began their development of CRM with Enterprise in mind, and only recently have started tailoring their offerings for SMBs, owing primarily to Office 365. Although the platform is strong regarding scalability and security, the end-user features have not been a focus until recently. From day one, Microsoft leaned heavily on their partner channel to extend the product to cater for its shortfalls in functionality. Their approach was an Up-down one starting with Enterprise and working their way down to the SMB. This method is only available if you are a market gorilla. One significant advantage that there is no shortage of Microsoft Stack Developers.
Zoho, on the other hand, began with the end-user in mind. They are still in the Niche category and have focused much effort on building great software users love. The result is that they have a rich feature set, and are starting to broaden customization and scalability. This strategy means that the partner channel is still undeveloped and they have built many integrations to other apps themselves. An area of concern is Zoho's programming language, Deluge. While I'm not disputing its ease of use, it is clear from the Gartner quadrant report that there are not enough skilled implementation partners out there. A large part of that is probably owing to the profitability of extending Zoho, and the difficulty in finding resources that are skilled in Zoho technology. Deluge is not the only language available for extending Zoho. There are APIs available so developers can use the languages they are most comfortable with, but Zoho has to gain appeal with software developers and partners if it will match Salesforce's Apex language and Force.com platform, as well as Microsoft's C# language and Dynamics 365 platform.
It's worth comparing Zoho's native feature sets to Dynamics 365 to give a clear picture of the different strategies of each vendor. This is more than just CRM, as ERP and Productivity Suites included.
| | | |
| --- | --- | --- |
| Zoho | Dynamics 365 | Comments |
| Forms | Various 3rd Party Tools (no native form-builder as yet) | A new Marketing Module has been promised for Dynamics 365 that might offer this. For now, the most commonly used tool is ClickDimensions or a custom-built form. |
| Sign | Adobe / DocuSign integration. (3rd Party) | Microsoft's partnership with Adobe should mean that the Adobe tool will improve drastically, but it does work well already. |
| Social Media | Social Engagement (Native) | Similar capabilities |
| SalesIQ | CafeX (3rd Party) | Although 3rd party, it is available as a solution to install on the Dynamics Administration Center. |
| Survey | Voice of the Customer (Native) | Similar capabilities |
| SalesInbox | Outlook App | SalesInbox is an innovative tool built for salespeople. No exact tool that matches this functionality like-for-like in Dynamics 365. |
| Campaigns | ClickDimensions (3rd Party) / Adobe Marketing Cloud (3rd Party) | ClickDimensions works for Small to Large customers, Adobe Marketing Cloud is recommended for larger customers only. |
| Sites | ClickDimensions (3rd Party) / Adobe Marketing Cloud (3rd Party) | ClickDimensions is not a CMS per se, but it does offer website tracking. Adobe would have more features here. |
| ContactManager | Dynamics 365 Customers and Outlook App | Microsoft leverages Outlook to fulfill this function, and provide a robust integration to Dynamics 365. |
| Motivator | Dynamics 365 Gamification | Similar Capabilities. |
| Sprints | Dynamics 365 Project Services | Dynamics 365 leverages the integration to Microsoft Project so will work for Waterfall / Agile projects. The dashboards and functionality are not as easy to use as Sprints. |
| Mail, Cliq, Docs, Writer, Projects, Connect, Bugtracker, Meeting, Vault, Wiki | In order of comparison to Zoho: Outlook, Skype for Business, OneDrive / SharePoint Online, Microsoft Project with integration to Dynamics 365 Project Services, Office 365 Groups/Teams, Azure Services, Dynamics 365 Knowledge Management. | Most of these features are catered for in Office 365 by Microsoft. OneDrive and SharePoint integrate with Dynamics 365, as do Microsoft Project and Office 365 Groups. Knowledge Management is native. |
Pricing: Dynamics 365 vs Zoho CRM 
It is hard to compare the pricing models as the features available for each different pricing option are vastly different. The most straightforward comparison is taking the apples vs. apples approach, examining the pricing options that are the most similar. This would translate to the Ultimate option in Zoho, and the Customer Engagement Plan in Dynamics 365. Here are the comparisons and comments:
| | | |
| --- | --- | --- |
| Zoho | Dynamics 365 | Comments |
| Ultimate ($100 per user per month) | Customer Engagement Plan ($115 per user per month) | The Dynamics 365 pricing includes Field Services, something not offered by Zoho. The Zoho pricing includes Mass Email, Inventory Management, and Google AdWords integration, all features that require additional custom development / 3rd Party Add-Ons to cater for these features. |
Assessment and Recommendation
Like the different journeys Microsoft and Zoho have taken in their CRM development, I recommend looking at the journey you need to take to get CRM functional in your business. If you are looking for something quick and cheap that has a rich feature set at the time of install, Zoho would be a better fit for your business.
However, if you are looking for a CRM system that you are willing to invest in and customize extensively to automate processes in your business, Dynamics 365 would be a better choice. As a general rule, if you are looking at the pricing options for Zoho and see that you would not be able to use anything less than Ultimate in your business, then I would strongly consider reaching out to a Dynamics Partner to assess your needs and help with a Dynamics implementation. Microsoft has also unofficially mentioned they would be offering pricing discounts to businesses with less than 50 users. Ask the Partner assisting you to query this with Microsoft.