There's been a lot of talk about CRM software lately and most of the hype has been swirling around two main players: Salesforce and Dynamics 365. Everyone says they offer the best features on the market, but the question remains. Which one is better?
The answer might surprise you. Both Salesforce and Dynamics 365 have similar features and both do an excellent job in tracking and managing your customers. It all depends on what you're looking for. We've compiled a series of questions that we think will help you find the right CRM for your business.
Where will my data be stored?
This is a big factor. Would you be uneasy knowing your data is being stored in the cloud? Maybe you'd prefer to keep it on a server down the hall in your office. If you're interested in Salesforce, you should know that it's a cloud-based application.
This means all your data would be automatically stored off-site in a datacenter. If this makes you uncomfortable, opt for Dynamics 365. It can be used both on-premises and in the cloud.
Is this CRM user friendly?
A lot of people think Dynamics 365 is easier to use because it's already integrated with Office 365. This means data from both applications is automatically synchronized. Your employees can do business deals right from Outlook, they can make sales calls and hold online meetings with Skype for Business.
Dynamics 365 also includes the business apps you need all in one place. Salesforce is more limited. You can access it directly from Outlook, but there's no data synchronization. You also need a lot of third-party applications for Salesforce and they're not free.
For example, if you want to do accounting tasks using Salesforce, you'll have to connect to QuickBooks for more functions. Working in Customer Service means you'll need another third-party product such as Zendesk.
Which brings us to another point. Adding third-party software isn't that simple. Some business owners have complained that they needed help from an IT pro to do it. If you don't mind calling in the experts, Salesforce is still a good bet.

Why do I need CRM software?
To get a better handle on your sales department. A good CRM software will help you generate leads, manage customers and close more deals.
Both of these products are champions at this game.
Dynamics and Salesforce both have excellent functions for contact and account management, lead generation, opportunity management, sales forecasting, workflow automation, social messaging and customer service.
Both products allow you to create automated marketing campaigns and follow up on leads and opportunities from anywhere using your mobile device. And both Dynamics and Salesforce offer an app marketplace where you can choose from additional tools to extend your CRM's capabilities. If you're interested in a wider variety of apps, you might prefer Salesforce.
Their AppExchange currently has more than 2,600 apps while Microsoft's AppSource has only 670 apps for Dynamics.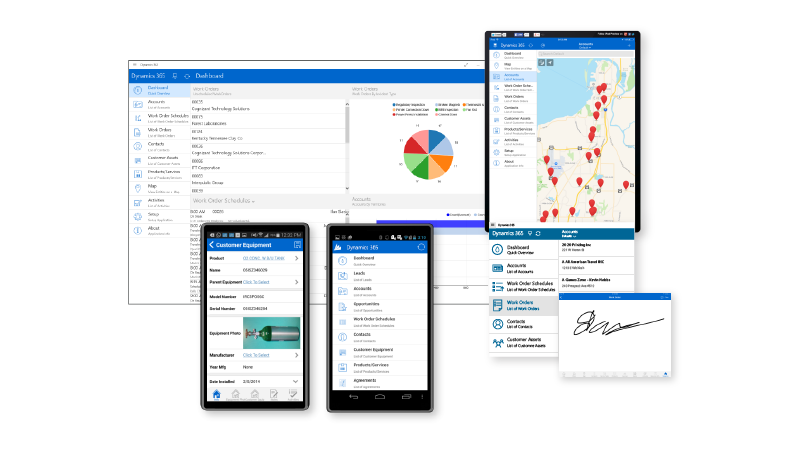 Does the CRM have good reporting functions?
Again, both Dynamics 365 and Salesforce make it easy for you to generate and analyze reports. Both systems have drag and drop reporting tools that include real-time charts and graphs.
Both give you a bird's eye view of how your business is doing plus the ability to focus on specific details in your sales pipeline. And both tools will display your reports in interactive dashboards that can be customized to display your quotas, key opportunities and sales numbers.
But, Dynamics has the edge here. You can integrate it with Power BI to do more detailed business analytics. Is a deep drill into business data something your company needs? Take a closer look at Dynamics 365.
How much does it cost?
Pricing is a big issue for the small business owner. Salesforce's Business Edition, called the Lightning Professional, costs $75 US /user/month. This includes account and contact management, opportunity tracking, lead management, customizable reports and dashboards and mobile access. There is also a more advanced edition available for $150/user/month.
Although this price is affordable for a small business, you have to factor in extra costs for customizing software and adding third-party solutions. A similar plan for Dynamics 365 will cost $65 US per user/month and will include the apps you need. The enterprise version will cost you 95$/user/month.
Salesforce vs. Dynamics 365
Still trying to make up your mind? Here's a summary of all the features in each application.
| | | |
| --- | --- | --- |
| Marketing | Salesforce | Dynamics 365 |
| • Email auto-responder | yes | yes |
| • Search-based marketing | yes | no |
| • Lead and list management | yes | yes |
| • Workflow automation | yes | yes |
| • Analytics and dashboards | yes | yes |
| • Marketing-campaign planning, automation and management | yes | yes |
| • Email-marketing management | yes | yes |
| • Customization and automation capabilities | yes | yes |
| • Reporting features integrate with other Microsoft applications | no | yes |
| Sales | Salesforce | Dynamics 365 |
| • Lead and opportunity management | yes | yes |
| • Microsoft Office integration | yes | yes |
| • Mobile CRM solutions | yes | yes |
| • Territory management | yes | yes |
| • Account and contact management | yes | yes |
| • Approvals and workflow | yes | yes |
| • Analytics and forecasting | yes | yes |
| • Documents and contracts management | yes | yes |
| • Product catalog | yes | yes |
| • Lead-conversion tools | yes | yes |
| • Sales tracking | no | yes |
| • Complex price-quote-generation tool | yes | yes |
| • Sales-force management | yes | yes |
| • Sales-literature creation | yes | yes |
| • Direct email marketing | yes | yes |
| Customer service | Salesforce | Dynamics 365 |
| • Agent console | yes | yes |
| • Call scripting | yes | yes |
| • Email management | yes | yes |
| • CTI (computer telephony integration) | yes | yes |
| • Knowledge management | yes | yes |
| • Case and activity management | yes | yes |
| • Resolution and activity analytics | yes | yes |
| • Self-service customer portal | yes | yes |
| • Automated routing | no | yes |
| • Automatic-response email | yes | yes |
| • Email management | yes | yes |
| • Searchable knowledge base | yes | yes |
| • Service contracts and scheduling | yes | yes |
Are you any closer to making a decision? As we've shown you, there's not much difference between Salesforce and Dynamics 365.
Both of them offer great features and both of them can be customized to suit your needs. You can also get add-ons from their online stores to make the CRM even more productive for your business.
Take a hard look at what systems you already have in place, what features your teams need to boost their performance and how much you're willing to spend. You can even do a free trial of each product to see which one you like best.
While you're considering your options, here's an interesting statistic: Gartner has forecasted that the market for CRM tools will be worth more than $37 billion in 2017.