Gone are the days when teams were tethered to their desks in office buildings. The digital workspace is no longer something far off in the future—it's already here. In fact, remote workplaces and employees now form a very real part of many organizations' environments.
Driving a digital workplace requires a solid foundation that empowers users to transition to a new platform while also providing adequate governance to strike a balance between company policies and individual freedoms. These foundations are divided into the four pillars of Social, Mobile, Analytics, and Cloud, which combine tools, organizational policies, processes, and security for developing a digital workplace.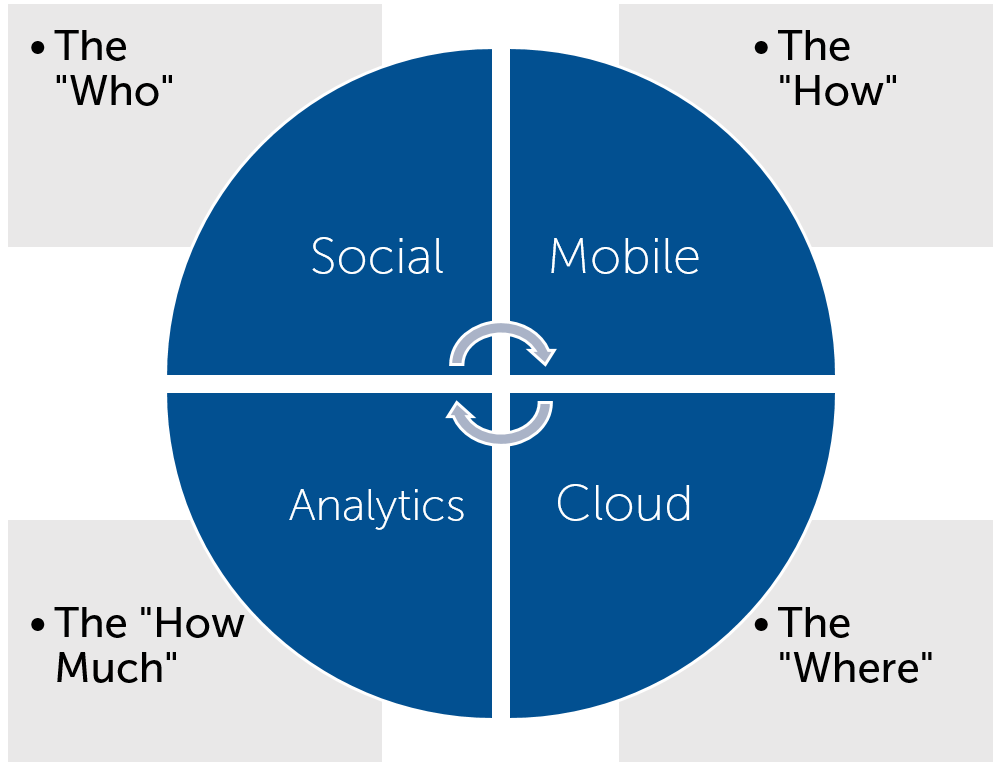 While driving a digital workplace strategy is key to a CIO's success nowadays, it requires the right set of tools that evolve based on industry dynamics and provide security, stability, and room for scaling.
Microsoft's vision for the future is grounded in the Cloud OS (Office 365) and the mobile devices you use every day to get work done. The intersection between the two is the digital workplace. The Office 365 platform realizes this digital workplace by giving employees access to corporate content and data on any device from any location.
Social:  You need to be able to collaborate with the right people at the right moments. Whether you're an enterprise with presence in 100+ countries or a startup working with teams of employees and freelancers across the globe, Office 365 has got you covered. Initiate a real-time group discussion using Teams or Skype for Business, spark enterprise-wide collaboration with Yammer, or publish communication content via SharePoint. You have several options at your disposal.
Mobile: Knowing whom to collaborate with is important, but having the ability to collaborate anywhere using any device is important for timely communication. Every Office 365 tool or workload works on laptops running Windows and Mac, as well as tablets and mobile devices running iOS and Android, and provides handoff functionality to switch from one drive to another without disrupting workflow. You may be on a call using Skype for Business while simultaneously presenting PowerPoint slides using your laptop. Your documents are synchronized in real time using OneDrive and SharePoint, thereby making up-to-date information available to your target audience.
Analytics: What can't be measured can't be improved. The goal of the digital workplace is to increase productivity and turnaround time. Tools like Delve give you 360-degree visibility of the people you work with and what they're working on, offering insights into how can you contribute to their work, or vice versa. Furthermore, PowerBI provides you the right platform to build and generate analytics that are important for measuring the growth and trends of your business and identifying key performance areas. MyAnalytics identifies areas of improvement and productivity loss, helping you tune your work style and refocus your efforts in more important areas.
Cloud: Cloud is at the core of all applications. Freemium cloud applications like Box, Dropbox, G Suite, and Skype were once employee favorites, but they rarely complied with the specific governance policies of the organizations in which they were used. This is where Office 365 steps in. It not only provides a true cloud model for every workload but also puts identity management on the cloud with Azure Active Directory. To top it off, Office 365 is hybrid compliant, meaning you can seamlessly integrate with your on-premise environment to leverage Active Directory, on-premise storage, Exchange Server, and other third-party applications.
How Does Office 365 Support Your Digital Workplace Strategy?
Evolving with the times – Microsoft has a clear roadmap for Office 365. What started as a business productivity bundle is now a full-fledged modern workplace suite.
Cloud First Strategy – Every workload is cloud-enabled and follows industry-standard security guidelines.
Comprehensive Approach – Office 365 provides a simpler and more direct means of getting things done.
Integrated Model – Microsoft Teams, Skype for Business, Exchange Online, SharePoint Online, Planner, and Office products are tightly integrated, as seen through Delve and MyAnalytics. While working on a document, it's easier than ever to initiate a Skype for Business call with a co-author or reviewer based on their online status or to send a link to the document via Teams.
Do more with less – Office 365 provides a suite of applications to take care of planning and work management needs, document management, workflow management, unified voice communication, integrated messaging, and email—all under a single access management system that integrates well with your Active Directory. As a result, your organization doesn't have to build or procure applications for every need that arises.
Critical Success Factors
While organizations may be enthusiastic about rolling out Office 365 for their digital workplace management, there are some critical factors that need to be addressed to ensure consistent success.
Don't focus on application adoption – Rolling out applications like Skype for Business, Yammer, Exchange, and SharePoint online separately may hamper your end-user adoption because by the time users understand the functionality of one application, they will encounter similar functionality in another application, leading to confusion and frustration.
Don't roll out everything together – While this may be contrary to point #1, it is important to group the applications into logical groups before rolling them out. For e.g., Phase 1: Roll out tools like SharePoint, Exchange, and Skype for Business; Phase 2: release Planner, Teams, and Groups. You get the idea.
Implement mobile device management – Mobile device management for Office 365 lets you secure the mobile devices your employees use and to create custom policies and settings to control access to your organization's Office 365 information for supported devices and apps. In the event that a device is lost or stolen, you have the option to wipe its data to protect sensitive information.
Cloud-only or Hybrid – Clearly identify your Hybrid needs and configure them only if there are pressing business requirements. Azure AD integrates well with On-Premise Active Directory, so you don't need to implement Hybrid unless you plan to integrate with line of business or legacy systems on premises.
Under the guidance of the four pillars of Social, Mobile, Analytics, and Cloud, and with the right blend of governance and security, your enterprise can easily establish a modern digital workplace using Microsoft Office 365.