Effective collaboration is the backbone of a strong team. Nowadays, collaboration is much easier thanks to an array of productivity tools that help you stay in touch with team members and get work done quickly. Two of the biggest contenders in this market come from Microsoft.
With more and more remote workers, communications and collaboration tools are becoming the backbone of any high performing team. In this article, we'll be comparing the battling platforms, Teams vs Skype for Business, by looking at the differences between them, and helping you to decide which is right for you and your team.
Since writing this article, Microsoft has announced that Microsoft Teams will be completely replacing Skype for business as of 2021. This means there never was a better time to understand what Teams will be bringing to your organisation
Start your Sherweb adventure by exploring our Partner Guide
Microsoft Teams
Microsoft really wanted to tap into the chat applications market when it developed Teams. Teams is a cloud-based chat app that combines the functionalities of Slack and Office 365 into a single platform that can even integrate more than 150 third-party applications for increased productivity.
To promote early adoption, Microsoft has offered Teams to Office 365 and Microsoft subscribers without any additional charges. The cheapest Microsoft 365 subscription currently costs $5 per month, so Teams is certainly much cheaper than its alternatives.
According to Microsoft CEO Satya Nadella, the vision is that "Microsoft teams will bring together chat, meeting, notes, Office, Planner, PowerBI, and a host of extensions and applications to help teams get work done."
Teams functions similarly to Slack and offers a threaded view of group and private conversations. You can access these conversations through a user-friendly interface that lets you chat with coworkers, share files and notes, and even contribute to project boards.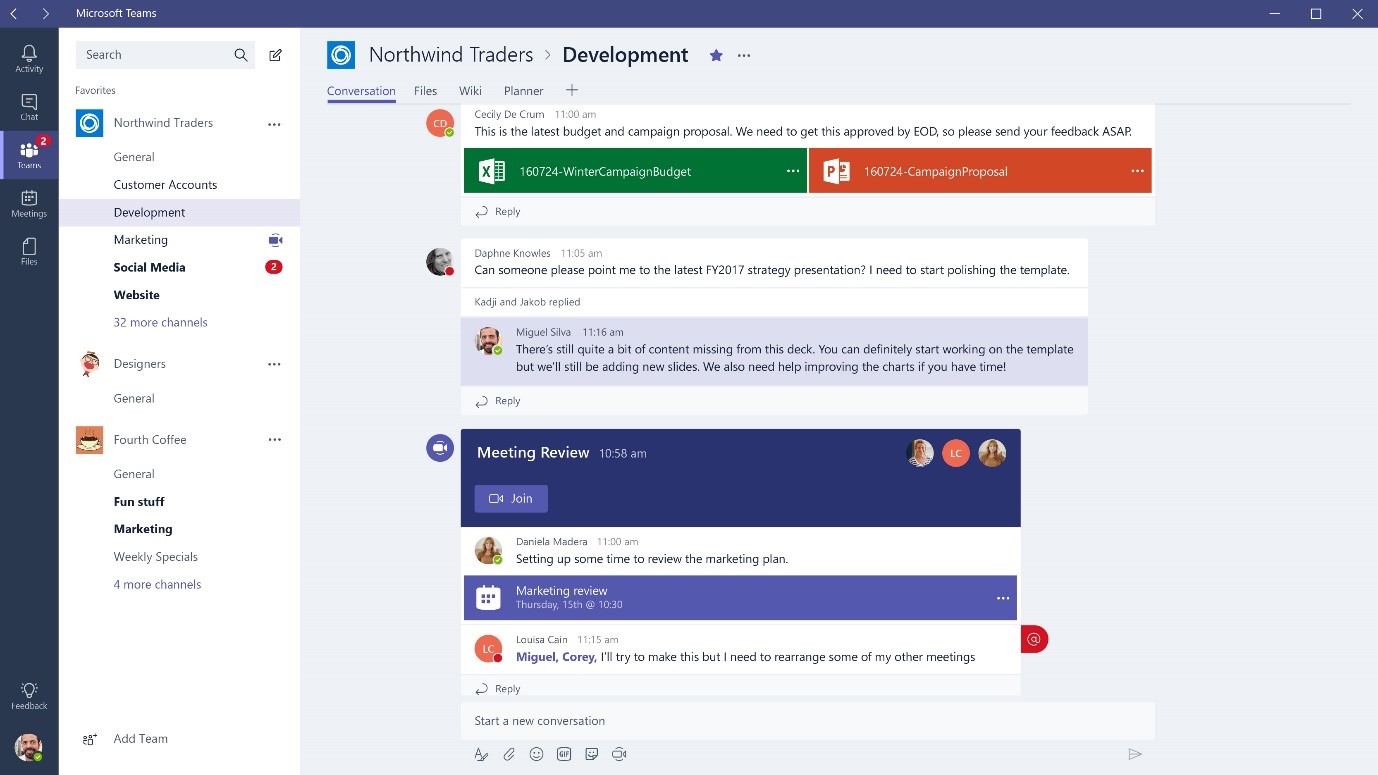 Interestingly, Teams allows users to create sub-conversations. For example, if your development team is comprised of UI and Backend developers, they can form their own sub-conversations in the same channel to discuss their own independent ideas while still remaining part of the group.
Key features
Third-party apps and API integration
Available in 18 languages
Microsoft Office integrated
Supports chat, calls, and video conferencing
Attractive and agile interface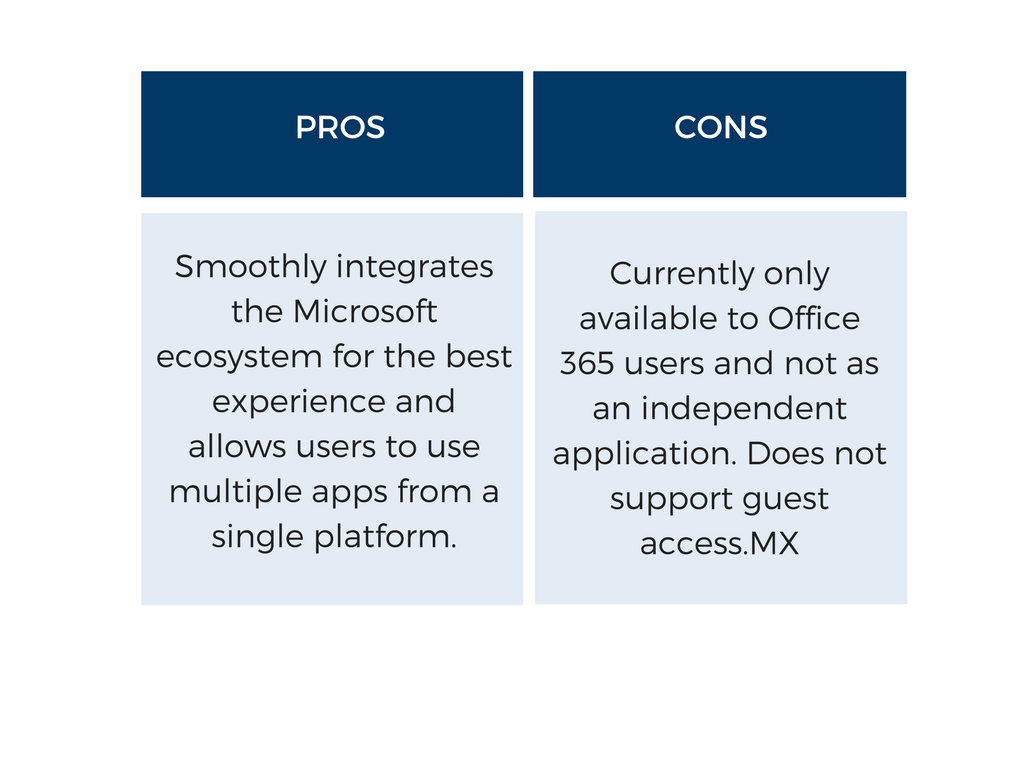 Skype for Business
Microsoft launched Skype for Business back in 2015 as part of its initiative to lead the software services market, developing the app using its existing Lync communication tool. In short, Skype for Business is a cloud-based service that helps professionals get work done in their offices and homes through chat, voice calls, and video conferencing.
Skype for Business includes all the functionalities of Lync and Skype (excluding Skype Translator), but it goes beyond these apps to allow users to make video conferencing calls that can support up to 250 people. Fortunately, it's actually quite easy to connect people to these group calls, so you don't have to manage multiple screens and fumble with hundreds of buttons.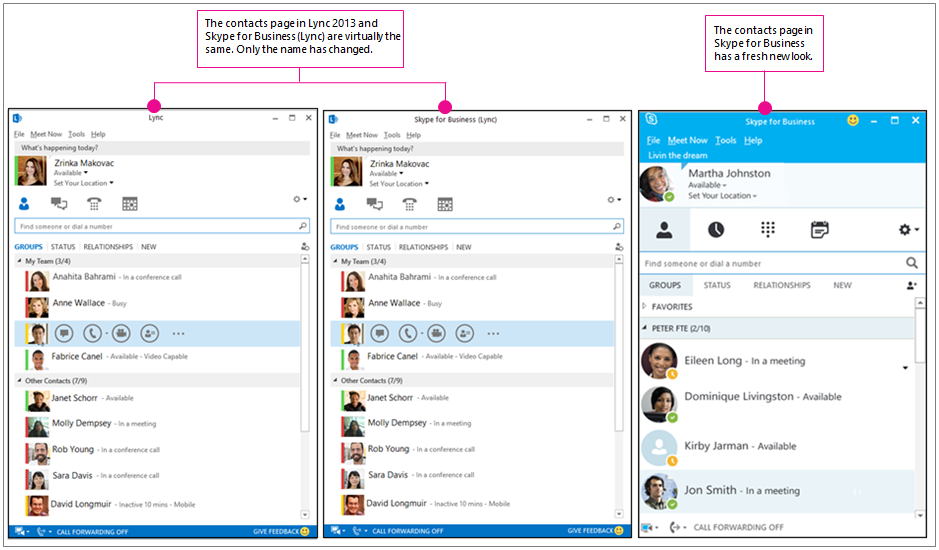 Skype for Business is considerably cheaper than its competitors—its basic package starts at just $2.99, whereas applications such as Nextiva and RingCentral charge around $19 a month. Thus, Skype for Business is an attractive package, especially for small-scale businesses.
Key features
Supports PSTN conferencing
Video and audio recording of calls
Screen and computer access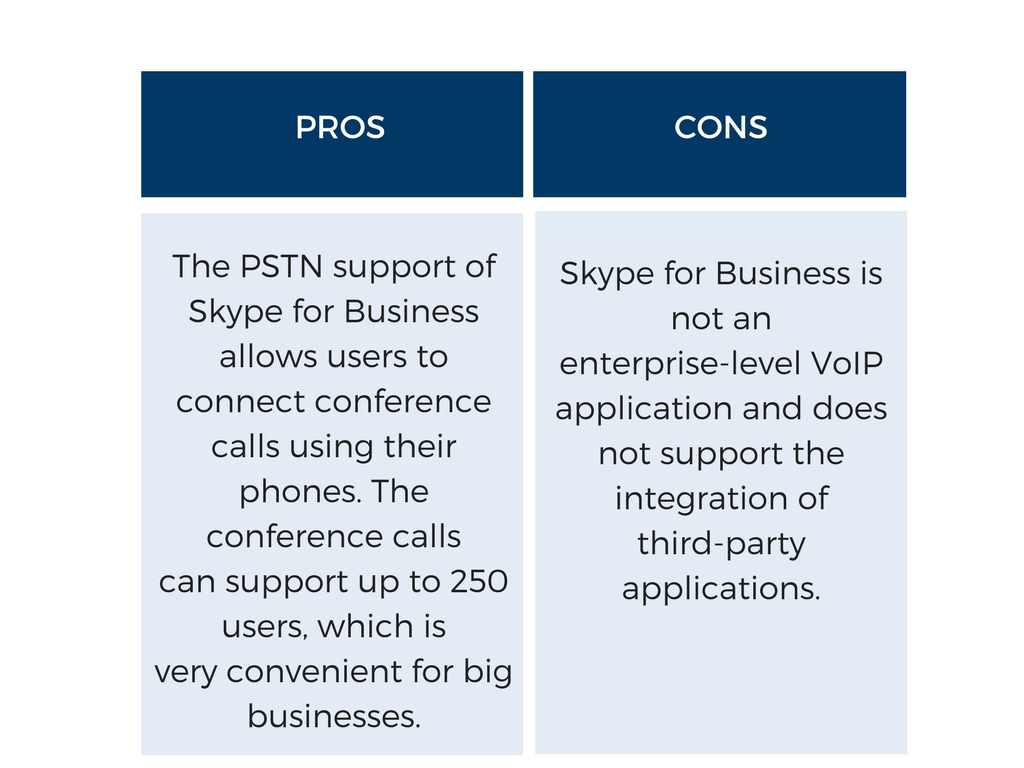 Microsoft Teams vs Skype for Business: Who comes out on top?
With the introduction of Teams, it was clear that Skype for Business would eventually fall from its initial grace. In fact, at the recent Ignite conference in Orlando, Florida, Microsoft announced ↗ that it will be asking businesses to shift from Skype for Business to Microsoft Teams over the next two years, though it has not yet provided a strict deadline.
Since Teams includes all the functionality that Skype for Business offers, there's really no reason to choose Skype for Business over Teams. Microsoft has made clear that it wants to create a single platform that will unify all collaborative requirements for working professionals. Teams lets you set appointments, mark events, share files, engage in video and audio conference calls, create groups, and perform numerous other tasks. All in all, Teams has become the ideal platform that Microsoft envisioned—a complete workspace package for optimized and productive collaboration.
Teams marks a major milestone in Microsoft's ongoing effort to compete in the software and application markets. At this point, the app is set to become the leading messaging platform in the workplace by 2018. While only 3% of organizations currently use Teams, more than 17% plan to adopt the app over the coming two years. Microsoft has a bright future ahead of it, and it'll certainly be interesting to see how Teams will be received by businesses in the coming years.
** This article was edited on March 13, 2020