In today's fast-paced environment, time can't be wasted. Office 365 is a great productivity suite for modern businesses, but learning to use its applications effectively can be time consuming. This is why businesses need to turn to Office 365 e-learning platforms, such as QuickHelp.
Why your business needs Office 365 e-learning
Being able to manage multiple tasks in a fast-paced business environment is a great skill to have but requires lots of organization and time. Brainstorm's QuickHelp can help you manage some of those tasks with ease, benefiting users and admins alike.
How can QuickHelp's e-learning system help you?
As an Office 365 e-learning tutorial program, QuickHelp's main goal is to support the adoption of Office 365 through engagement and gamification. QuickHelp provides various personalized, attractive, and modern Office 365 training materials for the most effective learning journey.
Most training programs are expensive, draining your budget and wasting your time. A recent Forrester report notes that the average Help Center call could cost about $25 just for that one call. QuickHelp departs from these traditional training models, allowing you to be economically feasible, save IT resources, and optimize Office 365 training for your team.
QuickHelp not only helps you save time but also ensures that you're given a wide range of Office 365 training specific to your needs. With QuickHelp's on-demand library and 45 new live training events each month for apps like OneNote, OneDrive, Teams, and more, you'll be able to easily adopt new Office 365 apps for increased productivity.
Of course, change is the only constant with technology—and Microsoft's always rolling out new Office 365 features. This makes QuickHelp a great resource not only for new users but also for veteran techies. When implemented within an organization, QuickHelp can help contribute to a successful learning culture.
QuickHelp features and key benefits
Perhaps the greatest benefit of QuickHelp is that it works for businesses of all sizes. It can also be used by businesses from various industries—such as education, finance, retail, and hospitality—thanks to Office 365's ubiquity.
With QuickHelp's security and soft-skills videos, your organization can also help mitigate risk and improve employee relations. Of course, that's just scratching the surface of QuickHelp's potential. Below are more ways QuickHelp's Office 365 e-learning can benefit your business and drive success.
Benefits:
Enhances the learning culture and productivity of your organization
One skill path can save each employee an average of 18 minutes per week
Live events can save users an average of one hour per week
Templates and other content provided by QuickHelp and Sherweb help save time
Features:
Gamification for long-term user engagement
Topics focused on specific applications and soft skills catered to you
On-the-spot PDF guides and videos
Grade assessments for individual users
Exportable user assessments and progress
Getting started with QuickHelp
As a first-time QuickHelp user, you're asked to fill out some basic profile info. You'll then be asked about the Office 365 materials you use and your experience with Office 365 applications. By answering these questions, you give QuickHelp a better understanding of what you already know so it can provide you with personalized Office 365 e-learning.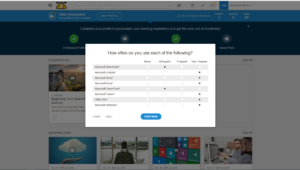 Starting your skill path
Here's where your journey really begins!
Once you have checked off all the Microsoft applications you have experience with, you will be greeted with a video introducing you to the program. As a new employee, QuickHelp will provide you with the information you need to navigate the program. Once you have completed the video training, you will then be tested on how well you understood the content. Now that your first task is completed, you will receive points. These points contribute to your ranking among your peers, and give the administrator an insight into your progress.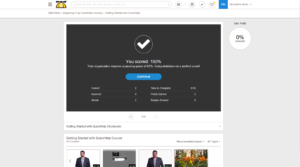 An inside note for beginners on QuickHelp, your administrator can provide you with introductory tasks that will fit your specific needs. While you will be provided the tasks on how to navigate QuickHelp, you will also be provided other pre-assigned content for you to complete. Now that you have learned the basics of the program, let us look at how you can learn more.
How do I learn more?
QuickHelp's content is available anytime you need it. To find more content on other subjects, you have two options: You can click either on the yellow student cap in the top-left corner or on the black checker-square icon, beside the rectangular search section on the top.
If you choose the second option, you can either view suggested content or browse the full QuickHelp catalog yourself to find something that interests you.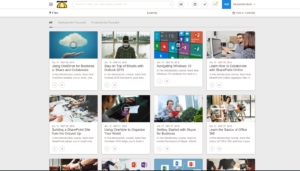 What happens next?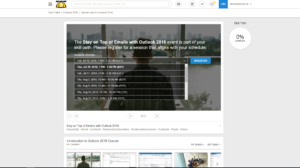 If the video you want to watch is available straight away, you can simply watch it then and there, or bookmark it to come back to at a more convenient time.
The administrator's perspective
Let's take a quick look at some features that QuickHelp admins can use to track user progress.
In the QuickHelp admin portal, you can monitor user engagement and even reward users who have been doing well. The program focuses mainly on visuals to have a better picture on how your employees are interacting with the program, and the program's effectiveness. This unique feature can help you figure out instantly what changes need to be made to engage the users more with the program. You can also see the popular user journeys, which can help you further understand what is the best and effective content your employees will enjoy. Another unique feature of the program is that you can export the data from the program. This can provide you with ease in further understanding and analyzing how the data is related to each other.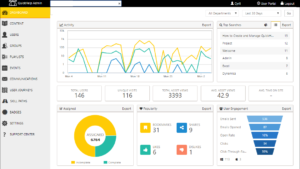 Once you have looked at the Dashboard content, you can also look at the Content feature in the navigation menu on the left. In this section, you will be able to check all the Microsoft content you want your users to learn about. This will provide information on the amount of content available for each topic as well as when it was last updated. You also have the option to publish content you want and do not want.
There is also the Group feature where you can classify your employees based on what they need to learn about and when they will receive the information. You can also go into the Communication feature where you can create custom introductory and reminder emails for the users by using the templates provided by the program and Sherweb. These emails will focus on the subject that you would like the user to look at and you can schedule when you want the emails to be automatically sent out.
Lastly, let's look at the User Journey feature. This feature is where you are able to take your groups and assign a specific journey's to them. Whether the user is a new hire or part of a sales team, they will be aware that the skills tasks they are provided are unique to them.
As a bonus, QuickHelp is also compatible with Office 365 tenants, so admins can easily manage users without any learning curve involved.
With QuickHelp's customized training, you'll build even more loyalty and value among your employees. Learn more about QuickHelp today to supercharge your Office 365 productivity.