Office 365 allows employees to work anywhere, anytime and on any device. People can collaborate on their own devices, using public, business or home networks, from any terminal, desktop, laptop, tablet or phone. While this is very convenient, it can also represent a threat to the company's data. While businesses can centrally manage security on the devices they own, it's more difficult for them to extend their policies to personal equipment and networks. Do you backup Office 365 in your organization?
In today's environment, where cloud services are progressively replacing traditional on-premises IT, questions about disaster recovery have become very important when it comes to moving business activities to the cloud. To prevent data corruption and loss, organizations have to make sure their business data is backed up.

Mobility increases risk for your business data
In a recent survey by Lookout, an American security company, 60% of IT admins reported that at least one smartphone had been either lost or stolen in the last year. Thieves wiping out stolen devices may intentionally delete user data. Because contacts and documents are synced between the device and the Office 365 servers, the wipeout also deletes data on the server-side. With no backups available, a company can lose valuable information.
Backup Office 365 Data: It's Not Immune from Ransomware
The Cerber ransomware made the headlines on June 2016 because of a massive zero-day attack on Office 365 subscribers. Some users received phishing emails with an infected attachment. Because phishing emails are always sent under a legitimate name, it's a lot easier to trick users to open a malicious document. Unaware the attachment was malicious, a number of people opened it and enabled macros that automatically encrypted their files, including business data. By the time Microsoft had started blocking the malicious file, many subscribers had already been infected and their data was locked. Those who had backup were able to start over with a fresh copy of their files. People who didn't have backup weren't so lucky. Either they had to pay (with no guarantee all their data would be returned) or just forget about it.
Lost data may not be recoverable without backup
Microsoft gives its customers several paid options to archive data (Exchange Online Protection), manage document versioning (SharePoint Online, OneDrive for Business) and retain deleted items for a desired amount of time. But when critical data is unexpectedly deleted or corrupted, it can take a while before an organization figures it out. Even if you pay Microsoft for data archiving, missing data cannot be recovered after the retention limit. Only a backup can help you recover in this case.
A disaster recovery plan is only efficient with backup
Your business continuity relies on a proper disaster recovery plan and backup must be at the core of it. You need to build a strategy to protect your business from incidents where deleted or corrupted Office 365 data can only be recovered with backups.
Business continuity best practices recommend a 3-2-1 backup rule in which a company has 3 sets of backup, stored on 2 different media, with 1 copy offsite. It's important for you to make sure all copies exist, are reliable and easily recoverable to fit into your recovery time objective (RTO).
Cloud backup vs. traditional backup
If you've used a traditional backup solution in the past, you might remember how hard it was. This just isn't the case in the cloud. Cloud backup eliminates the need to buy hardware media so it helps you cut costs. It also makes your life simpler. Forget about adding extra servers, configuring libraries and moving tapes or other media to different locations.
With a cloud solution, everything is done over the network and your business data is stored online, in the provider's datacenter. All you need is a reliable Internet connection. Backing up and restoring emails, files and more are executed in a few clicks.
Tips to identify the best Office 365 backup solution for your business
The Office 365 backup solution you choose should be easy to adopt and use. But that's not all. Here are a few tips to identify the best office 365 backup solution for your business.
Confirm these important points with your provider:
Data is stored in an infrastructure under the highest standards such as SSAE16 or SOC 2 Type II.
Encryption is used in the backup and restoration processes to protect the data both at rest and in transit.
Their solution gives you the option to verify the backup was properly executed, resulting in no data corruption.
Their solution's performance is best. Performance depends not only on a fast infrastructure (servers, storage and network), but also on the provider's Internet link bandwidth.
Have You Heard About Sherweb Online Backup?
Sherweb Online Backup is built on technology by Acronis, the world's leading data backup software company. You can back up everything, from servers to virtual machines to mobile devices and applications. And most importantly, backup Office 365!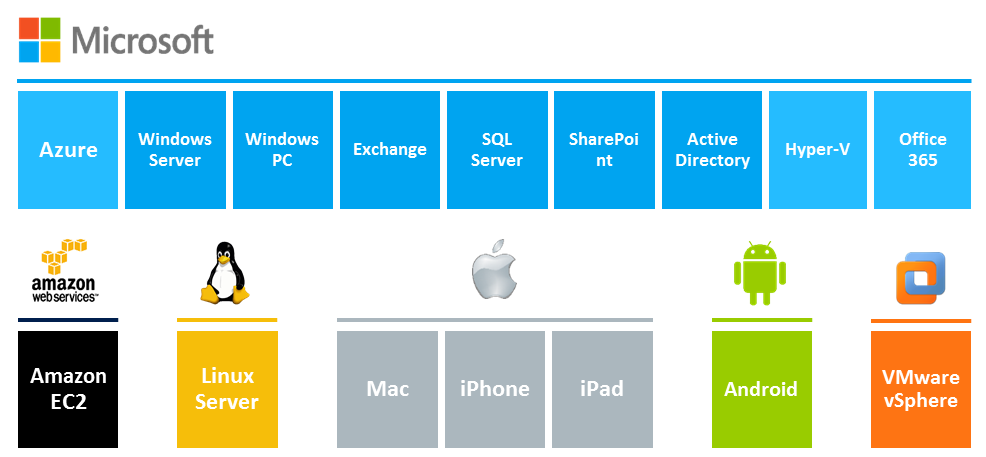 Here are some examples:
VMware ESXi
Citrix XenServer
Hyper-V hosts
Windows, Mac and Linux computers
iOS or Android devices
Applications like Exchange Server, SQL Server or Office 365.
With Sherweb Online Backup, you create, schedule and manage backup and restore operations from a single web management console. This makes it simple to follow your business continuity activities that are related to backup.