An updated OS typically brings with it a host of new improvements ultimately designed to improve the user experience. It does, however, usually take some users in corporate settings some time to catch up and adopt the latest rollout. For IT providers, it can be tough to know what a given update means for clients running older or out of date technology. On the other hand, OS updates also provide an opportunity to educate clients on new tools that can positively impact their business.
Although it's been available for awhile ↗, it's time to start getting to know Windows 11, how it can benefit customers and how managed service providers (MSPs) can help them upgrade.
Availability and how to upgrade
Windows 11's major features officially finished rolling out mid-2022. This means that upgrading now grants users the full experience of the operating system as intended by Microsoft.
Upgrading is simple ↗. From the Start menu, simply navigate to Settings, Update & Security and then Windows Update. Note that you'll have to make sure the PC is compatible in order to be successful.
Windows 11 is free for users using Windows 10 PCs with compatible operating systems. Users therefore don't need to pay any fees to take advantage of Windows 11 upgrades and new features, nor do you need to buy a new computer.
Windows 11 system requirements
While Windows 11 might be available to the general public, not all PCs have the hardware necessary to run this operating system safely. Specific system requirements are:
A device that runs on Windows 10 version 20H1 or later.
A processor of 1 GHz or faster with at least two cores. The processor must run on a 64-bit system chip or processor.
4 GB of RAM or more.
64 GB of storage available or more.
A graphics card compatible with the DirectX 12 API or later with a Windows Display Driver Model 2.0 driver.
A PC that is Secure Boot capable and has a Unified Extensible Firmware Interface.
A high-definition 720 P display with a 9-inch monitor or larger.
Trusted Platform Module 2.0.
Any modern PC made in the last few years should have all of these requirements covered. While you may need to update your device drivers if you use or have purchased a relatively new Microsoft device, you'll be set to upgrade to Windows 11 without too much difficulty.
New features in Windows 11
What can you expect from Windows 11 regarding new improvements ↗ and major features? A lot, in fact.
For starters, Windows 11 features a new interface roughly similar to the traditional Mac interface. When you boot up a PC with Windows 11, you'll notice the new, clean design that uses pastel colors, a centered Start menu and taskbar, and rounded corners. This makes Windows 11 much more visually appealing and easier on the eyes than older versions
Furthermore, many popular Android apps are now integrated into Windows 11. You can download and install your chosen Android apps right from the Amazon Appstore, which is connected to a newly redesigned Microsoft Store.
On top of that, Windows 11 lets you access widgets right from the taskbar and personalize their appearances and functionalities. Microsoft Teams is heavily integrated into Windows 11, making this operating system a prime choice for businesses or managers who have to organize and marshal teams for business projects.
Also nice are the snap layouts, which let you organize windows and applications much more efficiently. Users can group them together and stick them on the taskbar for fast, efficient multitasking.
Lastly, Microsoft improved security in Windows 11 by requiring hardware that enables device encryption and other protections.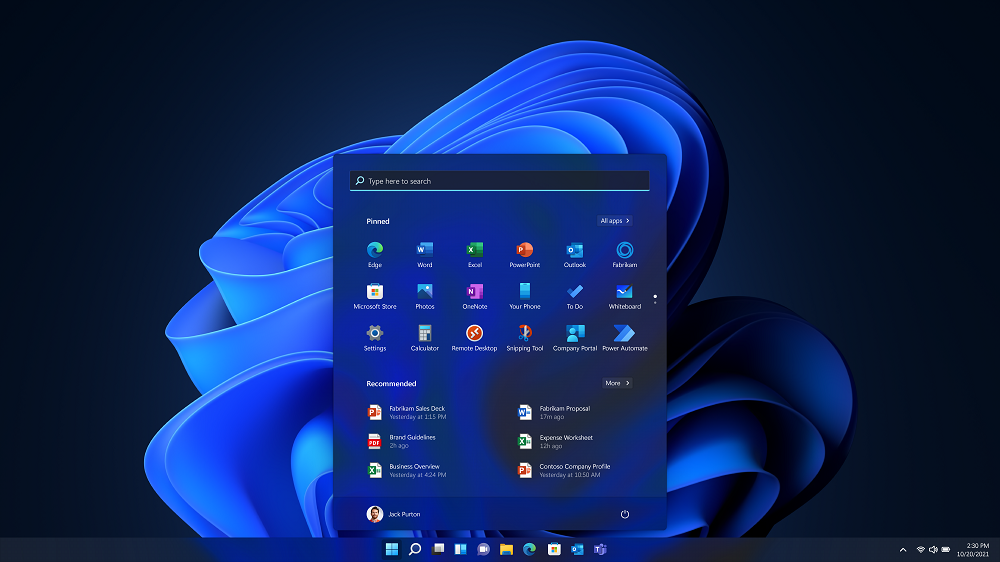 Source

: Microsoft
Other notable changes
While many of the biggest changes to Windows 11 are significant improvements, others are more parallel changes or modifications.
For example, Cortana is included in Windows 11 but is not activated by default. Also, the Timeline feature has been removed, though the functionality is now available in Microsoft Edge. Microsoft tablets can run Windows 11, but they use the same mode as PCs rather than a dedicated tablet mode. Additionally, Skype is not included in clean Windows 11 installations. Instead, Microsoft hopes that most businesses and individuals will use (or are already using) Teams.
Look closely and you'll notice some changes to the taskbar as well. For instance, you can't pin your taskbar to the left or right side of the screen anymore. Instead, it's stuck on the bottom. Live tiles are also not available any longer. Small changes, but ones that might take getting used to for some users! Another change is that S mode—which only lets you run Microsoft App Store apps for added security—can only be used for Windows 11 Home.
Windows 11 update frequency
Microsoft has made it clear that Windows 11 will receive frequent, comprehensive updates and incremental improvements to core Windows products. You can expect security and bug fixes and feature improvements to be applied regularly to machines running the latest OS.
On top of that, Microsoft aims to stick to a feature update cadence for Windows 11. In other words, the organization wants to improve Windows 11 consistently and capably for its users. To accomplish this there'll be one major update for Windows ↗ 11 per year. These updates, which will crop up in the second half of each calendar year, will include new features and take the most time to complete. The new update schedule is in contrast to Windows 10, which currently has updates twice per year, typically in March and September.
When Microsoft updates its Windows OS, you usually have to put your work on hold and stop all your projects. If you don't time your update properly, this can derail your entire workday. Since major Windows 11 updates will only occur once per year, you can plan your work around these incoming updates and still take full advantage of new Windows 11 features. This is both helpful and convenient for providers responsible for rolling out updates for clients as well for as for internal IT teams.
Looking for more information? Sherweb experts can help
As you can see, there's a lot to explore with Windows 11, and it's understandable if MSPs have additional questions regarding its capabilities and how to help clients upgrade. As an expert on all things Microsoft, Sherweb is committed to helping partners navigate the Microsoft ecosystem and deliver the best possible experience for clients. Feel free to reach out to us with your questions, or check out our Partner Guide for more information about how we can help your business grow.