Regardless of whether you're an MSP, VAR, ISV, telecom provider or any other flavor of tech pro, you work hard for your business and customers. But what bumps are in your way that slow you down in your day-to-day operations and cost you money? Let's talk business processes.
Complexity can come from different sources within your business. Between using a myriad of different platforms, managing accounts and dealing with a slew of cloud vendors every day, it's easy to get overwhelmed. Not to mention the critical time that's spent on redundant tasks like billing, provisioning, and purchasing. That's time you could be devoting to helping your customers and growing your business. Does this sound familiar?
Fortunately, Sherweb is committed to simplifying the lives of our partners. We believe that efficiency is the lifeblood of any successful business, and we're focused on easing over the bumps by helping you save time, money and rise above the competition.
With that in mind, allow us to present our unified partner portal.
Dive deep into Sherweb's value-added services with our Guide ↗
Manage your business in one place
Our exceptional development team built a partner portal from the ground up and with you in mind. To create the most effectual platform on which to run your business, we consulted…well, our partners! MSPs, VARs, ISVs, IT Consultants helped us pinpoint their exact needs.
The result? We designed a single-window partner portal that represents one of our core differentiators: helping our partners achieve peak operational effectiveness by simplifying their business processes.
Keep reading to find out how.
Simplify the way you work
Our partners login to one simple, centralized location (i.e., our partner portal) to transact business.  Everything from billing, licensing and provisioning functions to integrated solutions for automation, technical support, migration services and cloud products will be there to greet you.
With all your key administrative functions, services and integrations in one place, you can run your business efficiently and work quickly with the tools you need, exactly when you need them.
All our partners know this screen well: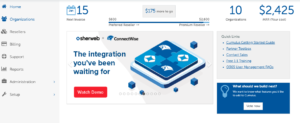 Here you'll get a quick overview of our latest news, promotions and links to access our resources. You'll also get a glimpse of your Sherweb account, including the number of client organizations you have, your monthly recurring revenue (MRR), and the date of your next invoice.
Provision licenses quickly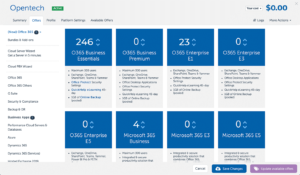 Managing software licenses for every client you have is part of the services you provide as a tech pro. In order to bill your clients accurately and efficiently, it's important to have license management under full control.
We've made the process surprisingly easy. Through a simple interface, you can manage licenses and organizations in just a few clicks. You can also create new Office 365 tenants and assign licenses using the User Management tool without the need to login to your client's Office 365 portal. All this while having a 360° view of all your service provisioning and offers.
"We've been reselling Office 365 for 4 to 5 years. One of my biggest challenges was managing the accounts separately. I couldn't keep track of the licenses. [With Sherweb] I got one pane of glass to manage all accounts." – Travis Street, Founder of Complete Technology Solutions
In the Billing tab, you'll get a clear view of your invoices, payments, credit cards, client's bills, custom subscriptions and promotions.
What's great about our billing structure is how simple it is. You receive one monthly bill that shows a detailed breakdown of each client organization, their active licenses for the billing period and any prorated charges automatically calculated. If you prefer to be billed at the end of the month or correspond it to the date your partnership was activated, let us know and we'll make the simple change for you. What's more, you can export your bill as a PDF or CSV files.
"Because of Sherweb, our billing accuracy of managing Microsoft licenses has improved by about 95%." – Amy Rutt, President & Founder, Ciracom Cloud
Experience integrations done right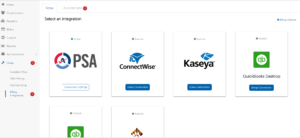 Being in a highly competitive market puts you in a position where you're squeezed for time and pressured to keep customers happy. We're here to empower you in every way possible.
Our partner portal seamlessly integrates with must-have PSA tools like Autotask, ConnectWise, Kaseya and Tigerpaw to automate and sync billing, invoicing, proration and other areas of your day-to-day that are most repetitive and time consuming. This way, you can focus on important things like running your business.  Best of all, we're always adding more!
Here are our integrated features:
Set it & forget it—Map your organizations and products in one easy step for a smooth transition to automated billing
Synchronization—Automatically sync contract info or invoices to save time and money
Real-time alerts—Be automatically notified on synchronization errors and mapping issues, so you capture every single transaction
Intuitive proration—Prorate invoices easily while avoiding costly errors and building client trust
Up-to-date pricing—Bill clients accurately with the most up-to-date product info
"The way Sherweb's ConnectWise connector pulls its data out of ConnectWise is actually quite smart. It's fast on updating agreements; it finds them really quick, so I'm happy with that." – Brett Whately, IT Infrastructure Specialist, Solve-IT.ca
Browse our integrations here.
Centralize client support

It's easy to manage your helpdesk tickets when everything appears in a single window. Here you can create and monitor all your support, billing and migration requests in one place. By having the ability to get in touch with our technical support team at any time, our partners can feel confident in delivering IT services efficiently and effectively.
"Your migration team really made us look like a rock star. The clients are getting help from the best techs with literally zero downtime. We were able to hand it off to your team and know it was going to be done right every time." – William Kinirons, President & Founder, BMK Media
Secure your business
Showing your clients you can be trusted to handle their most sensitive data is critical. Between managing ticketing requests, payment information and contract agreements, you need to have a tight sales process.
That's why we weaved the necessary procedures and protocols into our partner portal to secure your services. For example, you'll be able to login to your account using multi-factor authentication and federated identity management to strengthen security. By having the right processes and tools in place to prevent breaches, you can overcome barriers to earn your client's trust and run your business with peace of mind.
In a nutshell, our partner portal simplifies your life. By putting the power to effectively build, manage and grow your business exactly where it belongs – in your hands.
Explore our partner portal here and find out what you can achieve.
Want to learn more?
Explore all the opportunities and benefits that a Sherweb partnership has to offer in our partner guide, including our value-added services.