Have any of your customers ever said it was too difficult to create professional email signatures because there wasn't a handy template they could plug their information into and easily update? Does this issue negatively impact their brand because their outreach doesn't look legitimate?
As their managed service provider (MSP), you should suggest integrating with a professional email signature management tool like Letsignit. This solution gives your customer a centralized management console for all their business email signatures, making sure they're harmonious across all of the customer's employees. Letsignit can also serve as a marketing tool by letting users add banners for custom marketing campaigns.
The best part? Offering Letsignit ↗ provides added value for your clients and creates opportunities to increase your monthly recurring revenue (MRR)—music to any MSP's ears!
Is Letsignit more effective for small or enterprise companies?
Letsignit is the perfect email signature solution for any size business. Why? Because although different size organizations have very different challenges, Letsignit can solve for all of them in a targeted, easily scalable way.
An issue affecting many small-to-medium-sized companies is their scope of outreach. The success of these companies hinges on daily communication with new prospects. Digital marketing is a huge driver for closing sales and generating brand awareness, making professional email signature management a great tool for addressing these types of concerns.
For enterprises that may already boast a big name in their industry, it's important for their branding to stay consistent across all employees and all types of outreach. Having an email signature management system that stores ready-made templates that can be activated with just a few clicks makes it easy to stay consistent, and creates that brand homogeneity all companies want.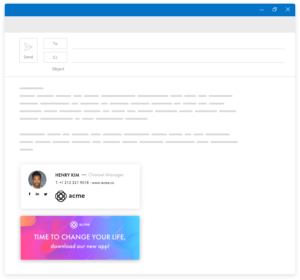 Letsignit benefits for MSPs
Deploying Letsignit's email signature solution can improve your business as an MSP in addition to providing value for clients. One major reason for this is that management tools for professional email signatures are in high demand—they almost sell themselves!
This is in part due to the sheer amount of emails that professionals send and read. It's safe to say we're more likely to read an email from a colleague or connection than from an unfamiliar sender. By leveraging that trusted space for a targeted marketing message, customers can thereby increase the effectiveness of their email communications.
Enter the discerning MSP who offers an email signature generator and management tool like Letsignit on top of critical business solutions such as Microsoft 365 or G Suite, and it's easy to see how such a popular tool could scale to represent significant revenue opportunities.
On average, employees send 121 emails and receive 40 every day. In the professional context, the opening rate of these messages is 100% compared to only 23% for mass emailing campaigns. This means that an enterprise of 100 employees that deploys an automatic and harmonized signature has an opportunity to expose its message 80,000 times (Letsignit)
Another reason for MSPs to add Letsignit to their offering is that it's fully compatible with aforementioned leading productivity suites such as Microsoft 365. The ability to enhance applications your customers already use increases the overall stickiness of your business; the more services you manage for a client, the more likely that client is to stick with you for those services. In fact, clients using both Microsoft 365 and Letsignit have a 99% renewal rate for the solution. Additionally, Microsoft 365 clients using Letsignit have shown to be three times more loyal to their providers!
The ease of deploying and managing Letsignit yet another key benefit for MSP partners. Implementation is quick due to the use of native connectors, and managing the platform is simple with a centralized user portal where MSPs can manage both clients and their email signatures, depending on the service they provide. Letsignit also provides flexibility with two straightforward subscription plans that MSPs can bundle with their existing services as they see fit.

Sherweb and Letsignit: a partnership that makes perfect sense
Sherweb is committed to providing value for its extended partner network in a variety of ways, one being through exciting cloud solutions and services. Our new partnership with Letsignit is the perfect representation of this.
Professional email signature management is just another service Sherweb partners can offer their clients to show their worth, increase revenue and grow their business. Become a Sherweb partner to start offering Letsignit for your clients today!