Thought Nimble CRM was already user-friendly? Get ready—the smart, simple CRM that works everywhere your team does just got a major upgrade. Nimble 5.0 introduces new features, capabilities and an updated user interface designed to make customer engagement easier than ever before. See all customer insights in one robust record, track activities and opportunities on a granular level and create powerful visualizations, workflow automations and more to make the absolute most of your marketing and social selling efforts.
Nimble 5.0 also integrates with Microsoft Office 365, Azure and Power BI (in addition to G Suite) to gather data and generate actionable insights for your entire team. And with even more new and advanced features already scheduled for rollout, Nimble's solutions for SMBs make it a great option for MSPs and VARs to resell.
Nimble 5.0 Features for Enhanced Social Selling
Nimble's latest update delivers enhanced design and team relationship management tools to give users a 360-degree view of leads, customers, activities, opportunities and reporting. With Nimble 5.0, teams can rest assured they have the most relevant and up-to-date details for maintaining client relationships and sales cycles.
New features include:
Updated Contact Record: Users now get a full purview of every contact, including company info, personal details, social media activity and communication histories, all within the same window. Inline editing makes updating or changing details quick and easy, and custom activity tracking allows teams to tailor every opportunity specifically to the contact.
Two-Way Sync with Business Apps: Nimble 5.0 allows users to manage all productivity, business and social apps from one place, with all updates and changes reflected back inside individual tools and platforms. Teams can see conversations, social engagements and prospecting info without toggling windows, creating a seamless sales experience.
Granular Activity Tracking: A new Activities listing tab and custom activities types make tracking team activities (meetings, phone calls, emails, etc.) against opportunities simple and effective. Team member can prioritize tasks and assign activities to specific users, making sure interactions never get lost in the noise, no matter how small.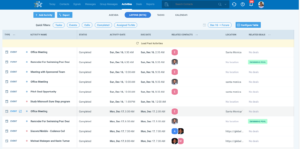 Email Tracking Everywhere: Users can now send tracked email templates from anywhere they work in Nimble—contact records, the Today dashboard, Messages tab and from mobile devices. A dedicated widget on the Today dashboard page also provides real-time updates on email tracking; team members can capitalize on opportunities for customer engagement as soon as they happen.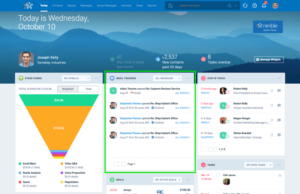 The following additional new features will be available for Nimble 5.0 soon:
New database field types to consolidate data from different systems (e.g. sales data from your accounting system and marketing platform) for easy review and manipulation.
Updated Smart Contacts app widget for the Today page, supporting views for calendars, active deals and custom activities, allowing team members to get relevant information at-a-glance right from the dashboard.
Contact privacy and user group controls for segmenting specific lists of contacts, assigning contacts to specific users and attaching contact types to records, such as "lead" or "account" contacts.
For a complete list of new and upcoming features for Nimble 5.0, check out this press release.
3 Reasons MSPs Should Resell Nimble
Nimble 5.0's exciting new features and capabilities are just a few reasons why MSPs and VARs should consider adding it to their product offerings. Here's three more reasons why it's a good idea to include this powerful CRM in your portfolio:
CRM Market Value: The global market value for CRM is projected to reach $81.9 billion by 2025, driven in part by increasing demand for solutions deployed in the cloud. Nimble is an affordable option for SMBs with limited resources, representing an excellent opportunity for MSPs to offer it as a value-added service and/or source of monthly recurring revenue (MRR).
Compatibility with Office 365: Nimble integrates with productivity tools many SMBs are already using, such as Outlook, Word, Excel, etc. With an easy connection to programs used for everyday business activities, barriers to entry for Nimble are low.
Microsoft Stamp of Approval: Microsoft has teamed up with Nimble to make it available through Microsoft's partner network. This endorsement adds Microsoft's brand authority to the product, adding validation and credibility for businesses considering it for their operations.
Jason Brown, Vice President of Product at Sherweb confirms Nimble's strategic offering for resellers in connection to Office 365: "We are bundling Nimble and Office 365 to help resellers evolve the conversation from technology-focused selling of Office 365, security and backup solutions to providing outcome-based solutions for Office 365 users. Nimble's simple yet powerful team relationship manager contributes to these efforts by empowering resellers to start selling business solutions to Office 365 customers who may not be ready for an enterprise CRM."
Interested in reselling Nimble? Contact us or join Sherweb's partner network to get started.