An increasing number of businesses are choosing to move their phone systems to the cloud ↗. As Microsoft Teams also continues to grow in popularity ↗, managed service providers (MSPs) that offer Microsoft 365 and Teams need to be prepared to provide and support calling capabilities for their clients. Having the right hardware for Microsoft Teams makes a world of difference for delivering a seamless communication solution.
Why the right hardware matters
The workforce today comprises five different generations with diverse preferences for how they like to communicate. However, despite all the options available, a considerable percentage ↗ of businesses still use desk phones in the workplace. That's unlikely to change as more organizations move to the cloud or adapt to Microsoft Business Voice solutions. Taken with the fact that 60% of consumers ↗ prefer to contact small businesses via telephone, it's safe to say that some form of phone hardware is still relevant for the workplace.
For MSPs, this means there's plenty of opportunity to provide hardware for clients on top of Unified Communications as a Service (UCaaS), Managed Teams Voice or another calling solution. But to be successful, you need access to the right devices.
Teams-certified hardware
Sherweb's relationship with Yealink ↗ supplies MSPs with enterprise-grade communication hardware, including Teams-certified devices. Equipped with desk phones that integrate perfectly with Microsoft Teams, clients can communicate that much easier from wherever they're located.
To make sure you select the right hardware for Microsoft Teams, ask your clients about their specific needs with respect to calling, chat and collaboration. Where are their employees working from? What are their price points? How do they typically use Microsoft Teams? An effective provider like Sherweb can help MSPs with this part; we work with partners to build custom offers that suit every client's unique requirements.
Yealink's wide range of products offer capabilities not available in most markets today. Alongside excellent support from Sherweb, MSPs can offer their clients solutions that empower to connect and work together how they want, when they want.
Recommended Teams-certified devices for different office areas include: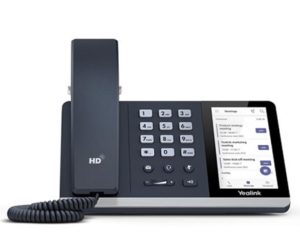 T55A (for common areas)
Cost-effective
Easy to use, entry-level
Basic phone calling features enabled
Clear displays
Easy-to-use navigator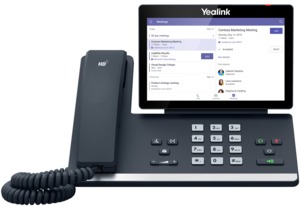 T56A (front desk)
PBX calling features
Large screen for clear directory display
Headset support
Large display
Sleek design
T58A (for open spaces)
HD audio quality
Hands-free headset support
Rich calling features enabled (conferencing, voice mail, forward, etc.)
VP59 (for executives)
Clear speakerphone
Programmable line key
Advanced feature sets
Speed dial
Directory
Hands-free
CP960 (for team collaboration)
Multiple ways conferencing support
Clear voice and speaker
Advance features (recording)
CP900 / CP700 (for wherever you need it)
High-quality audio experience – six built-in beam-forming microphones
Easy Plug-and-Pay via USA or Bluetooth
Excellent battery life for up to 12 hours of talk time
Work with the right partner to get the right hardware
Sherweb always has our partners' needs in mind, and our collaboration with Yealink makes sure MSPs have the Teams hardware readiness necessary to support their clients' evolving communications needs. To learn more about how Sherweb can support MSPs' communications offerings, explore our UCaaS Insights Series!