Call forwarding has one mission: make sure the company never misses any call. In a business world where competition is fierce and customer satisfaction drives you to success, providing your customers with the best service is imperative. When someone wants to communicate with your company and dials your number, they expect you to be online and respond.
What Is Call Forwarding?
Call forwarding is the telephony feature that reroutes incoming calls to a different destination. So, when you're not in the office and no one is available to pick calls that reach your extension, you can still answer them on your mobile phone, home phone or whatever number you want, even overseas. Call forwarding is offered with your hosted VoIP subscription.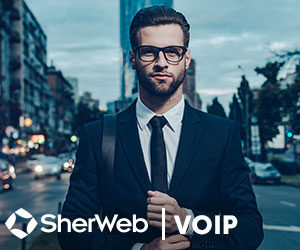 What Is Softphone?
A softphone is a program that allows you to make and receive phone calls on a computer or mobile device. It's also known as "software client telephone" and it requires an Internet connection. Softphone is a feature of cloud-based phone services.
What are the Benefits of Call Forwarding and Softphone for Your Business?
Flexibility: Pick Calls on Your Preferred Device
You don't spend all time seated at your desk. Actually, not all companies provide fixed desks to their employees. Many start-ups or small companies use shared office spaces. In 2017, 13,800 co-working space locations welcomed 1.18 million people worldwide1. When you can't invest in real estate and choose to use a shared office space, you still want to stay professional, especially when it comes to your telephone communications. This is where call forwarding can help. Every co-worker gets an extension with all calls forwarded to their mobile phone for example. And with softphone, users can pick their calls through the Internet on their connected laptop, tablet or mobile phone, from any seat.
Mobility: Stay Reachable When You're Not at The Office
Business activities often requires us to be on the road. So, when you're heading to a meeting with a partner or prospect, you still want to stay reachable for your colleagues. When they dial your extension, thanks to call forwarding, they'll be able to speak to you over your mobile phone. You can choose to transfer the calls to your phone number. With softphone, you also get the flexibility to use data instead of calling minutes with your mobile network provider. With you being reachable when you're away, your co-workers can count on you if they need information. Moreover, you'll be able to stay abreast of activities in your office.
Cost Control: Get Contractors on Board Easily
A recent US survey2 revealed that 94 percent of executives plan to use freelancers in 2018. Hiring freelancers for specific projects is probably part of your strategy too. When you need your employees to work with contractors who are not in the same continent, you want to control your communication costs. By rather providing an extension with softphone to the freelancer, your employees won't have to make international calls from your office phone. They'll be able to just dial the extension and speak to the person at the cost of a local communication. The freelancer will only need a good Internet connection to become part of your team.
Better Work-Life Balance: Make Your Employees Happy
Work-life balance is very important to your employees. Call forwarding and softphone give you the opportunity to offer that flexibility your coworkers need. By managing this well, you'll be increasing productivity and employee satisfaction. This means lower turnover and better reputation for you as an employer.
Steps to Enable Call Forwarding in the Sherweb Cloud PBX Panel
In the Account Self-Care Portal, go to the Cloud PBX tab. The Forwarding section allows you to define how calls are forwarded for an extension.
Click Add New Number to enable this rule. Enter a Description and the Number you want to forward the calls to. Click on Show Advanced Settings for more your parameters. Click Save.
With the number selected, select the forward ringing strategy. The options you have are:
A specific order
A random order
Or simultaneous ringing
Specify the number of seconds a call must ring on the desk phone before being forwarded to another phone number.
See how easy the process is in this video!
References:
1 Statista, 2018
2 Mavenlick, 2017