Managing Azure services for just one, let alone dozens of customers, can be a complex job. Aside from the technical management, managed service providers (MSPs) need to track SKUs, offers, deployments and utilization, in addition to an extensive list of costs.
Because of these complex activities, Microsoft Cost Management is one of the most powerful tools ↗ in an MSP's toolkit. It helps you track, optimize and plan the usage of all your different services. It also gives you better insight into how you and your customers use those services. Forrester Consulting recently looked into Microsoft Cost Management use and found that companies that have adopted the tool save 34% of their budgeted Azure spending ↗ in the first year alone, with an average of 20% ongoing annual savings after that.
So, are Microsoft Cost Management tools worth it for your MSP? The short answer is yes. Let's take a closer look, including how MSPs of any size can put Microsoft Cost Management to work for their business.
What is Microsoft Cost Management?
Microsoft Cost Management is a suite of FinOps tools designed to help you monitor and optimize the costs of your Microsoft Cloud services, including Azure. They work together with billing tools, which you use to settle accounts and pay invoices.
Cost Management and Billing allow you to interact with what Microsoft calls its Commerce pipeline, the data pipeline underlying all financial transactions within the wider Microsoft cloud services ecosystem.

Source: Microsoft
Using Cost Management and Billing, you can:
Proactively monitor your costs
Configure alerts when you hit budgetary thresholds, identify anomalies, or for other events
Configure shared-cost splitting
Manage tax and billing information*
Analyze costs in the Azure portal, Microsoft 365 admin center ↗, or through exported reports
Set payment plans and pay invoices*
*These capabilities are available for Direct customers of Microsoft. For customers working with an indirect CSP provider or indirect reseller, your partner will provide billing, tax and invoicing capabilities.
While Microsoft Cost Management and Billing tools are useful for working with all Microsoft cloud services, they are particularly useful for managing and optimizing costs for Microsoft Azure.
Key principles of Azure Cost Management
Cloud computing environments are complex and constantly changing. But if you follow a few key principles and have the right tools available, managing Azure service costs ↗ doesn't have to absorb all of your time. Here are some of the key principles you should follow. Note that these are designed to be applied progressively; each one builds on the insights generated by the one prior.
Planning
Managing cloud services is significantly easier when you spend just a little time planning. Of course, that also makes following these other key principles easier, too. Planning out cloud usage helps you identify what specific infrastructure to use, how you can most efficiently use it, and how you might need to adjust it over time.
Planning doesn't need to be a long, cumbersome task. At new customer intake, ask yourself some simple questions, like:
What is the actual business problem you're solving?
What is the lifecycle for this particular service? Is it known?
What usage patterns do you expect to see?
How much will the user population change over time?
Visibility
By tapping into the Microsoft Commerce data pipeline, you gain complete visibility into every service cost, who is responsible for it, and how it's being paid for. Azure Cost Management tools help you monitor ↗ the cloud resources incurring these costs, identify underutilized ones, and easily scale them to more cost-effective service levels.
Accountability
Small unattributed costs can add up fast. The answer is to gain greater visibility into your expenses, which will lead to greater accountability. Azure Cost Management tools can help ensure nothing slips through the cracks—you know who is responsible for utilizing which services, and your spending stays efficient.
Optimization
Armed with better insights and accountability, look to optimize spending wherever possible. Optimization is an ongoing process. First, you need to identify areas of overspending and monitor changes you make over time.
Build a comprehensive view of all costs. Look at everything from levels of infrastructure to licensing costs. If something is underutilized, figure out how to scale it to a more cost-effective level without compromising service.
You can also use Azure Advisor ↗ to accomplish this and get recommendations for improving efficiency. Azure Advisor can also show you suggestions surrounding usage that could help you save money on VMs.
Important features of Microsoft Cost Management for Azure
Microsoft Cost Management provides you with many effective tools to apply these principles. Here are just a few major ones.
Billing and invoice management
Cost Management includes many different tools for managing your internal and external accounts. For example, you can set shared rates, generate invoices and make payments. You can also easily create customized billing profiles for different departments. In addition, a dedicated Credits page shows you all available Microsoft MSP credit and prepaid commitment balances.
Note that if you work with an Indirect CSP Provider, billing and invoice management is typically done via their platform. However, this feature does still come into play with respect to generating customer-facing invoices.
Cost analysis
The Cost Analysis module allows for open-ended exploration of your cloud service costs. It also integrates with Power BI, which allows you to structure detailed queries within your accounting data. An Exports API allows you to send cost information to your external accounting and business management suites.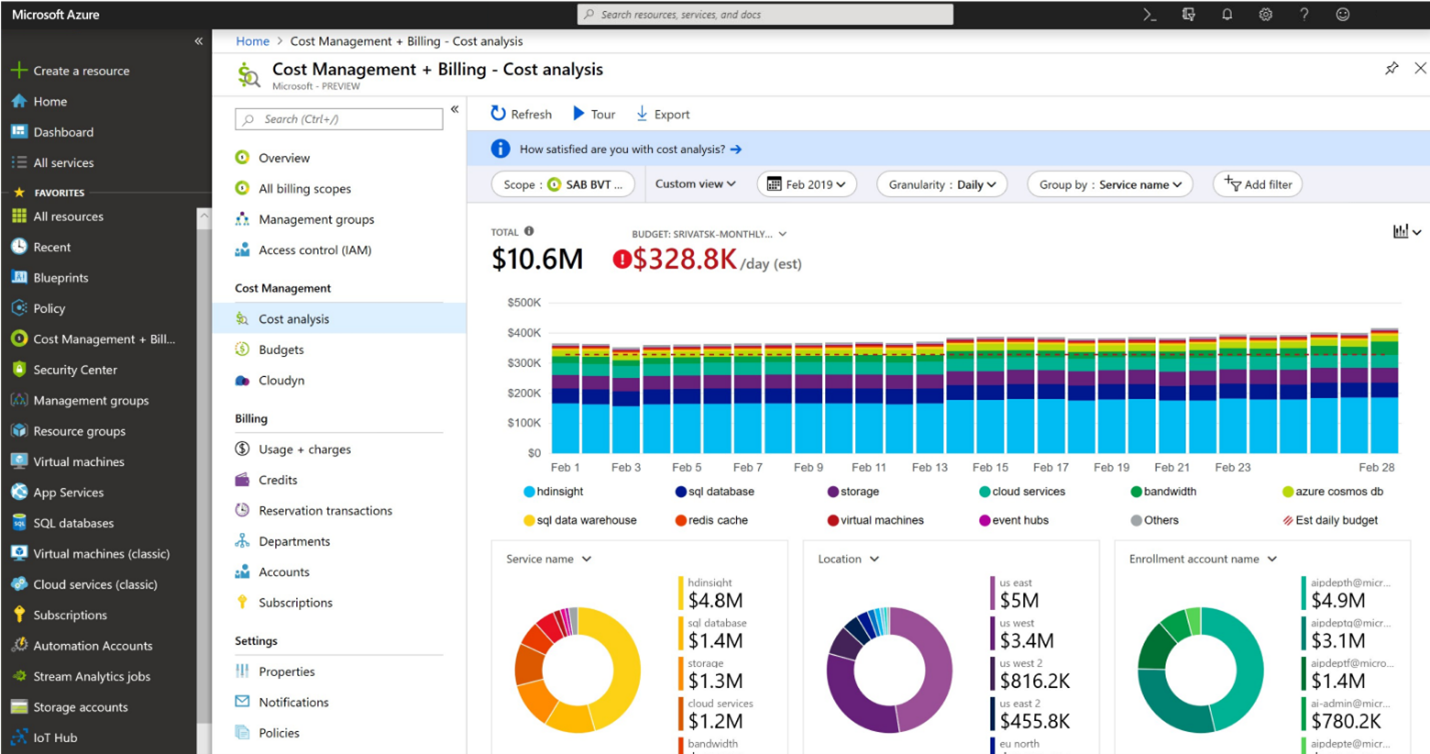 Source: Microsoft
Cost allocations
Cost Management and Billing ↗ includes several options for making billing profiles and grouping subscriptions into invoices for different customers. They make it easy to carve out and allocate resources to different customers at a granular level.
You can also split costs with cost allocation rules. These don't change invoices. Instead, they simply move costs between different subscriptions or resource groups. This has the benefit of reducing overhead and improving reporting accuracy.
Monitoring and alerts
Microsoft Cost Management can alert you via email or app notifications to a variety of different events. Many different types of cost management alerts ↗ are available. Some of the most popular include:
Budget alerts: These trigger ↗ when you approach or pass spending thresholds.
Anomaly alerts: Allow you to notify recipients ↗ when changes in daily activity patterns occur.
Scheduled alerts: Are sent on a periodic schedule to show you your cost view of a given set of resources. They can be sent daily, weekly, or monthly.
Supported Azure offers for Microsoft Cost Management
A wide range of Azure offers can send data to Microsoft Cost Management and Billing tools, including various different offers offers, Pay-As-You-Go plans, Visual Studio plans, etc. The specific offers change over time, but Microsoft maintains updated lists in their Cost Management ↗ documentation.
Leverage the power of Microsoft Cost Management for your customers
Getting started with Microsoft Cost Management and Billing is easier than you think. You can make it even easier by working with an expert cloud partner who can get you up and running fast and support you the whole way. Sherweb experts help MSPs of all sizes create offers for Microsoft Azure and ensure they get the most from their cloud investments. We offer 24/7/365 support, pre-sales services and migration, among other value-added perks to help MSPs achieve their goals.