The Microsoft 365 family offers a whole host of useful business management solutions. From Microsoft Project to Teams to Planner and more, this comprehensive software suite has everything you need to get work done, manage complex projects and satisfy clients' needs.
But it can be tough to know what the perfect Microsoft tool is for any given situation. For example, you might wonder whether Microsoft Project or Microsoft Planner is better for a specific client, new project or collaboration.
Let's take a look at Microsoft Project and Microsoft Planner specifically, including their similarities and differences. By the end, you'll know which of these two tools to use for your—or your clients'—upcoming assignment.
Microsoft Project overview
At its core, Microsoft Project ↗ is an organization and task-tackling tool. True to its name, Microsoft Project allows you to be the ultimate project manager for your office.
From the start, Project is easy to launch and use. The heart of the tool is the project management platform, which gives you a bird's eye view of current projects and tasks, the names of team members assigned to each task, project durations, due dates and even start dates.
With Project, users are able to plan using dynamic scheduling, enabling team members to swap to different parts of a project if necessary. This makes it easy to manage complex projects and collaborate with cross-departmental teams. All team members can update tasks simultaneously, so there's no overlap or concern about doing the same work twice.
Project further provides interactive dashboards you can create or select from predesigned templates. With these dashboards, you'll be able to view project status, drill down into the details, and even create automated workflows for desktop and mobile devices.
Even better, Microsoft Project works well with Microsoft Teams, fully integrating with this part of the Microsoft 365 tool suite. Project runs on Microsoft Azure, a highly secure and robust enterprise cloud solution, enabling you to maintain productivity while working from home or anywhere else in the world with an internet connection.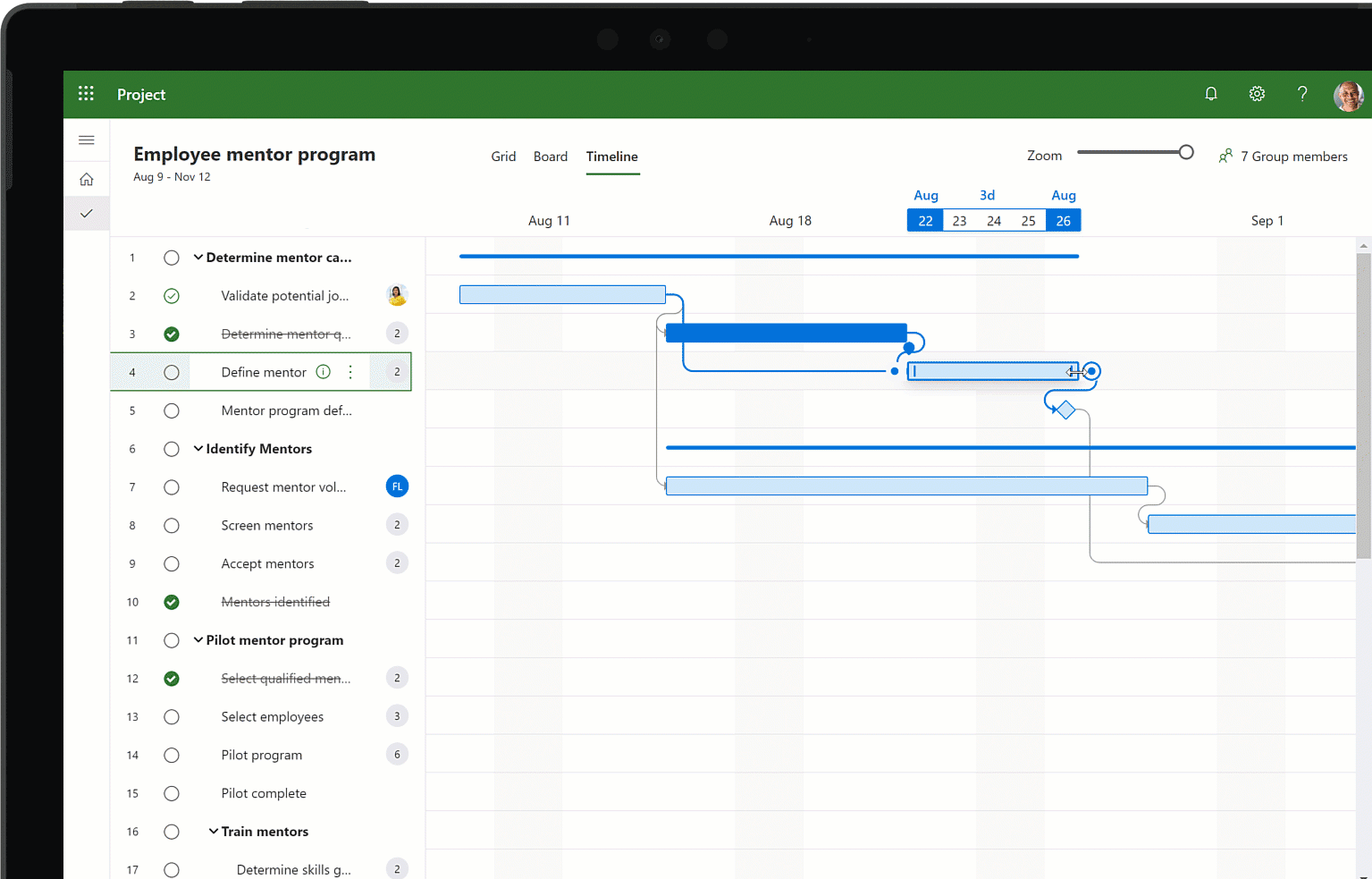 Source: Microsoft
Microsoft Planner overview
Microsoft Planner ↗ is a task management platform that allows you to create kanban boards for creating and assigning tasks—uploading files, labels and checklists—and collaborating with team members on projects that take days, weeks or longer.
Microsoft Planner is easy to use right from the get-go. Even if you are new to the Microsoft 365 collection of apps, Planner will allow you to start making new kanban boards in just minutes. You can upload content-rich tasks that contain elements like:
Due dates
Expected details
Color-coded labels and files, etc.
These details will allow everyone on your team to know what they are assigned, when they have to deliver items, and so on.
On top of that, Microsoft Planner automatically visualizes task statuses into easy-to-read charts like bar and pie charts. There's no setup required on your part, making this extremely user-friendly for even beginners.
Available through most Microsoft 365 subscriptions, Planner is accessible whenever and wherever you need it. You can use Planner from tasks.office.com if needed, making it another great tool for facilitating remote work.
Microsoft Planner also works with the Microsoft Teams and Tasks apps. More specifically, all your team tasks from Planner can be brought straight into Microsoft Teams, so everyone can see what's going on and what is due if you swap out team members or bring someone new onto a project at the eleventh hour.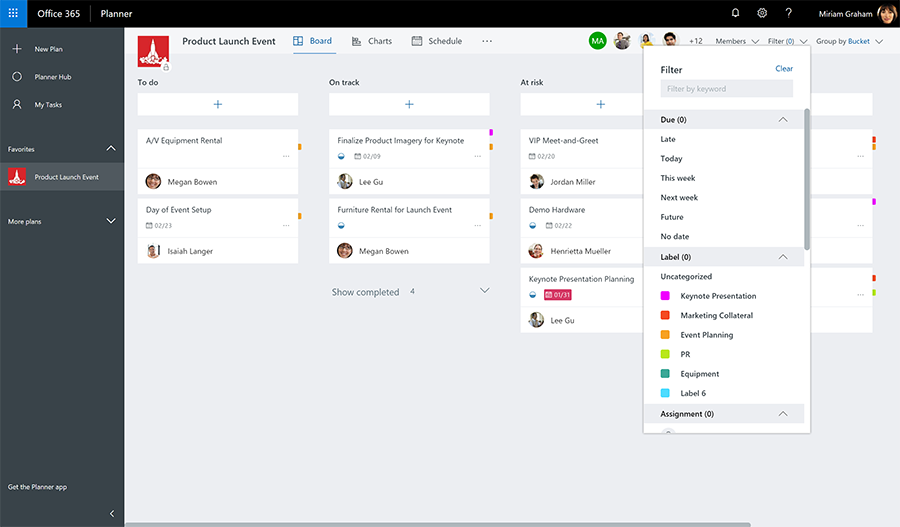 Source: Microsoft
How are Microsoft Project and Microsoft Planner similar?
Although Microsoft Project and Microsoft Planner are different tools, they seem, look and feel pretty similar.
For example, Microsoft Planner and Microsoft Project are both task management and project scheduling tools. Furthermore, they both integrate with other tools in the Microsoft 365 suite.
Both can also allow you to list projects on mobile devices, as well as list projects across your organization. You can control who has access to projects or plans and who can edit those plans, thus enabling you to categorize your team based on front-line workers, administrators or other teams.
How are Microsoft Project and Microsoft Planner different?
For starters, these task management tools allow you to manage your tasks very differently. Planner allows you to create kanban boards to whip up new projects quickly and focus on simplified task management with several team members. Microsoft Project, however, offers deeper and more complex integration, enabling you to create new dashboards and track detailed or time-phased information regarding a specific project.
Microsoft Project allows you to customize your UI and will automatically calculate project completion dates based on the data you feed it. It further provides access to custom views, groups, and filters. In can therefore be considered a more robust project management tool than Planner. Further to this, Microsoft Planner is free and is included in most Microsoft 365 subscriptions. On the other hand, Microsoft Project requires you to purchase a separate license, which makes sense considering its expanded capabilities.
There are a few feature differences between Microsoft Project and Microsoft Planner as well. Microsoft Project's Online tool lets different project resources interact; you can even track time against different tasks based on the team member assignments. Planner, in contrast, allows you to invite team members within or without your organization and assign them to tasks, potentially making it a better choice if you plan to integrate freelancers into your upcoming project. It should also be mentioned that Planner is available exclusive online, whereas Project as a desktop version.
Lastly, Microsoft Project is probably a better option if you need more details regarding your task management work. Project gives you access to the following:
Custom fields and machine learning-powered calculations via formulas
Baseline project information
Resource monitoring and capacity planning via an enterprise-level resource pool
Monitoring tools for assigning predecessors or successor teammates to tasks
Project success measurement tools, like results views and report generation
Comparatively, Microsoft Planner is, in a way, a simplified and free version of Microsoft Project. Both can work for your task management or project management goals, but Project is a little meatier in terms of features, data-rich details and sheer customization.
Not sure which solution to choose?
As you can see, both Microsoft Project and Microsoft Planner are ideal tools for businesses of all sizes. When you need to start and complete a project with multiple team members, either of these tools will suit you well. But you should pick the right tool for the job at hand to maximize your efficiency and productivity.
For resellers and managed service providers (MSPs), obviously Microsoft Project represents a stronger revenue opportunity given the fact that it's a separate license. However, providing guidance on either tool (in addition to potential training or setup activities) could be leveraged as a way to provide value for your clients.
Regardless, navigating the Microsoft ecosystem and understanding its multitude of products, solutions and services can be tough. But Sherweb's experts can help! Reach out to us today to start a conversation about how we can support your Microsoft 365 journey, or check out our Partner Guide to learn more about how we can help your business grow.