Businesses across the globe are shifting to flexible working environments. While some companies have made long-term remote work commitments, others are in the transition or decision-making phase.
Virtual collaboration can be challenging in this age of hybrid and remote work. In fact, 20% ↗ of employees working remotely identify ineffective communication as a hindrance. But lately, businesses have had no choice but to become increasingly reliant on technology—a notion re-emphasized by the pandemic and mass WFH shift. We see the effects of this in more or less every area of a given organization, including human resources, training, onboarding, and the overall employee experience.
To fulfill the growing demand for integrated workplace technology, Microsoft launched Microsoft Viva ↗. Created to enable easy information sharing, enhance team workflows and provide learning opportunities, the platform can better assist managers, employees and companies to collectively foster and embrace company culture.

What is Microsoft Viva?
Microsoft Viva is an employee experience platform ↗ that brings together knowledge, communications, learning, insights and resources. Viva helps facilitate a collaborative culture that empowers teams and people to perform their best from anywhere.
The platform is meant to enhance every employee's overall experience: how they find knowledge, learn, work and engage. By improving productivity and supporting employees' well-being, Microsoft Viva enables the entire organization to thrive.
More specifically, Microsoft Viva can:
Act as an establishing layer when it comes to employee experiences; driven by Microsoft 365, users can primarily experience it through Microsoft Teams.
Unite people and empower them to share skills, connections and knowledge in the workday's natural flow; Viva was designed with an easy to use, intuitive interface that drives instant adoption and value.
Provide personalized, exhaustive and actionable insights that users can access whenever and wherever they need throughout the workday.
Offer dependable security and privacy; only individual users have access to personal insights, while insights intended for leaders and managers use de-identified and aggregated data, with secured steps throughout the process.
Deliver an extensible, open platform with a robust and growing ecosystem that functions seamlessly with your current tools and systems, such as your CRM, HR, Learning Management (LMS), etc.
Initially, Microsoft Viva includes four modules that work together as an all-inclusive solution to facilitate the critical requirements of a modern employee experience platform. It can also be tailored for specific needs with other integrations.
Let's delve deeper into each available module.
Viva Connections
Microsoft Viva Connections serves as the launchpad for the Viva platform and the gateway to a more enhanced and modern employee experience. According to Microsoft Work Trend Index (2020) ↗, about 60% of the employees feel that they have become less connected to their workgroup after they shifted to remote work. Viva Connections enables your entire organization to stay informed and engaged, which gives every employee access to the resources they need.
Viva Connections ↗ is personalized and appears in the applications that employees already leverage every day, e.g. Microsoft Teams. It provides them with a curated experience that comprises relevant conversations, news and other necessary resources, all in a suitable place.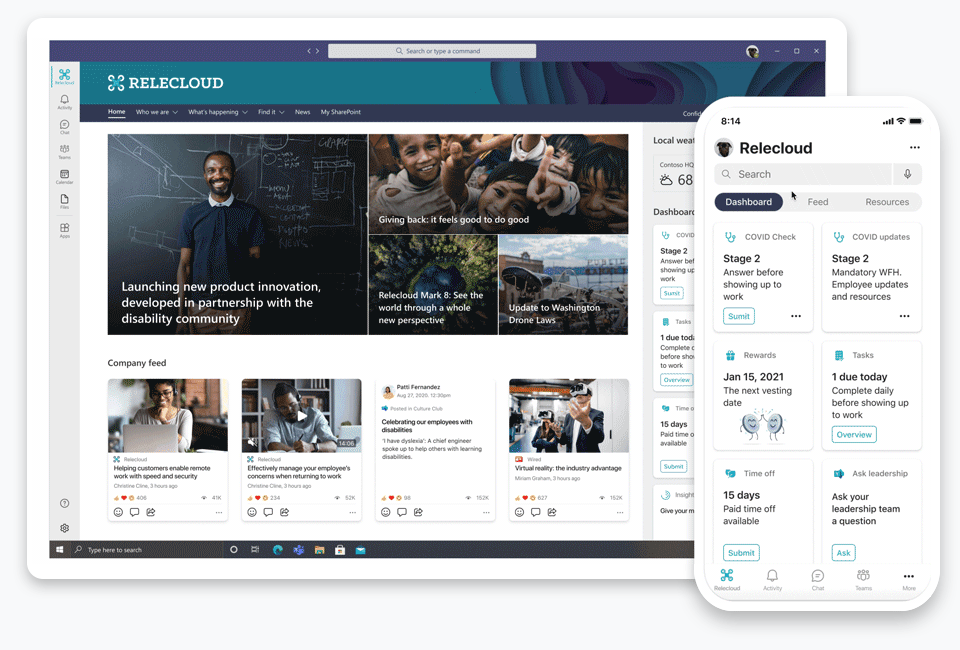 Essentially, Viva Connections:
Keeps everyone informed and engaged: Employees can easily explore chats, updates and tasks to keep themselves well-versed and active in their flow of work.
Curates a branded, customized employee destination: It connects everyone in the organization, from frontline staff to knowledge workers, to help them better interact and align around the company's mission, vision and strategic priorities.
Builds on your current infrastructure: You can deploy and build Viva Connections with minimal effort and integrate it with existing functionality in Microsoft 365, like Yammer and SharePoint.
Viva Connections provides an excellent opportunity to drive engagement across the organization and get employees involved in company-related interactions and news.
Viva Insights
In any work environment it's imperative to help employees prevent burnout and enhance their well-being overall. These aspects are critical to long-term and sustainable business success. Microsoft Viva Insights allow individuals and businesses to succeed by providing them with data-driven recommendations to increase their productivity and safety.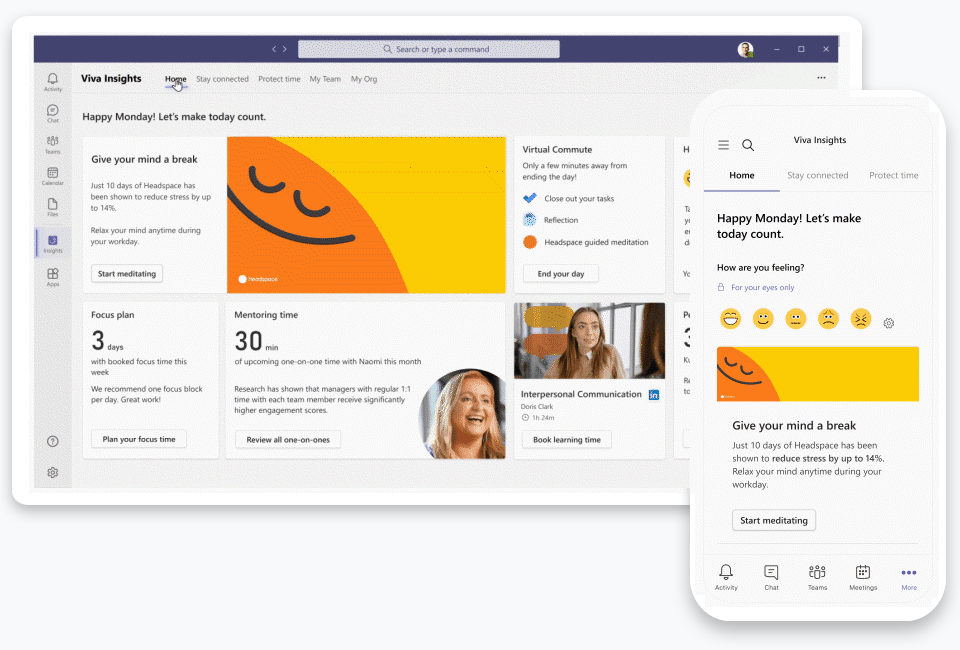 Microsoft Viva Insights offers:
Actionable and personalized insights: The platform empowers teams, organizations and employees to build improved work habits, achieve balance and attain desired business outcomes with privacy-protected, customized recommendations.
Measurement of the impact of work on business and people: You can gain data-driven insights and visibility into the ways work patterns can affect productivity, well-being and overall business performance.
Ability to address complex challenges: It's possible to leverage advanced integrations, tools and several other data sources to perform an in-depth analysis, address business challenges and respond proactively to change.
All in all, Viva Insights ↗ aims to nurture employees, helping them produce better outcomes. It offers personal statistics visible to the respective individual using the platform. For manager and leader insights into employees, it also provides additional protection layers like differential privacy and de-identification.
Viva Learning
Learning powers individual and business success, and is an integral part of organizational culture and each employee's daily habits. Microsoft Viva Learning integrates world-leading content from Microsoft Learn, LinkedIn Learning, and other third-party providers to your content library.
79% ↗ of chief executives across the globe are concerned that a lack of critical skills in their teams and workforce is an obstacle to future business growth. Meanwhile, employees have about 1% ↗ of their entire week to emphasize learning and acquiring new skills. From customary learning programs to microlearning content, Viva Learning allows you to access a wide variety of methods to match your needs and culture. It helps employees harness their knowledge and expertise by providing them various opportunities to learn and refine their skills effectively.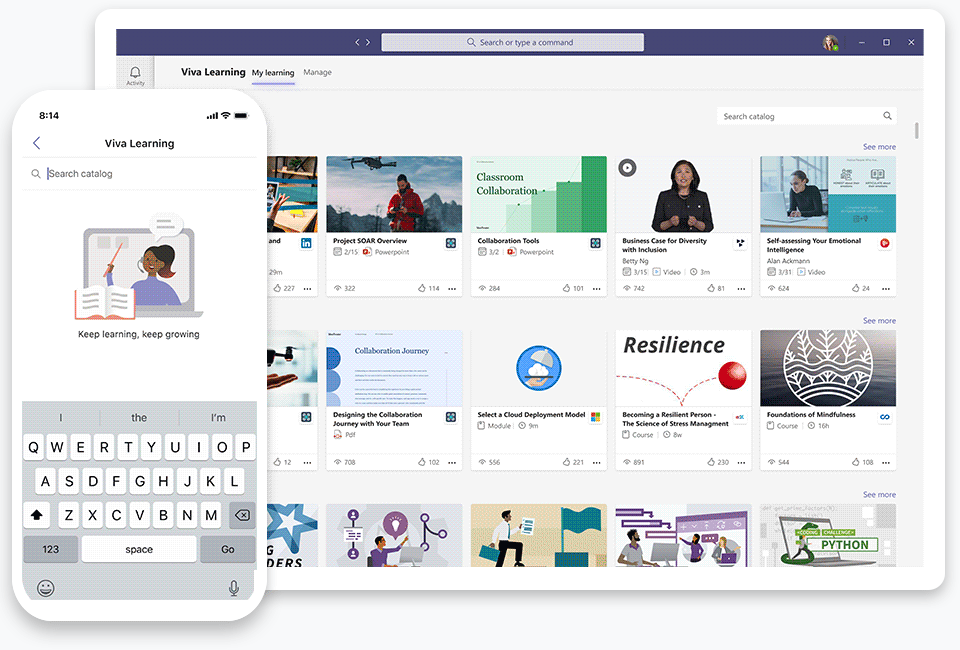 Essentially, Viva Learning helps businesses:
Make learning continuous: Easily discern, exchange and engage with learning incorporated into Microsoft Teams.
Make all learning content available on a centralized platform: From microlearning to organized learning, streamline the employees' learning experience by facilitating the delivery of high-quality content.
Drive desired results: Empower employees and leaders to curate, allocate and monitor the learning that aligns with individual goals with business outcomes.
Viva Learning is a central hub for training where employees can effortlessly discover, share and learn from your content libraries across the organization. Moreover, it assists business leaders in creating a simplified and more efficient process for onboarding.
Viva Topics
Whether employees can use organizational knowledge efficiently is a central factor that contributes to a company's success. Viva Topics ↗, an AI-powered solution, automatically structures content and knowledge across your teams and systems into interrelated topics such as products, projects, customers and processes. Experts can quickly curate and exchange information through easily accessible and highly customizable pages. Additionally, Viva Topics builds upon and assimilates with Microsoft Search ↗.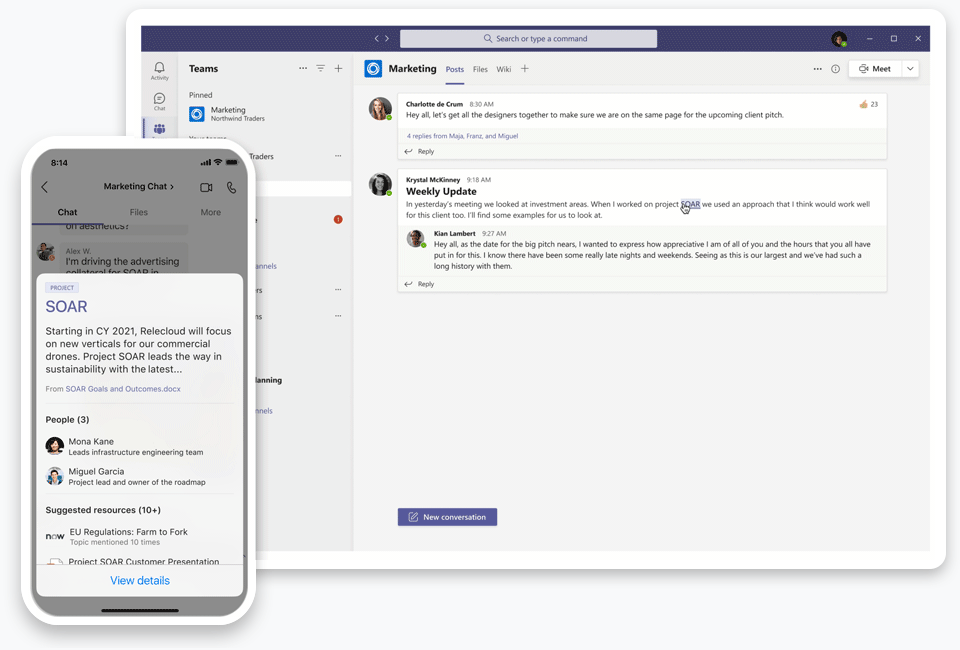 People spend about 60 minutes ↗ of their day—or about seven weeks every year—searching for or recreating information. Viva Topics can help enhance the experience:
Turn content into practical knowledge: You can leverage this AI-powered module to reason over your company's data, determine the process and structure content automatically.
Organize learning with topic pages: Share and refine your understanding of a subject via the curated topic pages that are automatically updated by AI.
Viva Topics enables you to reduce misused time spent searching for information through the application of AI-enabled technology. It also  organizes content seamlessly across systems and teams in the Microsoft 365 environment, which makes data easy to find and utilize.

Bring your people together, no matter from how far
Microsoft Viva is a comprehensive and groundbreaking platform that can significantly enhance the employee experience across your entire organization. It enables companies to incorporate fragmented workplace systems and tools seamlessly into their workflows. Viva reimagines and amplifies your workforce's experience in this persistent digital landscape. It centers on the power of individuals and the challenges that users encounter every day, allowing them and your business to accomplish much more.
Whether your business embraces the hybrid work environment or is planning to shift completely remote, Microsoft Viva is an all-encompassing platform that drives better productivity and engagement across your organization.
Ready to take advantage and make the most of this new platform? Sherweb can help you navigate Microsoft's complex ecosystem and configure Viva for your business. Contact us to get started.