Microsoft Project is a comprehensive, well-designed tool suite that's part of the Microsoft 365 family. It's ideal for small and large businesses alike thanks to its many features, ease of use and integration capabilities with other Microsoft 365 tools, like Teams and Planner.
If you're new to Microsoft Project ↗, you might not know what tools to focus on or how best to use them. We're here to help! Let's break down the top Microsoft Project features, so you know where to concentrate your attention and how to leverage Project to its maximum capability.

Project views
The best Microsoft Project features start with the many views your team can use to create, visualize and manage multiple projects. Project primarily offers three different views to try:
Grid view, which is a simplified project view you can use to manage projects based on task lists
Board view, which allows you to make visual kanban boards—great for managing workflows, checking project status, etc.
Timeline view, which leverages traditional Gantt charts perfect for scheduling tasks over a project's complete timeline or multiple timelines divided up between different teams
With Project, you can swap between these views at the touch of a button or mandate that your team members use one view or another, so everyone sees the same data.
More on Project Timeline view
The Project Timeline view deserves special notice because it's beautifully presented and gives you a top-down view of an entire project and all associated work. The Timeline view is especially important because you can use it to present projects to stakeholders, partners or managers; it allows you to show how a project or program is progressing on a linear, easy-to-understand scale.
Since you can access the Timeline view remotely, it's perfect for workers like programmers, developers and customer service agents who might need to collaborate from anywhere.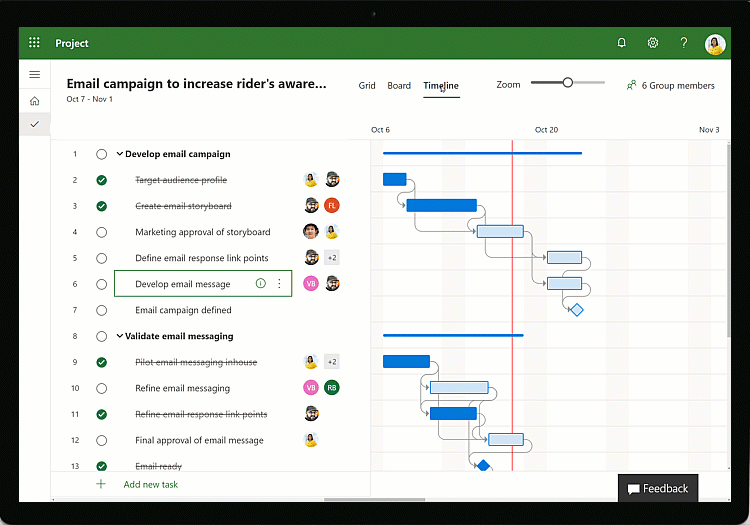 Source

: Microsoft
Task management system
Microsoft Project also comes with a high-quality task management system. Project flexibility and visibility are highly important, which is why Project's management tools enable you to create and adjust plans on the fly.
For instance, say that a user needs to reschedule a task to a different day because there was a switch-up in the schedule. With Project, you can do this quickly and easily by simply cutting out the task on any of the above project views ↗, then moving it to wherever it needs to go.
As soon as the motion is complete, the plans for both days will automatically adjust to compensate for the schedule change. In this way, Project's task management flexibility enables your team to adjust according to new expectations and resources without having to be bogged down in endless meetings or slow software updates.

Resource management
Microsoft Project further provides excellent resource management tools from start to finish. Using this project management software, you'll be able to manage project resources by requesting tasks or assigning tasks to individual team members.
Based on the details you put in, Project will automatically request or assign those resources, ensuring that each team member sees the resources they've received and can start work immediately after that. Other team members can also see how resources are divided between different departments or project workers.
If you need to change resource distribution quickly, Project allows you to do that as well. Managing your organization's finite resources couldn't be easier!

Project roadmap
We'd be remiss not to talk about Project's roadmap tool. With the roadmap, you can track programs and create project portfolios. Project portfolios are collections of projects, resources, programs and processes that can be managed, edited and optimized all at once. It's very useful for larger enterprises with multiple projects or programs to tackle simultaneously.
Roadmap lets you update or track these project portfolios ↗ on the fly. With the roadmap tool, project managers will always be able to see if tasks and objectives are proceeding smoothly or if they need to assign more team members to a specific area of a project, etc. It's the bird's eye view you need to know if your project is on time at any point!

Microsoft Project reporting
Microsoft Project doesn't stop at assigning tasks and goals. It also has prebuilt reports you can generate and send to other team members in your organization. Depending on your needs, you can generate reports to:
Track progress for specific projects or sub-projects
Track resource usage or analyze resource management (to see who uses resources most efficiently, for example)
Report on program status and efficiency
Track portfolios and statistics, among other elements
This all ties into the in-depth, comprehensive analytics tools Project brings to the table. With Project, you'll be able to constantly optimize and iterate on your processes and workflows, ensuring that your organization becomes more efficient and productive over time.

Co-authoring functionality
Microsoft Project's co-authoring feature emphasizes teamwork, which is an important element of Microsoft 365 and related applications overall. The co-authoring feature allows team members and stakeholders to collaborate to edit and update schedules, task lists and individual tasks if they have the appropriate authority.
In this way, no one will be surprised if a project or task gets updated. The co-authoring functionality also means that multiple department heads can collaborate on updating tasks, so everyone is kept in the loop and no one's toes are metaphorically stepped on.

File sharing
In keeping with the above focus on teamwork, it's no surprise that Project has file-sharing features. In fact, every team member using Project can share files with other members of the same team. This ensures efficiency and ease of use; after all, it means that managers aren't the only ones who can share files with team members, and everyone can access the same guidelines or standard documents when needed.
In turn, this enhances productivity, as team members can get the documentation or information they need without having to sit through or cause interruptions. File sharing on Microsoft Project also means you don't have to open up another program, like Word or Google Docs, just to share a file for editing.

Team dashboard
Last but not least is the team dashboard—a crucial and cornerstone element of any successful project. The team dashboard on Project gives an overview of the critical statistics and other important information relevant to team members and their efforts.
Through this Project feature, you can add charts, data presentations and other graphics depending on what works best for your team. All in all, it makes work within your organization more visual, organized and energized. Resource management and team resource allocation become easier when you use the team dashboard feature, and you can even use it to generate KPIs for management reports.

Want to learn more about Microsoft Project and the Microsoft ecosystem?
As you can see, there's much to take advantage of when using Microsoft Project. It's a very comprehensive platform, and while there are a wide range of features to grasp, teams of all sizes can rest assured that all their project management needs will be met.
Still have questions about whether Microsoft Project is right for your team (or your clients), and how it fits in with the rest of the Microsoft ecosystem? Sherweb can help! As an award-winning Microsoft partner, our experts can answer any questions you might have about all things Microsoft. Reach out to us to start a conversation, or feel free to check out our Partner Guide for more information about how Sherweb can help your business grow.