We know what you're thinking: "Another digital conference?" Yes, the global pandemic has been wreaking havoc on everyone's plans this year, and industry events are no exception. Accelerate, Sherweb's annual gathering of cloud industry professionals, is also going digital for its 2020 edition ↗. Ignoring it would be an error, though!
"It's a challenge, but also an immense opportunity," says Marc-André Fontaine, Vice President of Sales and Marketing at Sherweb. "Rather than simply taking the content of the event and dumping it online, we decided to reassess the whole model in order to provide all attendees with even more value—from a safe distance."
What to expect from Accelerate 2020
We're still committed to providing learning and networking opportunities for our partners. We've changed things up a bit to create a well-structured digital experience. In fact, Accelerate 2020 is a whole series of events designed to future-proof your business. The process consists of three distinct stages. Here's what to expect.
Stage 1
Welcome to the expedited MBA for MSPs. Do you have some burning questions, including what questions you should be asking in the first place? We'll be finding the answers here.
You can look forward to a Sherweb keynote speech and roadmap as well as virtual trainings and workshops by industry leaders to help you boost your services. We're also planning a fun virtual networking event!
Stage 1 takes on place October 21-22 over two afternoons (or evenings if you're on the West Coast) to allow for easier scheduling and to prevent video conference fatigue.
Stage 2
Ready to draft your business growth plan? Stage 1 will have provided you with a wealth of ideas and information, but fret not, you won't be left hanging in Stage 2, either: while you're having your internal meetings, Sherweb experts will be there to support you, 1:1 style.
We're offering personalized whiteboard and strategic sessions. In other words, customized advice for your vision! If you're looking to gain external insights into your plan, please know you can always lean on an experienced partner.
Stage 2 is an extended session scheduled from October 23 to December 15.
Stage 3
Ready to walk the walk? Registered participants will have the opportunity to follow a training path of their choice in order to dive deeper into their newly established business growth plans. Sherweb will offer tailored guidance on executing each strategy. In the end, you'll be all geared up for the future of managed services!
More details on Stage 3 are still to come. It's planned for winter and spring 2021.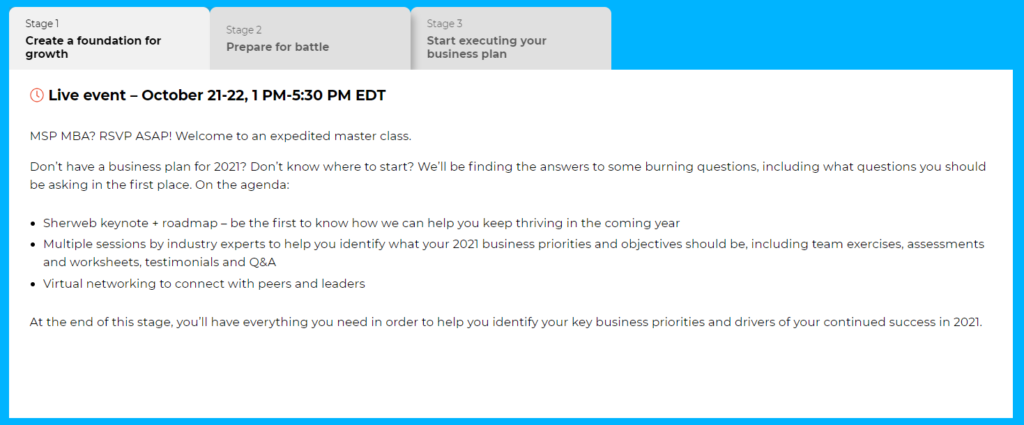 There you have it. No bells and whistles, just actionable takeaways ready to be implemented. Whether it's a tête-à-tête with a recognized expert, a workshop with an industry leader, a networking opportunity or a best practice resource, Sherweb is committed to delivering added value to MSPs no matter what. We are ready, willing and able to accompany you on your business journey and provide you with guidance and expertise. Together, it's ever upward.
"And we might just have a few more surprises up our sleeves," teases Fontaine. "Please stay tuned!"
Got your interest piqued? This event is not only available for current partners, but for all interested parties. Registrations are now open and they're completely free of charge. Sherweb offers the possibility to register several business leaders from the same company at the same time in order to fully benefit from the programming.
We hope you'll be joining us. Now more than ever, it's the right time to think ahead and safeguard your future. If you're hungry for growth, come find out how to Accelerate your business!