Not surprisingly, many work landscapes have dramatically shifted to fully remote or hybrid working. We know how stressful and confusing it can be collaborating with numerous internal and external business stakeholders while ensuring your important business data are securely protected. Since collaboration is at the heart of productivity in the modern economy, security controls must not hinder communications or make digital processes less efficient. Historically this has been a challenge, but recent advances in cloud technologies are changing the game.
The digital world has enabled the breaking down of economic and financial barriers internationally, which has exponentially increased the rate of outsourcing. Companies are increasingly looking to outsource various resources to cut costs and increase their cultural diversity. While this might be commercially viable, it also increases potential cyber risk, particularly when work teams are collaborating across geographical borders. Sharing documents, working on projects and sending emails are among the many day-to-day tasks different teams complete. Doing this in a productive, streamlined, secure way is vital for business continuity. Many organizations are looking to optimize this by implementing a diverse tool set.
How to facilitate secure collaboration without sacrificing productivity
Aegis Innovators ↗ can relieve your stress and assist in securing your organization's collaborative workspace through a host of Microsoft 365 cloud services. Using Microsoft solutions, including advanced tools, enables you to respond intelligently and plan for collaboration governance.
Microsoft provides a suite of productivity services that work together to provide collaboration experiences with data governance, security and compliance capabilities. The diagram below is a great depiction of the interrelatedness between internal and external teams and the different tasks they respectively handle.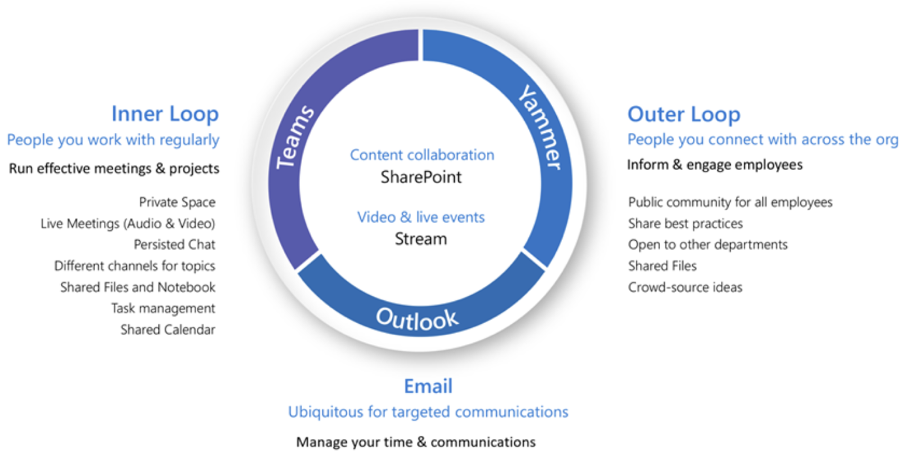 Microsoft 365 supports three main communication methods:
Outlook (Exchange Online): collaboration through email with a shared group inbox and calendar
Microsoft Teams: a persistent-chat-based workspace where you can have informal, real-time, conversations around a variety of topics, organized by specific sub-groups
Yammer: enterprise social experience for collaboration.
It's important to plan for cyberattacks to ensure organizational data is protected. Collaboration governance is how you manage users' access to resources, compliance with your business standards and the security of your data. Services such as Microsoft 365 groups, Teams and Yammer empower users and reduce the risk of shadow IT by providing the tools needed to collaborate. Microsoft 365 has a rich set of tools to implement any governance capabilities your organization might require.
Secure collaboration governance in Microsoft 365
To increase the ability to uniformly manage user access, ensure security and service compliance needs, implementing Microsoft 365 tools is a necessity. Working with the right partner can make a huge difference! Aegis Innovators can help you understand all you need to know about productive, secure collaboration, including how to implement a Zero Trust framework. You can also explore Sherweb's marketplace of cybersecurity products and solutions for additional ways to expand your cloud offering and streamline your operations.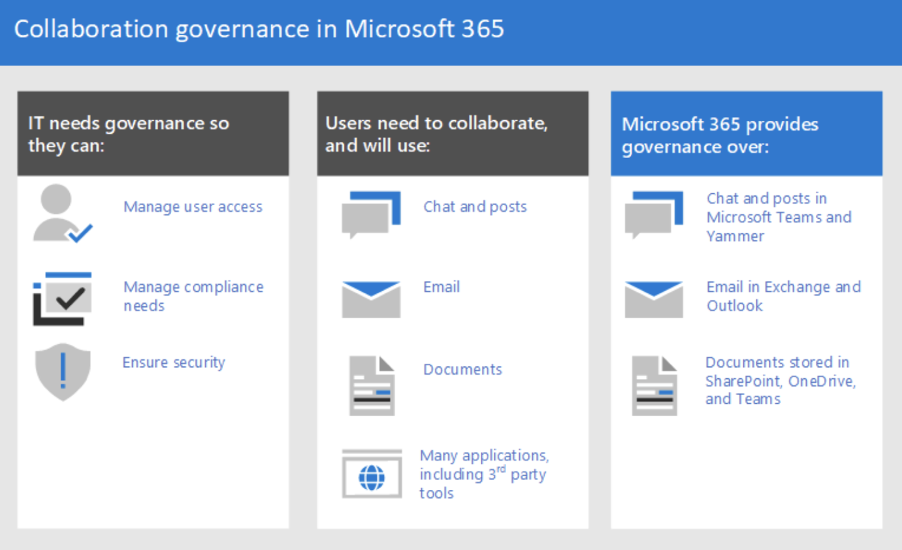 Keeping reading about Zero Trust: