If you think protecting business data was important when everyone was all in the same office, then double or triple that importance now that we're in a remote, hybrid world.
Most SMBs would struggle to run their customer service, supply chain, service delivery, hiring and virtually all other operations without email and cloud backup services. Email is one of the most popular methods of communication, which also makes it the most vulnerable. Meanwhile, employees store all kinds of files and sensitive information in places like OneDrive, Google Drive and SharePoint. On top of that, there are compliance requirements and privacy concerns to think about.
Fortunately, third-party cloud backup and archiving solutions like Dropsuite exist to help protect all your critical email data and restore it in case of disaster.
Dropsuite supports Microsoft 365, Google Workspace, Exchange, SharePoint, IMAP/POP3, anything you need to protect
Dropsuite is a simple yet powerful solution that can integrate with virtually any email client or productivity suite. With automatic cloud backup and the ability to restore any file on demand no matter what email system you use, Dropsuite ensures sensitive business data remains safe in the event of a cyberattack, natural disaster or accidental deletion.
What you can back up with Dropsuite:
Microsoft 365/Office 365
Microsoft 365 Groups and Teams
Google Workspace
Exchange
Gmail
Shared drives
Personal drives
Contacts/Calendars/Tasks
Shared mailboxes and public folders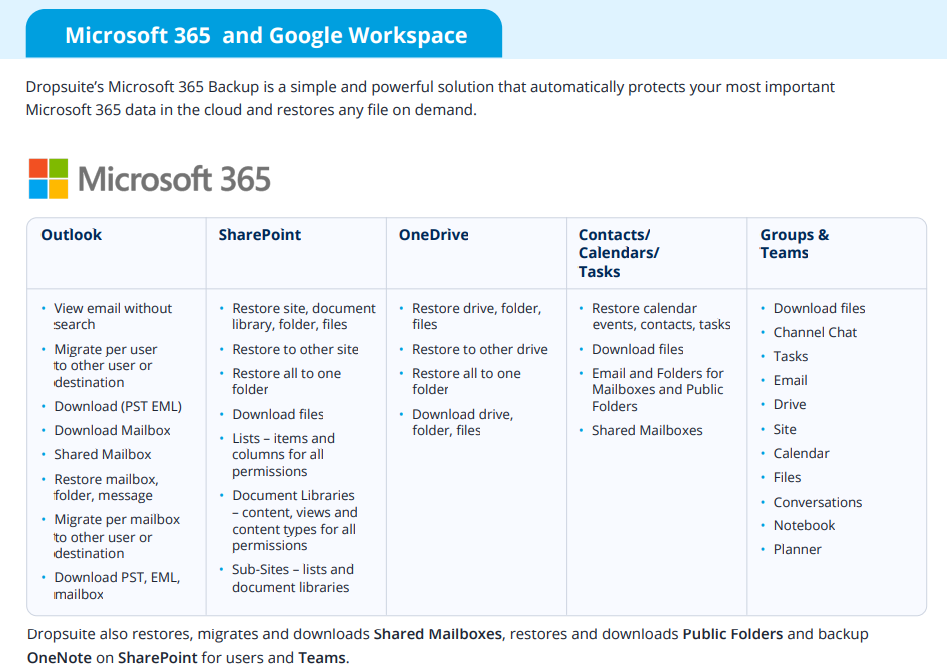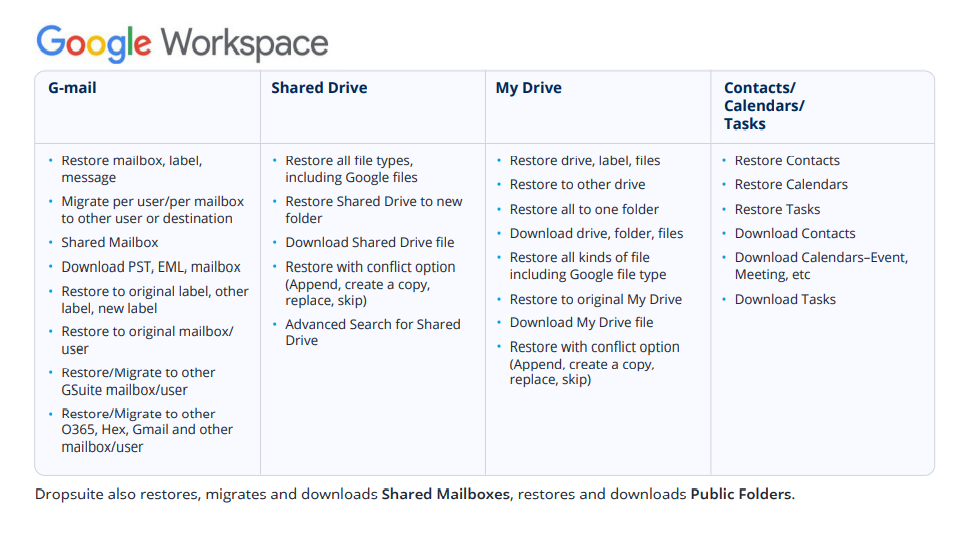 Regular email and cloud backup aren't enough for today's security demands
While productivity tools such as Microsoft 365 and Google Workspace have some ability to partially back up data, they do not properly protect sensitive information at the standard many businesses require. To stay both protected and functioning in the event of disaster, organizations would do well to invest in a third-party cloud backup solution. Dropsuite enables employees to remain as productive as possible, with fewer disruptions due to obstacles posed by remote work, power outages and potential cyberthreats.
Many SMBs describe the total loss of email and other important business data as potentially devastating. However, with correct cloud backup and email archiving procedures in place, businesses can rest easy knowing important employee and customer data is being stored safely, and will be accessible and recoverable if something goes wrong.
Cloud backup is also a necessity for ensuring compliance with various regulations. Even if your company operates in an unregulated industry or space, there's a number of reasons why your business needs solid backup and archiving:
Audits require full and accurate data going back many years
Lawsuits or regulatory investigations may ask for your email data to be placed on legal hold so as not to be altered or deleted
Fast and accurate universal archiving search saves valuable time on email and file sharing (SharePoint, OneDrive and Teams) queries
Dropsuite keeps your organization covered in all these areas, making it as simple as possible for businesses to access files—however old they might be—whenever they need to.
Visibility and control over necessary employee files are crucial for ensuring proper cybersecurity and compliance best practices
Dropsuite's cloud backup and email archiving software includes Insights BI, an email analysis tool that gives you a robust look into your organization's mail ecosystem. Providers and IT administrators can use these analytics to investigate or recover precious data. Trends identified by Dropsuite's Insights BI feature and its advanced search can help you:
Better protect your email traffic (i.e., malicious emails, identify internal bad actors)
Save money (i.e., on storage by identifying unused areas)
Staying Compliant
Preparing for compliance or legal matters
Accurate intelligence and reporting can add critical functionality for your business, saving time in areas such as HR, legal and security.
Become a Sherweb partner to add Dropsuite cloud backup to your security stack
Sherweb is committed to helping both managed service providers (MSPs) and their clients operate safely in the cloud. Simple cloud backup and archiving solutions like Dropsuite not only provide alignment with modern data security and compliance best practices, but also enrich MSP offerings by expanding their portfolio of security solutions and presenting more ways to show value as clients' trusted IT advisor.
To learn more about cloud backup with Dropsuite or adding it to your service offering, send us a message! You can also explore our Partner Guide for more information about how Sherweb can help your business grow.