A 2014 study by Juniper revealed that the VoIP services market is expected to reach US$140 billion by 2021. As a managed service provider, you've certainly been considering reselling a trusted VoIP solution. The good news is, VoIP is also offered as a cloud service, with all necessary equipment hosted in the cloud. All you need to do is pick the best VoIP reseller program. Here are 8 reasons to choose Sherweb's.
#1: Benefit from a partner program that fits your business model
You want to offer hosted VoIP branded with your own label? You can do it. Prefer to refer clients to us and getting a monthly commission? You can do that too. Sherweb offers three different partner programs to suit different needs because we know partners don't all have the same objectives.
As a white-label reseller, you set your own price. You're also the only contact for billing and support.
When you offer Cloud PBX co-branded with Sherweb, you still bill the customer your way and we take care of support.
When you're an advisor, you get a one-off payment for referring us a client, then a small monthly commission.
#2: You can start selling VoIP with zero investment
You don't have to spend a penny to start offering Sherweb's business telephony solution. You're free from any upfront costs, either for joining our partner network or starting to resell. At Sherweb, we believe you don't have to commit to any minimal sales before signing up because we know that our services will respond to both your customers' needs and your partnership expectations.
#3: You don't need any vendor training
Your experience with traditional PBX and on-premises VoIP may have taught you that the learning curve for business telephone solutions is steep. If you have no experience with these technologies, you might feel overwhelmed.
The truth is, none of this is going to happen when you choose Sherweb. Why? Because our PBX is hosted in the cloud! We take care of everything on the PBX side, including setup, maintenance and upgrades. Moreover, the IP phones we offer are pre-configured before delivery—all you have to do is plug them in.
#4: Pilot your sales from the best account management platform
Sherweb's dedicated partner portal gives you a clear overview of where you stand. You get real-time insights into the services you're selling, your monthly revenue and your discount tier. Use the platform to set your own prices and get help billing your customer using a downloadable CSV or PDF file that summarizes your costs.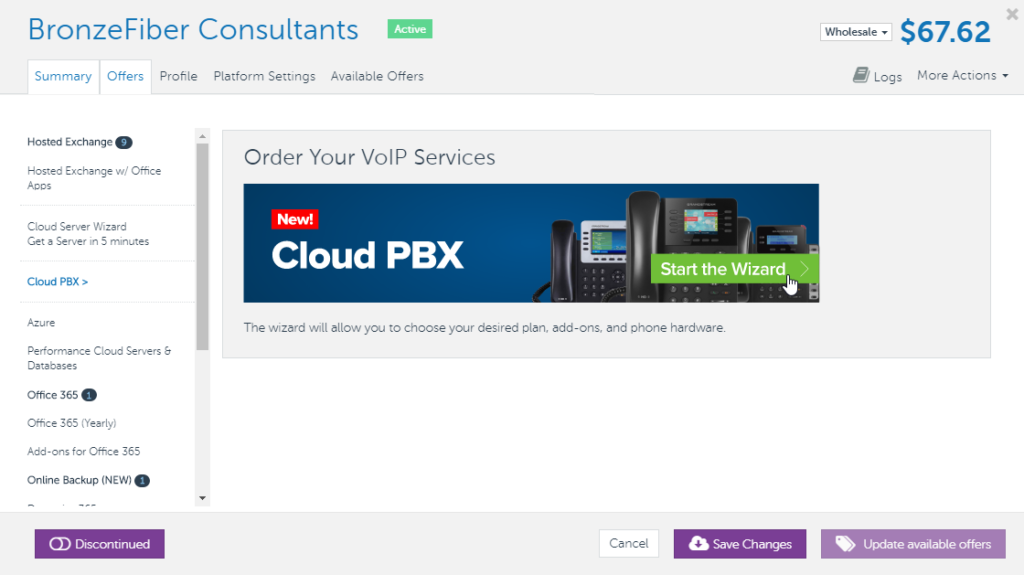 #5: Get access to a Partner Toolbox full of resources
Sherweb partners can take advantage of a toolbox full of documentation to both increase their product knowledge and customize and promote their services. Assets include product sheets, pitch decks, email templates, battle cards and much more!
#6: Sherweb guides you every step of the way
Need help with a customer's project? Talk to Sherweb's pre-sales team. We're here to help you make the best possible offer for your customer. After you've provisioned services, you don't have to wait several days for an update—our onboarding process is fast. When your customer needs to migrate from their current solution, just submit a migration request. Our team will contact you or your customer to follow up.

#7: Make your customers happy with expert support
An efficient support service is also what makes Sherweb's VoIP reseller program one of the best out there. You can contact Sherweb's support team 24/7 by phone, chat or email. We provide technical support from our headquarters in North America and we're constantly monitoring our service for customer satisfaction. We've had an NP Score of 70+ for more than five years, which is double the industry average.
#8: Sell an easy and intuitive solution
At one point, you'll have to set user-level features. But don't worry! Not only is Sherweb's PBX solution user-friendly and intuitive, but we also provide how-tos and walkthrough videos to help you become an expert in no time.
See how easy our VoIP portal is for yourself:
Become a Sherweb partner to start offering VoIP services
Every managed services partner is looking for the best VoIP reseller program that guarantees customer satisfaction, recurrent income and less stress. Look no further! Become a Sherweb partner and start offering VoIP services that work for your specific business.