In a recent meeting with a corporate client, we were discussing issues his company is experiencing, and my first reaction was: why aren't they using the Microsoft Enterprise Resource Planning (ERP) Solution to overcome the shortcomings?
Many are unaware of that ERP can be the solution to their complex tasks and daily routines. ERP is a huge term, and utilizing all its features is not the solution because it does come with a price. You want to use its features step by step and omit the features not applicable to your company.
Before deciding which system to go with, it's important to understand what an ERP application can offer and at what price. Determining which solution to use depends on licensing cost and feature sets. This article will cover the feature sets of  Microsoft's offerings as well as give you a brief history and introduction to this system's capabilities.
1. Services Provided by Enterprise Software
ERP refers to a category of business-management software—typically a suite of integrated applications—that an organization uses to collect, store, manage and interpret data from many business activities.
1.1  Characteristics of an Enterprise Software:
To understand ERP beyond services offered, it is important to know how ERP will perform on premises or in the cloud. Enterprse Resource Planning systems typically include the following:
System integration
Operates in (or near) real-time
Database support for all applications
Consistent look and feel across modules
Installation by the Information Technology (IT) department, if the implementation is not done in small steps.
1.2  Functional and Technical Areas of Enterprise Software
An ERP system covers the following areas. In many systems these are called and grouped as modules:
Finance and Accounting: general ledger, fixed assets, payables including vouchering, matching and payment, receivables, collections, cash management, financial consolidation
Management Accounting: budgeting, costing, cost management, activity-based costing
Human resources: recruiting, training, rostering, payroll, benefits, retirement and pension plans, diversity management, retirement, separation
Manufacturing: engineering, bill of materials, work orders, scheduling, capacity, workflow management, quality control, manufacturing process, manufacturing projects, manufacturing flow, product lifecycle management
Order Processing: order to cash, order entry, credit checking, pricing, available to promise, inventory, shipping, sales analysis and reporting, sales commissioning.
Supply chain management: supply chain planning, supplier scheduling, product configurator, order to cash, purchasing, inventory, claim processing, and warehousing (receiving, put away, picking and packing)
Project management: project planning, resource planning, project costing, work breakdown structure, billing, time and expense, performance units, activity management
Customer relationship management: sales and marketing, commissions, service, customer contact, call center support. CRM systems are not always considered part of ERP systems but rather Business Support systems (BSS).
Data services: "self-service" interfaces for customers, suppliers, and employees
2. How Enterprise software evolved
ERPs have a short history. The Gartner Group first used the acronym ERP in the 1990s when it extended the capabilities of material requirements planning (MRP), and later, manufacturing resource planning (MRP II) as well as computer-integrated manufacturing. Enterprise Resource Planning systems represent a larger whole that reflects the evolution of application integration beyond manufacturing.
2.1 Traditional ERP
ERP systems multiplied quickly in the 1990s. Because of the year 2000 problem, and the disruption of legacy systems because of the introduction of the euro, many companies took the opportunity to replace their old systems with ERP.
ERP systems initially focused on automating back-office functions that did not directly affect customers and the public. Front office processes, such as customer relationship management (CRM), worked directly with customers, or e-business systems like e-commerce, e-government, e-telecom, and e-finance. Supplier relationship management (SRM) was integrated later when the Internet simplified communicating with external parties.
2.2 Modern ERP
Today, developers try to integrate mobile devices with the ERP system. Also, vendors are extending systems to smart devices and other business applications. Modern ERP's goal is complete technical integration—hardware, applications, networking, and supply chains. Today, Enterprise Resource Planning covers more functions and roles—including decision making, stakeholders' relationships, standardization, transparency, globalization, and more.
3. Reasons you need an ERP
Here's why you might need an ERP system:
To improve quality and efficiency of the business. By keeping a company's internal business processes running smoothly, ERP can benefit the company's outputs in areas like customer service and manufacturing.
To provide upper-level management information for decision making.
To create a more agile company that adapts well to change. The company is more flexible with a less rigid structure so organization components operate cohesively, enhancing the business both internally and externally.
To improve data security. An ERP control system allows organizations to ensure no comprising of critical company data.
To provide more collaboration between documents, files, forms, audio and video, and emails. Often, each data medium has its own mechanism to allow collaboration.
4. Microsoft Enterprise Stack
Microsoft Dynamics is a line of enterprise resource planning (ERP) and customer relationship management (CRM) software applications.  Microsoft Dynamics forms part of "Microsoft Business Solutions". Dynamics can be used with other Microsoft programs and services, such as SharePoint, Yammer, Office 365, Azure and Outlook. The Microsoft Dynamics focus industries are retail, services, manufacturing, financial services, and the public sector. Microsoft Dynamics offers services for small, medium, and large businesses.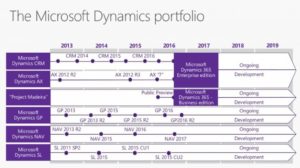 Microsoft Dynamics ERP includes the following primary products:
4.1 Microsoft Dynamics 365 for Finance and Operations (formerly Dynamics AX)
Microsoft Dynamics 365 for Finance and Operations (formerly Dynamics AX) – multi-language, multi-currency enterprise resource planning (ERP) business software. It has global business management features for financial, human resources, and operations management as well as additional industry capabilities for retailers, professional service industries, financial service businesses, manufacturers, and public-sector organizations.
4.2 Microsoft Dynamics GP (formerly Great Plains Software)
Microsoft Dynamics GP (formerly Great Plains Software) – ERP software for small and midsize businesses. It helps manage financials, supply chain, and employees.
4.3 Microsoft Dynamics NAV (formerly Navision)
Microsoft Dynamics NAV (formerly Navision) – A business management solution that helps small and mid-sized businesses manage their financials, supply chain, and people. It features multiple languages and multiple currencies.
4.4  Microsoft Dynamics SL
Microsoft Dynamics SL (formerly Solomon IV) – designed for project-driven organizations in North America. It is business management software that supports future business growth.
Conclusion
You should note that Microsoft is still in the process of rolling out Dynamics 365, meaning that more changes are likely to happen in the future. Just recently, Microsoft announced that they were killing the Business edition for Dynamics for Finance and Operations. Also, there are strong rumors that there will be a new version of NAV available on the cloud.  The main takeaway is that there are exciting things coming up in terms of ERP for Dynamics. Microsoft is investing time and effort to become the industry leader for this software category. If you want to learn how you can get involved and take advantage of this opportunity, download our Cloud Solution Provider guide here!