How you handle customer service can drive your business to success or bankruptcy. World-class companies like Apple, Amazon, and Spotify all have fantastic support services that keep customers happy so they don't change to the competitor.
Dynamics 365 offers a customer service app that has everything you need to drive your business further. Let's go over its main capabilities and features.
Case management
When we say customer service, cases are likely the first thought that comes to mind. Dynamics 365 provides excellent control over cases to help keep your data clean and easy to navigate.
With the customer service app, you can:
Create case records: Enter information about the problem, a description, and customer details
Find similar cases: Use 'Case relationships' to find similar case titles and link them. Resolve cases faster as your database grows.
Resolving a case: With a click of a button on the case record, set the resolution steps and mark the case as resolved. It stays in your system for future reference but will be removed from queues to help focus on unresolved cases.
Assign a case: If a case was wrongly assigned, or a colleague needs more knowledge, Dynamics 365 allows you to assign the case to other members.
Add a case to a queue: Add a record to a queue with one button.
Add activities to cases: Add phone calls, emails, appointments, or any event related to a case directly into your Dynamics 365 record. This gathers all the information from different sources. View a history of emails and phone calls related to a problem.
Manage parent and child cases: It may be logical to have one primary case with many sub-cases connected to it. With Dynamics 365, you can create a parent case and associate children cases. When all children cases resolve, the parent case can be resolved.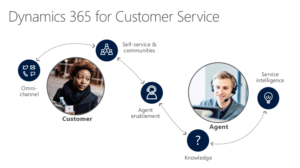 Queues
Queues in Dynamics 365 can have better visibility on what's complete, what's in progress and what cases are outstanding. This helps prioritize tasks to increase efficiency and productivity.
Default settings create a queue for each user and team. However, you can create custom queues to reflect your unique business processes.
Queue Type:
Private: Only available for a certain number of members
Public: Available for everyone in your organization
Routing Rules
Dynamics 365 allows the creation of routing rules sending the correct cases to the right queues based on predefined criteria. This feature is handy when there are different lines of products or services handled by different teams.
Having all cases in one place can get messy especially when numbers increase. Dynamic 365 routing rules do all the tedious work for you.
By creating a 'Routing Rule Set,' you specify the Rule Items related to it. Each rule item has its own set of conditions and results (If à Then) deciding which cases go to which queues.
After the creation of rule items, activate the rule set, and it will route cases automatically.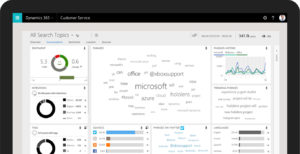 Email Integration
Dynamics 365 Email Integration is a vast topic, which we have covered in previous blog posts. What is interesting here is how this integration can help your customer service?
Let's say a customer sends an email to the support team with a new support case. There are two options:
Manually create a case from the email. You need to track that email from Outlook and convert it to a case with one button. It will create a case record with all the required information.
Use automatic case creation rules to seamlessly generate case records on the fly on receipt of the email. You can specify queues for your converted cases with case creation rules:
Create cases from email from unknown senders
Create cases for activities associated with resolved cases
Create cases when the case is resolved associated with the activity
Specify autoresponse settings (generate an automated message using a template that sends the new case to customers from their support request).
Service Level Agreements
Customers have different levels of support. That's not an issue with Dynamics 365 customer service app. You can set up Service Level Agreements (SLAs) for all customers to define the agreed-upon support levels they get.
There are two types of SLAs:
Standard: Applies to cases.
Enhanced: This has more tricks up its sleeve. It applies to accounts, contacts, orders, invoices, quotes, opportunities, leads, and all activity types. It has features not available in the standard SLAs like the ability to pause an SLA if on hold.
SLA properties
For each SLA, you can define the following:
SLA Type
Business Hours
Allow Pause and Resume (only Enhanced)
SLA Details
o   Name
o   SLA KPI
o   Conditions to apply SLA
o   Success Criteria à Success Actions
o   Failure after Criteria à Failure Actions
o   Warning after Criteria à Warning Actions
Entitlements
Similar to SLAs, support can be different for different customers. The level of support is not the only variable; the number of cases and period covered can also be specific to clients. Entitlements, as the name suggests, includes everything the customer is entitled to.
For each entitlement, you can specify the following:
Name
Primary Customer
Start Date
End Date
Restrict based on entitlement terms (Restrict case creation for the customer if entitlement period is over)
SLA
Allocation Type (number of hours or number of cases)
Decrease time remaining on (choose to decrease term on case creation or case resolution)
Total term time
Remaining term (calculated)
Conclusion
Microsoft did research and development in Dynamics 365 (Dynamics CRM previously) for years to cover all business areas. Formerly, customer service was a module, it is now a separate app that contains everything necessary to streamline customer support services. It's a fully capable app that often upgrades with new features to give ease-of-control with a user-friendly interface.
To learn how to get involved reselling Dynamics 365 with the Cloud Solution Provider program,
download our complete guide here.