When was the last time you backed up your G Suite data?
There are lots of myths circulating online backup for G Suite. G Suite is secure, but it's a misconception to think that it doesn't need any backups—it does, just like any other data storage solution.
While Google guarantees infrastructure resilience, data protection is ultimately your responsibility. Check out Google's disclaimer on the terms of service that every user agrees to:
"We don't make any commitments about the content within the Services. When permitted by law, Google, and Google's suppliers and distributors, will not be responsible for lost profits, revenues, or data, financial losses or indirect, special, consequential, exemplary, or punitive damages."
If you don't want to lose stored data, you need to back up G Suite. Luckily, there are third-party backup solutions for those who want to avoid frustrating situations like unrecoverable data loss.
If your client is one of the 5 million businesses that rely on G Suite, it's time to change your game plan. Here's everything you need to know about how to keep G Suite data safe.
Why users need to back up their G Suite data
Data in today's world is vulnerable to theft and loss, even in the cloud. No matter how advanced our security tools are, things like unexpected or deliberate data deletion, file formatting errors, malicious activities, or malware can get the best of us.
Take the case of British Airways. In September 2018, the airline made public that it had suffered a data breach and that its customers' personal and financial information had been compromised.
According to Mike James from security platform GlobalSign, "Cybersecurity experts suggested hackers were able to carry out an attack that is something akin to a digital version of skimming, where data was copied as it was entered into the system during the purchasing process." This is just one of the many examples of how bad things can get if companies don't take enough precautions to protect their data.
Ontrack's 2018 global survey on more than 800 participants revealed the main causes of data loss: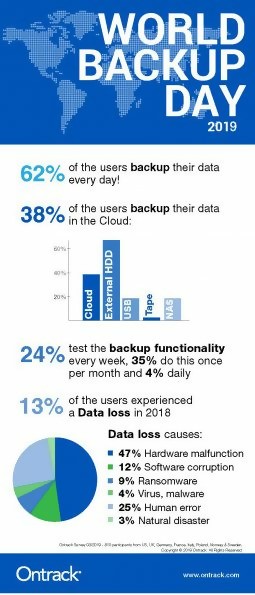 And in its 2017 State of the IT Report, SpiceWorks found that companies have reserved up to 14% of their budget to purchase managed services for storage, backup, and archiving. That's especially great news for resellers.
Here's why you should promote cloud backup solutions to your clients:
Is not just about losing data—it's also about losing time and money to recover valuable information.
While it's possible to find hard copies of lost data, not all such copies are going to be up to date with files in G Suite.
Data loss brings everything to a halt and places a company under public scrutiny. You're protecting not only your data but also your reputation and client relationships.
Secure off-site cloud storage makes it easier to stay compliant with business requirements and avoid legal penalties.
It's time to get ahead of the game
Clients need a solution that allows them to rest easy knowing that their G Suite data is safe. Online Backup is the most secure data protection option for businesses of all sizes. It helps protect G Suite data stored in Gmail, Drive, Contacts, and Calendar from a broad range of threats. Companies that use Online Backup can quickly restore their Gmail data for unrestricted domains and access the backup data in no time.
G Suite Online Backup key features
Online Backup does more than just help businesses overcome pitfalls in protecting their cloud data. Take a look at these nine features that make it a must-have solution for any business:
User-friendly UI
Online Backup performs G Suite backup tasks through a user-friendly, easy-to-use web interface. New users become familiar with this interface when they first get started, eliminating confusion and frustration.
Expense control
The cloud removes the need for any upfront and upgrade expenses. By billing monthly and per consumption, Online Backup ensures that clients pay only for the volume they used. Clients also don't have to stay on top of new tech updates, as they're pushed automatically. This lowers training expenses, saving them time and money.
Quick, built-in search
Online Backup's full-text search capabilities help users find and restore critical data and ensure business continuity. Users can localize critical documents like terminated employee emails or old files required to solve several types of issues they may encounter along the way.
Secure cloud storage
Companies need a proper plan to protect themselves from data-loss incidents. Our Tier 3+, SOC 2 Type II certified data centers offer high-grade, disk-level encryption and per-archive AES-256 encryption. With Online Backup for G Suite, users can rest assured that their transferred data is secured.
Simplified management
With Online Backup, you can automatically identify new G Suite users and Team Drives to get them up and running. This auto-discovery of new G Suite items makes administration and backup management easier than ever.
Single-click restore
Backing up and restoring is faster with Online Backup thanks to its redundant, independent 10 Gbps Tier-1 ISP connections. This means users can recover missing emails, files, or contacts in no time and without headaches. Plus, Online Backup allows users to preview their files before recovery and to download them directly from the backups.
Support for Google multi-factor authentication (MFA)
Protect your data in Online Backup by adding MFA authentication tools via a trusted device or fingerprint. This extra layer of security is invaluable when it comes to protecting our customers' most important business data.
Transparent reporting and alerts
Users can easily check on G Suite backups or restore progress via Online Backup's organized dashboard. They'll also get status notifications via email so they're always in the loop on what's going on.
Expert 24/7 customer support
Our dedicated customer and data recovery support staff can help users resolve any problems they run into. They can reach out to us via phone, email, or chat. We also offer support in both English and French from our North America offices to guarantee that our customers have a top-notch experience.
Get started with Online Backup
The truth is that all data can be compromised or lost at some point. This is what makes online backups so important—you can never rely on your data being secure in just one location in the cloud, just as you wouldn't want to rely entirely on-premises servers.
A trusted MSP's job is to educate their clients by understanding their pain points. By helping business identify the right option for their backup and business continuity needs, you'll establish long-term trust and generate more revenue.
Offering Online Backup for G Suite not only helps increase customer retention but also opens up new opportunities for customer acquisition and up-selling. Contact us for more information on how Online Backup can help you protect your clients' data, or join our partner network to get started today.