We love a rebrand! Google recently announced that its popular lineup of productivity tools, G Suite, is being refreshed under a new name: Google Workspace.
Apart from a new moniker and some flashy new icons, the introduction of Google Workspace ↗ brings with it a bunch of updates that businesses using and reselling Google products should know about. First, there are several enhancements to familiar tools such as Gmail, Chat and Meet that make it easier for users to collaborate. Second, plan options have been expanded to offer more flexibility for businesses with different needs and requirements. Third, Google also implemented new security features to help organizations better protect their data and privacy.

Why the change to Google Workspace?
According to Google, the updated Google Workspace branding is meant to connect Google apps on a deeper level for a more unified experience. To reflect this visually, flagship products such as Drive, Photos and Calendar and others are now sporting new, four-color icons.
As for changes and updates to the applications themselves, the vast majority of Google Workspace looks and feels the same. However, as mentioned above, apps are now more collaborative and integrated. Google's intent with these updates is to help businesses work together more efficiently from wherever they are, and better leverage technology to provide smooth service delivery. With the rapid rise and likely continuation of remote work practices
Enhancements for the tools we use every day
Google Workspace users can now do a lot more together ↗ without opening a new tab. With chat, email, voice, video calling and content management combined into a single space within the Gmail interface, people can spend less time navigating between apps and more time getting things done.
Google has also made it easier to meet or video chat and work on documents or other projects at the same time. With new picture-in-picture meeting capabilities, Google Workspace users are treated to a more seamless, collaborative working environment.
Changes to plan options
With the bells and whistles out of the way, users and resellers will be eager to know about updated subscription plans for Google Workspace ↗. While these updates do affect existing customers, the overall impact on users is fairly minimal. Instead, new solution SKUs arguably make Google Workspace more flexible and affordable for businesses with varying needs.
For commercial users, Google Workspace plans ↗ for Business and Enterprise have been expanded, with three SKUs available for each.
Business Plans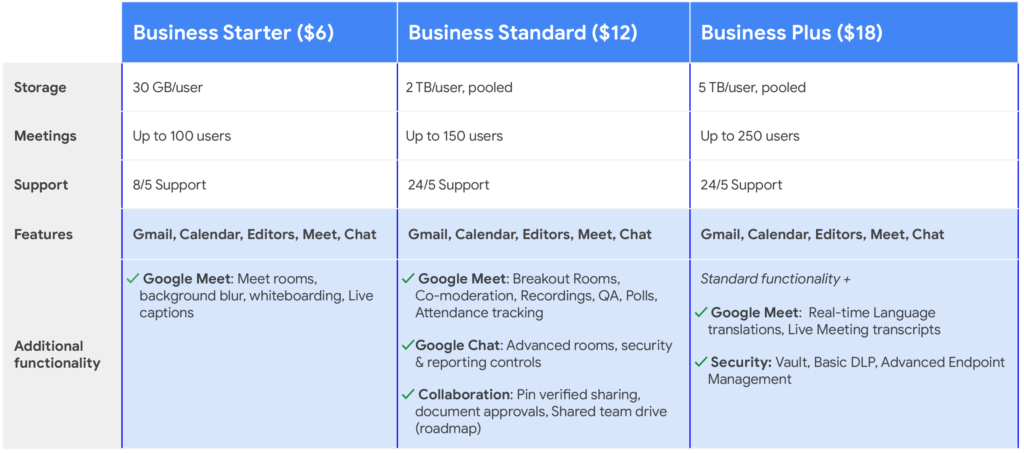 Enterprise Plans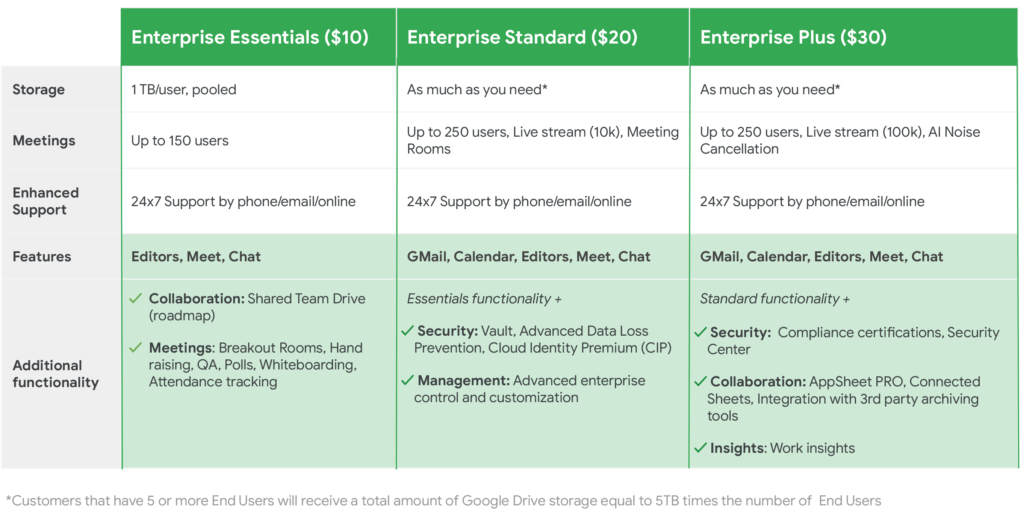 Except for Enterprise Essentials SKUs, every Google Workplace plan comes with the familiar troupe of apps: Gmail, Calendar, Drive, Meet, Chat, Docs, Sheets, Slides, Keep, Sites, Forms and Currents. Areas where plans differ include storage capacity, security capabilities, maximum meeting participants and support. The primary difference between Business and Enterprise plans is that Enterprise plans are typically designed for organizations with 300 users or more. It's worth mentioning, however, that organizations aren't required to have 300 or more users to purchase Enterprise plans—they can be purchased for just one user, if so desired.
Transitioning to a new plan
For customers with existing G Suite plans, there are a few important things to note about the transition to Google Workspace:
Legacy (G Suite) SKUs will no longer be available after Jan. 16, 2021.
Transitioning to a new plan does not necessarily happen automatically! Customers with monthly subscriptions will be contacted (by Google or their provider, depending on who the organization purchases Google products from) with relevant information about updated pricing. Customers with annual or fixed-term plans will keep the same rates until their renewal date.
Former G Suite Enterprise customers, however, will be automatically migrated to Google Workspace Enterprise Plus, which contains the same feature set. The price point for this plan will formally change on Jan. 15, 2021.
Former G Suite Basic and Business plans will still be referred to as such until customers transition to an updated Google Workspace plan. Because the feature sets for Business SKUs have changed slightly, migration will not happen automatically.
Customers are not required to agree to new terms of service.
Certainly, some businesses will have decisions to make about which Google Workspace plan works best for them. However, the continued simplicity of Google's offerings and general lack of steps to take on the customer's part should help make the transition easy.
New security features for Google Workspace
We'd be remiss to neglect saying a thing or two about the new security features ↗ announced for Google Workspace. Increasingly distributed workforces unfortunately mean increased security risk with additional remote connections, endpoints and data sharing in the cloud. With that in mind, Google introduced new tools to help give admins and users more visibility and control over the security of the applications they use for business.
Meet and Chat features to combat abuse
Google Workspace admins can easily investigate abuse reported within Meet with classification, audit logging and detection capabilities. These features exist for Chat as well, where audit logging can help identify potentially malicious behavior pointing to phishing scams or data theft.
Using the Security Center Investigation Tool, admins can review log info for Chat, Meet, Groups, Calendar and Voice, helping them stay informed of relevant incidents and manage information shared within the organization.
Additional security insights
Audit logs can be the key to discovering adverse activity and are being made more available so admins can make more informed decisions about security. Audit logging for Gmail, for example, can show when users enable auto-forwarding or carry out other potentially suspicious behaviors. Google Workspace also provides detailed reports to help admins keep track of sensitive data collected and stored by the organization.
Rules management
Inside the Admin Console, the rules page for Google Workspace has been designed to consolidate more security functions in a single space for added convenience and visibility. Now, admins can view various rules for user activity, data protection, device management and reporting in the same spot.
Security certifications
As a data processor, Google Workspace has been accredited with ISO/IEC 27701 ↗ certification, which is a key factor for businesses that need to comply with General Data Protection Regulation ↗ (GDPR).
Where to get more information about Google Workspace
Keep an eye on the Sherweb Blog and the Google Workspace Updates blog ↗ for new updates and announcements regarding Google's reimagined line of productivity tools. Existing Google customers will be contacted (directly, or by their respective provider) about applicable changes to plans and additional features.
As for existing Sherweb partners and customers, we're working diligently to update our website, pricing and relevant documentation as quickly as possible. Don't hesitate to contact us if you have any questions or concerns!
Sherweb partners with existing Google plans should be contacted by mid-November with all the information you need to know about what happens next. Partners will then have time to choose which updated license they'll be migrating to, with migration taking place in mid-December. As of Jan. 16, 2021, legacy SKUs will no longer be available.
If you're looking for a value-added cloud solutions provider that can help you navigate and managed your relationship with Google, we highly recommend learning more about our partnership programs and their associated benefits.